Hayden's Plagiocephaly Treatment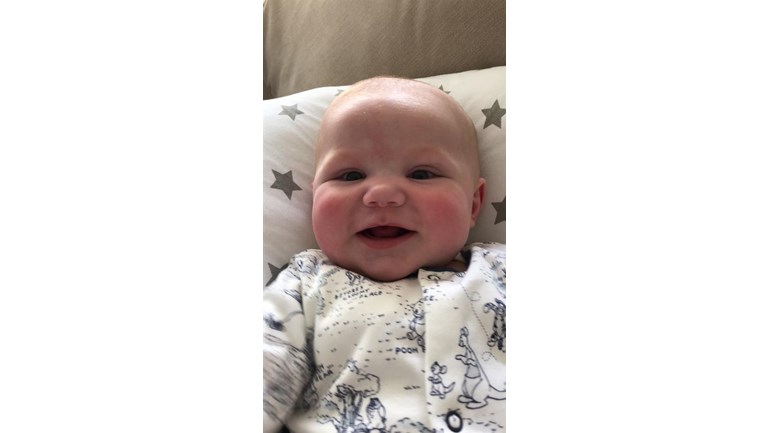 Our baby boy Hayden was born on Sunday 8th October 2017 at Medway Hospital in Kent. He was a healthy weight and a real smiler...

Between 11 and 12 weeks we noticed that one side of Hayden's head was slightly sticking out. We assumed that it was where he had favoured to sleep on one side. However, at four months old it became clear that Hayden's head shape had changed and that from looking down onto his head we could see that it was very asymmetric.
We saw the health visitor and doctor who told us that him laying on one side was the cause of his head shape, but that we shouldn't worry as it would sort itself out as he grew older. We have kept Hayden from putting pressure on that side of his head, but now at 5 months old we have noticed that it has got considerably worse.
After doing some research and reading about Plagiocephaly and brachycephaly and knowing that this cannot be helped via NHS we decided to get some expert advise so visited 'Technology in Motion' in Sevenoaks who we must say were very very helpful. They took measurements and 3d scans of Hayden's head and came to the conclusion that the formation of his skull front and back was quite severe and his ear alignment was out so would benefit from helmet treatment.
As the treatment is private and rather expensive we have decided to fundraise. With your help we could start the helmet treatment for our little man hoping that his head would go to a normal size.
THANK YOU  for taking the time to visit our JustGiving page and any donation would be hugely appreciated.


Donating through JustGiving is simple, fast and totally secure. Your details are safe with JustGiving - they'll never sell them on or send unwanted emails. Once you donate, they'll send your money directly to the charity. So it's the most efficient way to donate - saving time and cutting costs for the charity.

7.5% of all donations to Tree of Hope in relation to this appeal will be allocated to the general charitable purposes of Tree of Hope to cover our core operating costs.

If we raise insufficient funds, or surplus funds, then the funds will be used, if appropriate, to fund support for our child's needs in accordance with Tree of Hope's charitable objects. If in those circumstances we are unable to use all or part of the funds for the benefit of our child in accordance with Tree of Hope's charitable objects, then any funds that cannot be used will be transferred to be used for the general charitable purposes of Tree of Hope.

If you have any questions at all please do not hesitate to call the family support team on 01892 535525.