Harry will Walk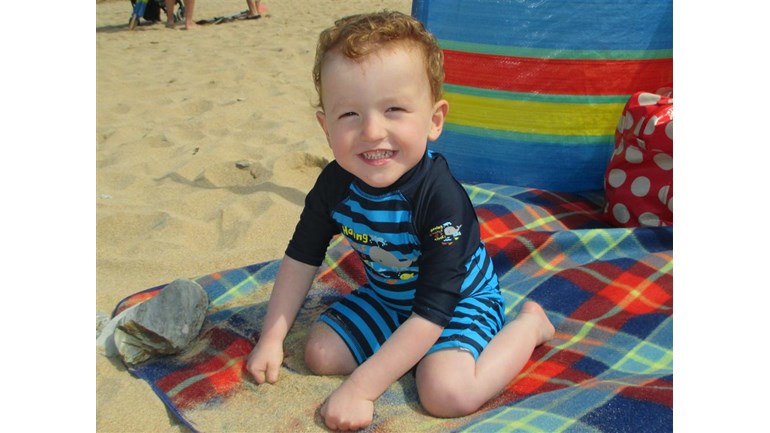 Thank you for taking the time to visit Harry's justgiving page.
Harry was born 11 weeks premature weighing 2lb 14oz. He also has a twin sister Seren who weighed 2lb 7oz. They spent their  first 9 weeks in Shrewsbury special care baby unit. 
For the first 6 months everything seemed great, lots of bottles, nappies and sleepless nights but normal. We then started  to notice Harry wasn't meeting his milestones like Seren. As a mum I knew something wasn't quite right. We were told by the doctors it was very common in premature babies so just remained patient and positive. 
At 12 months old Harry still couldn't sit up independently, so eventually at 18 months Harry was referred to a community paediatrician. Then we were faced with the news that Harry may have cerebral palsy due to the increase muscle tone in his legs, milestone delay and prematurity. We were devastated but put on a brave face and stayed strong for little Harry continuing with lots of home physio.
 Just before Harry was 2 years old he had a MRI scan to confirm diagnosis. We Knew deep down Harry had cerebral palsy but was in great denial. When the doctor told us the results our worst fears were confirmed. It was in black and white Harry had suffered a type of brain damage called PVL ( Periventricular Leukomalacia ) which effects his balance, movement and muscle control. 
 Harry is now 4 years  old and a happy little chappy, always smiling and giggling. He loves cars, diggers and lorries like any other little boy. He started talking at 3 years old , which was amazing to hear the words mummy and daddy.
 Harry is unable to stand or walk independently due to his cerebral palsy and wears AFO splints to help reduce the tightness in his legs. He is so desperate to be on his feet running around with his twin sister. We just want Harry to have a chance to do the things we all take for granted. It breaks our heart to see Harry sat in his buggy watching other children playing and running around especially when we go to the park as a family. 
Our dream would be to see Harry and Seren walking hand in hand like any other brother or sister, or even kicking a ball .  Harry is such a determined little boy and we are very proud of him. When he tries to takes steps he shouts "One step, two step Harry can walk". He just melts our hearts.          
 Our goal is to raise £80,000 enabling us to take Harry to America for a life changing SDR (Selective Dorsal Rhizotomy) surgery. An operation pioneered by Dr Park in St Louis. It is a neuro-surgical procedure that cuts carefully selective nerves in the spinal cord. This will reduce muscle tightness in Harry's legs allowing him to get his heels flat to the floor, to help his balance and walk independently. It also eliminates the need for orthopaedic surgery later in life and suffer deformity. The funds raised will pay for his surgery, 2 years of intensive physiotherapy and any specialist equipment needed post surgery. 
Please help Harry's wish come true. We know this is a large amount of money to raise but there's not a price tag for your child to walk. Any donation no matter how small will help "Harry walk" .
You can even Text : HPMS80 £1 , £5 or £10 to 70070
to donate it's so easy thank you xxx 
If anyone would like to help fundraise or any sponsor events you can contact us via email: ehmorgan@aol.com  or  mobile number : 07973571504  Thankyou 
 Should we exceed the target amount (or if we do not raise enough funds, or if they cannot be used for any other reason) the funds raised will go to the general funds of Tree of Hope to assist other sick children.
Thank you for reading Harry's story and for your support.
Liz & Simon                                                                                                                
Donating through JustGiving is simple, fast and totally secure. Your details are safe with JustGiving – they'll never sell them on or send unwanted emails. Once you donate, they'll send your money directly to the charity. So it's the most efficient way to donate – saving time and cutting costs for the charity.