Harry's Heroes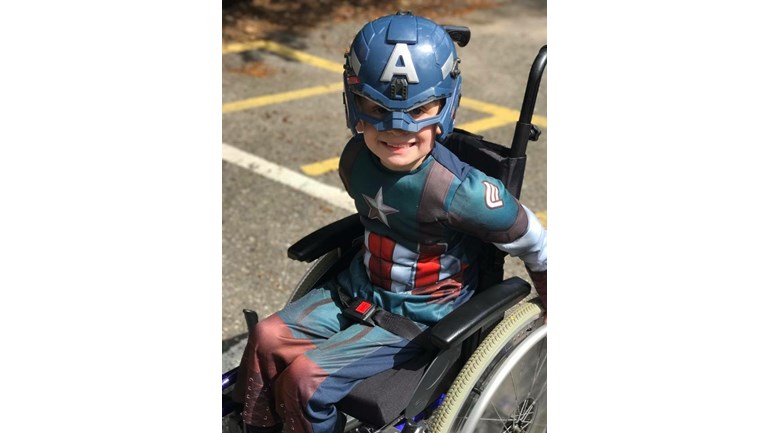 Harry is a very happy and determined 8 year old boy who hasn't had the easiest of starts in life. He faces every challenge with a smile on his face and is an inspiration to all of us around him.
Harry was delivered by an emergency Cesarean at 37 weeks, he weighed a healthy 6lb 13oz.  When he was delivered it became apparent that something was wrong.  Both of Harry's legs and feet were in a locked position, he had very little movement, he had little to no muscle tone in his lower body. A doctor came to examine him on the postnatal ward after much pleading from us, and it was this point that our unexpected journey was to begin.
For the 1st year of Harry's life we took him to endless hospital appointments (up to 3 a week), he endured numerous invasive tests, without any answers, the truth was (and still is) Harry baffles most doctors that he meets and there is no definitive diagnosis for his condition.  He has a group of numerous conditions which the doctors treat individually, over the years he has developed more conditions to add to the ever growing list some of which include; Neurogenic Arthrogryposis, Global Development Delay, Ventriculomegaly and ADHD.  
The long and the short of this story is that we are fighting a constant battle with Harrys muscles and nervous system, to keep him as mobile as possible, he is unable to stand or walk unaided and divides his time between using splints on both legs with crutches/walking frame and a wheelchair. His nerves are unable to carry messages to his lower extremities, to get them to relax and contract properly, therefore his muscles are constantly tightening and causing his legs to become stiffer, due to his nerves not being able to send the messages to his legs properly results in him having little to no muscle tone (without the splints on his legs he is unable to weight bear).  In October 2017 doctors informed us that as Harry gets bigger and heavier, he is more likely to become wheelchair bound.  This is something that we have always suspected but as you can imagine it was news that no parent wants to hear none the less.
After lots of research we came across some physiotherapy at Kids Physio Works.  Here they offer a series of therapies which are not available on the NHS, they are specific therapies for people effected with Neuro-disabilities and Brain Injuries.  The main aim is to change proprioception, reduce pathological reflexes, restore physiological muscle synergies and load the body with weight.  All of this normalises vestibulo-preprioceptive input.
The aim of this treatment is to improve Harry's core strength, his stability and balance and to keep his muscles from spasming as much as possible. They also offer the use of a "Therasuit" this is an orthotic which helps to learn how to use muscles efficiently, using this in addition to Functional Electrical Stimulation which creates muscle contractions by using electrical impulses, this helps to restore strength and can also "retrain" his muscles on how to function.
Harry has already been for an initial assessment with Kids Physio Works and the results from his first time using the therasuit were instant,  he was able to go from the sitting on a bench position to standing without the use of his hands. It was amazing to see. Unfortunately this is not a government funded therapy and a 2 hour weekly session costs £140.  We are running out of realistic options to keep Harry as mobile as we can, there are no further surgeries available at the present moment.  We are confident with the right amount of therapy we could keep Harry mobile for as long as possible, he has just signed up to a Frame Football team and seeing his face being able to join in with other children with disabilities was amazing.  We would love for him to be able to continue to do this.  We are so grateful for the support we have received and please know that every little helps to keep Harry moving.  Everyone who has helped is one of Harry's Heroes, please know that you have all helped a truly amazing little boy achieve his dreams of staying mobile.  We couldn't do it without each and every one of you so THANK YOU!!
Feel Free to follow Harrys progress on Facebook by searching fb.me/harrysheroes2018 , we will post regular updates and videos of Harry and what he is getting up to.
We will also be holding lots of fundraising events and will post regular updates of these on the Facebook page.  Once again Thank you from the bottom of our hearts and Harry wanted me to say a big thank you to each and every one of you especially from him xxx
Thanks for taking the time to visit my JustGiving page.
7.5% of all donations to Tree of Hope in relation to this appeal will be allocated to the general charitable purposes of Tree of Hope to cover our core operating costs.
If we raise insufficient funds, or surplus funds, then the funds will be used if appropriate, to fund support for our child's needs in accordance with Tree of Hope's charitable objects.  If in those circumstances we are unable to use all or part of the funds for the benefit of our child in accordance with Tree of Hope's charitable objects, then any funds that cannot be used will be transferred to be used for the charitable purposes of Tree of Hope.
If you have any questions at all please do not hesitate to call the family support team on 01892 535525
Donating through JustGiving is simple, fast and totally secure. Your details are safe with JustGiving - they'll never sell them on or send unwanted emails. Once you donate, they'll send your money directly to the charity. So it's the most efficient way to donate - saving time and cutting costs for the charity.