Make his Day - The Hari Jay fund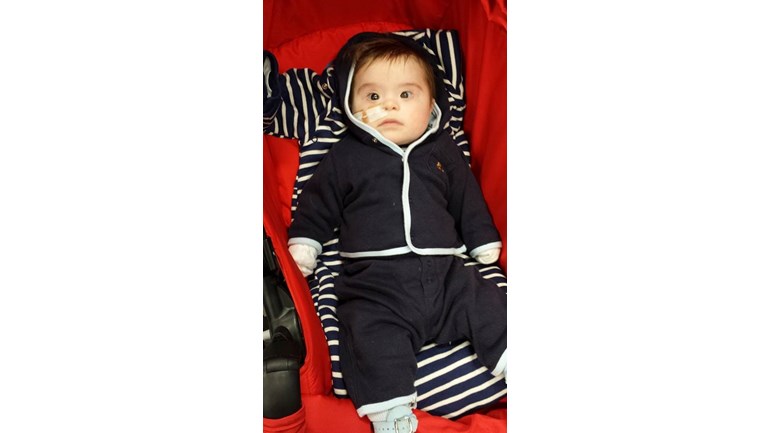 Hi all
We are raising money for a gorgeous little boy called Hari Jay.
This is Hari, I told you he was gorgeous.

Hari has down syndrome but not only that he also has a serious heart condition called AVSD (Atrioventricular Septal Defect) which often comes with down syndrome.
There was a hole in between the artria and ventricles of his heart.
He was born almost blind and Dr's were worried he was also deaf and lastly he has bilateral talipes which is a deformity of the feet.
Whilst the family knew he would have talipes his down syndrome and other conditions were a complete shock.
For the next 5 years Hari will have ponseti treatment for his talipes. This means he'll wear boots and a bar to help correct his feet and give him a chance to do the normal things boys want to do like running and playing football.
His family didn't have any time to let any of this set in as Hari quickly needed some operations in order for him to get through the early weeks.
By 7 weeks old he had undergone operations on his eyes to remove cateracts in order for him to be able to see. Hari now wears really strong contact lenses.
Getting socks on a baby is often hard but could you imagine putting contact lenses in their eyes? As there is a greater chance of glaucoma for Hari his eyes are checked every 3 months and he has daily eye drops.
He was fitted with a feeding tube as he was finding it hard to feed normally, this is common for babies with AVSD. He is now getting poorly from this and finds it hard to keep food down. Dr's are looking into a possible issue with his stomach which could result in further surgery. The NHS waiting list is lengthy so going private could be the only option.
He had his major heart operation in May to fix the AVSD and it was mostly a success. His Dr's have now found issues with other valves leaking that will need corrective surgery.
He's a poorly boy and has spent a lot of time in hospital but he takes it all in his stride and he's happy. He has lots of Dr and specialist friends, 16 at present across 3 different hospitals. He's a popular boy.
It would be lovely for him to have sensory lights and equipment at home for his development, to cover additional cost of medical equipment that isn't funded by the NHS and also enable his family to stay close by when he is in hospital for long periods of time.
We have people running half marathons, lengthy cycles, survival of the fittest and charity nights.
Thank you for taking the time to read about Hari and hopefully donating.
Remember to take a pic of yourself with a sign saying #makehisday and tag his mum Claire Johnstone and his dad Jason Tahanha on facebook.