Halle's Wish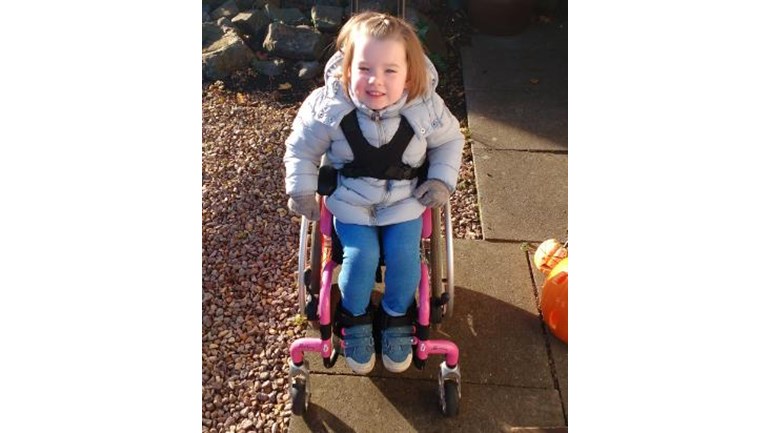 This is our beautiful 4 year old little girl Halle Heriot.
At around 10-11 months old we noticed that Halle wasn't hitting her milestones and even general moving seemed to be very difficult and painful.
From Halle's 1st birthday we expressed our concerns to the health visitor and our GP both assured us that there was nothing to worry about until at least the age of two, we were even being told she is just a bit lazy…which was infuriating!! A glimmer of hope came in the form of Halle's big brother's old brick truck/walker she pulled herself up to it and took slow disorientated steps with the aid of the truck, 2 months passed and Halle was glued to the truck whilst she was so pleased to be up on her feet we were even more concerned as she simply couldn't be without the brick truck. At 21 months old finally our GP agreed something wasn't right after watching our daughter move with the brick truck then agreed to refer Halle. November 14th 2014 an orthopaedic paediatric consultant listened to us describe the last 23 months of our worries he watched Halle on the truck and very quickly said this is not an orthopaedic issue but a neurological one Halle has cerebral palsy, we were overcome with shock and confusion, real heart ache and a few days of tears followed. This was such a blow and unexpected news as Halle was born at full term, a healthy labour and a healthy pregnancy.
Halle's new life started, MRI brain scan, x-rays, so many appointments and most importantly starting physio. From then on to present day Halle's life is now, daily physio, wearing day and night AFO's (splints) using a k-walker for short periods of time and her wheelchair for the rest of the time, Occupational Therapy appointments providing specialist seating equipment at home and at pre-school, daily medications and Botox treatment.
Halle has developed into a confident, strong and determined little girl always smiling through her daily struggles. But with age comes questions and her need to understand her condition. Her determination to be as mobile and able bodied as possible is inspirational.
Like many parents with disabled children the need to understand and do something to make things "better" becomes almost an obsession here enters our SDR journey a procedure that could change Halle's life, Selective dorsal rhizotomy (SDR) is an operation used to improve spasticity (muscle stiffness) in cerebral palsy. Halle has bilateral Spastic diplegia (which affects leg muscles more than the arms on both sides of the body). Nerve fibres running from the muscles to the spinal cord play a major role in causing this muscle stiffness and spasms. SDR surgery involves dividing some of these fibres and permanently cutting them, this is a very effective solution at reducing stiffness and spasticity. Sadly this procedure is not availabe on the NHS.
Halle has been accepted for this procedure at GOSH London as an ideal candidate with the hope of being pain free, reducing daily medication, taking away her spasticity, spasms and maybe the chance to take independent steps.
So now we have the task of raising £55,000 which will cover the procedure, aftercare, any specialist equipment and home adaptations needed but most importantly the intensive physiotherapy. SDR is not a cure for cerebral palsy but it is life changing and to give Halle the chance of a better life is to us the most important opportunity we can give our daughter. Please help us on this journey and make this wish come true for our brave little girl, whatever you can give is truly appreciated. 
Please make sure to tick the Gift Aid box when donating.
Please follow Halle's SDR journey on social media, like us, share us, follow us and show your support:
FB: www.facebook.com/halle.heriot.1
Twitter: www.twitter.com/@halles_wish
Thank you for reading Halle's story.
Fran and Tim Heriot – Halle's Mummy and Daddy
Thanks for taking the time to visit my JustGiving page.
Donating through JustGiving is simple, fast and totally secure. Your details are safe with JustGiving - they'll never sell them on or send unwanted emails. Once you donate, they'll send your money directly to the charity. So it's the most efficient way to donate - saving time and cutting costs for the charity.