greta has a lot she wants to tell us, and a long way to walk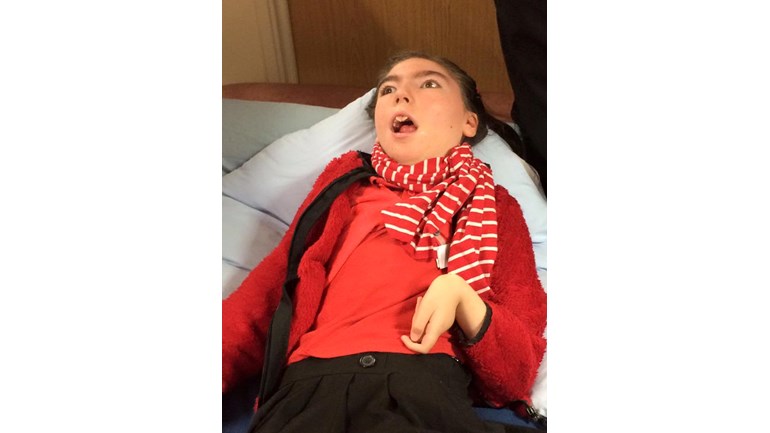 Now that we have, with amazing help raised the money for Greta's eyegaze (and she is using it and it is making a real difference), we would like to fundraise towards an innowalk - which is like a cross country trainer for walking on the spot, and all the health benefits that will come with this. When she tried it for 15 minutes, she loved it, and was so bright and alert afterwards (see photo) and all the next day at school: the benefits are widespread - click on the video below to see her in action!
And the update on Greta's eyegaze, or Greta's voice as we have re-named it, is that she is learning to use it in lots of situations for real conversations, as well as learning through it, and I have re-prgrammed a newe hhome page, so that she has buttons for every situation in school, as well as lots of quick chat. We are using it for Greta to comment on what she is thinking when we are reading: next comes spelling and reading - exciting times for Greta,and all made possible by your wonderful fundraising! To follow her learning, have a look at her facebook page: https://www.facebook.com/GretaMcM/
Original post:

Greta has lots she wants to tell us. You can see it in her eyes. And that's the key, as thereis now a computer, which can read her eyes, see what she is looking at, andhelp her to learn that this is how she can communicate with us. Our campaign isto raise funds so that she will have her own eyegaze to use whenever andwherever she wants.
 Greta is a lovelyenthusiastic sociable girl. Because of her Cerebral Palsy, everything that shedoes is physically difficult. This doesn't stop her from having a very richlife, she loves going for family cycle rides along Portobello Prom. She alsoloves her Granny reading books to her (at the moment they are reading MagnusFinn by Janice Mackay). But she needs lots of extra support, and specialistequipment always costs a lot more. The eyegaze is a fabulous piece oftechnology, with all sorts of potential, but for Greta to use it again takeshard physical work and lots of access to it. This is why we need one for homeand Towerbank School, so that she can have every possible opportunity todevelop this skill. But given that time she is starting to do amazing things:when we had a trial from the Smartbox rep, the eyegaze was available for overan hour, and she kept going, in fact having the time seemed to make it easierfor her. In the photo you can see her working with hidden grid: the screenstarted off black, and every time she looked at a point for half a second itwould turn a colour. You can see that she worked through lots of colours, andone she went back to so often that it turned white. After several more playfulapps, she moved on to Grid 2. Any of you who know about AAC (augmentative andalternative communication) will know that this is the start for realcommunication. The principle is that the screen has cells on it, eventuallythese cells can be words, or letters for writing your own words (I had a go ata training day, and the feeling of control being able to type a sentence on akeyboard using only my eyes was amazing). Greta was given one cell at a time indifferent places on the screen, which she had to find, look at and activate(animals making noises in this case) and she worked through fifteen differentcells, determinedly. Its was very funny, as we were discussing things with therep then, and we kept being interrupted by animal noises – I think Greta hadbeen waiting to do that for a long time!!
Because theeducational funding for this sort of equipment tends to be: "prove that you canuse it then you can have one to use" and we knew that with Greta it would bemore: "give me the opportunity to use one all the time, and I will learn to useit", we knew that we would need to find other ways of funding this. We were spurredon to start this fundraising campaign ourselves by eleven sixth graders inWashington DC (yes all the other way round the world). They were reading 'Outof My Mind' which is a great novel about a girl who is a wheelchair user andhas lots to say, but just needs o find a way to do it. Their teacher (who is afriend of ours) was telling them about Greta, and they asked if she had acommunication device. When their teacher told them that we were trying to findfunds for an eyegaze, they asked if they could organize a bake sale for Greta!All the way round the other side of the world, such care and understanding. SoI thought if they can come up with that idea, then maybe there are other peoplewho have ideas of small things that they could do to help, it will all add up.This is the beginning: please get in touch if you have any ideas, no matter howtiny or how ambitious!
Donating through JustGiving is simple, fast and totally secure. Your details are safe with JustGiving – they'll never sell them on or send unwanted emails. Once you donate, they'll send your money directly to the charity. So it's the most efficient way to donate – saving time and cutting costs for the charity.
Should we exceed the target amount (or if we do not raise enough funds, or if they cannot be used fro any other reasons) the funds raised will go to the general funds of Tree of Hope to assist other sick children.