Grace's Next Step Appeal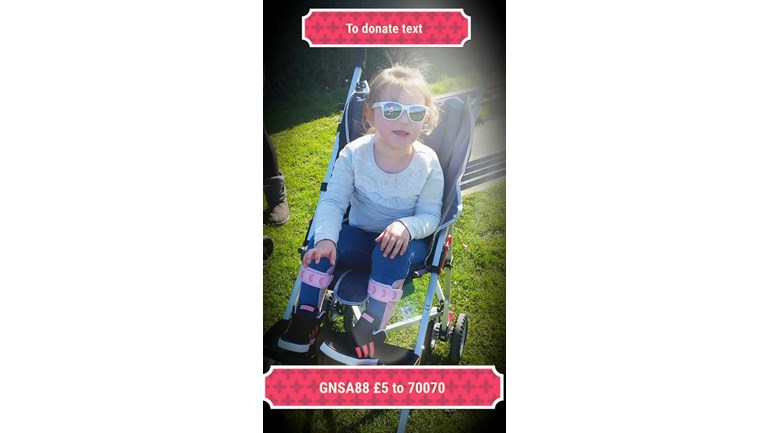 Our amazing Grace was born on the 17/11/2011, weighing just 5lb 13oz. She was born with a congenital heart defect, that would require surgery in order to save her life!
Initially Grace seemed well, but Grace's condition quickly deteriorated, at three months old she was rushed to hospital. She was very blue and breathless. We knew at that point, we wouldn't be going home without surgery. Grace had her first heart surgery at just three months old, her full repair followed when she was 18 months.
It had been a very difficult time for us as a family, but grace seemed to be recovering well. However when Grace struggled to hit milestones, then came the devastating news. An MRI revealed that at some point during this time, Grace had suffered a stroke. Resulting in her diagnosis of Cerebral Palsy.
Grace is now four years old and despite everything she has been through, she is a very happy, bright and determined little girl. However because of the Cerebral Palsy, she has been left with tight leg muscles that cause her pain. This makes it difficult for her to do simple activities, that most of us take for granted. She struggles with dressing herself, climbing stairs, walking, running and often wakes in the night due to terrible leg cramps.
As well as the pain, she has to endure endless appointments, physiotherapy and Botox injections. She wears splints on each leg, both day and night, and becomes exhausted with walking short distances.
Grace never complains though, she enjoys playing with her friends and loves attending Nursery. She has such a positive attitude but struggles to understand that she cant do the things her friends can. When Grace walks her left leg turns in, making it uncomfortable for her and she is knocked off balance very easily. Although she tries her very best, her lack of mobility causes her to have numerous falls and often gets her left behind. She keeps asking why she can't ride a bike or a scooter, and wishes she could dance without falling over after a few steps. These are all the things she can't do now, and will struggle with in the future.
We have discovered an operation that could change all that, called a Selective Dorsal Rhizotomy. This is an operation which would be life changing for Grace, as it would permanently remove the spasticity in her legs. Relieving her of pain and enabling her to do the things she has always dreamed of,  and struggles with on a daily basis. It will ensure that she doesn't suffer with bone deformities when she is older.  It will allow her to have a brighter future, and gain the independence she so desperately craves.
Due to the nature of damage to Graces brain caused by a stroke and the fact that SDR surgery has only been performed a small number of times in UK Graces operation can only be performed at  St Louis Children's hospital in Missouri, America. Our only option now is to raise these funds to travel to America, for the SDR operation and associated after care that Grace will need, on the return to the UK.
The following link provides all the information for SDR at ST Louis Children's hospital; 
http://www.stlouischildrens.org/our-services/center-cerebral-palsy-spasticity/about-selective-dorsal-rhizotomy-sdr
Thank you for taking the time to visit our page.  Any donation whether it be great or small, will help Grace on her journey towards a brighter future.
Selective dorsal rhizotomy is a very complex operation with many risks if SDR is decided not to be the best option for Grace , money raised will go towards physical and sensory therapy, adaptions to vehicle  and home that will aid sensory and physical therapy. Any medical expenses for treatment, therapy or medical visits. 
Thanks for taking the time to visit my JustGiving page.
Donating through JustGiving is simple, fast and totally secure. Your details are safe with JustGiving - they'll never sell them on or send unwanted emails. Once you donate, they'll send your money directly to the charity. So it's the most efficient way to donate - saving time and cutting costs for the charity.