Go Georgie Go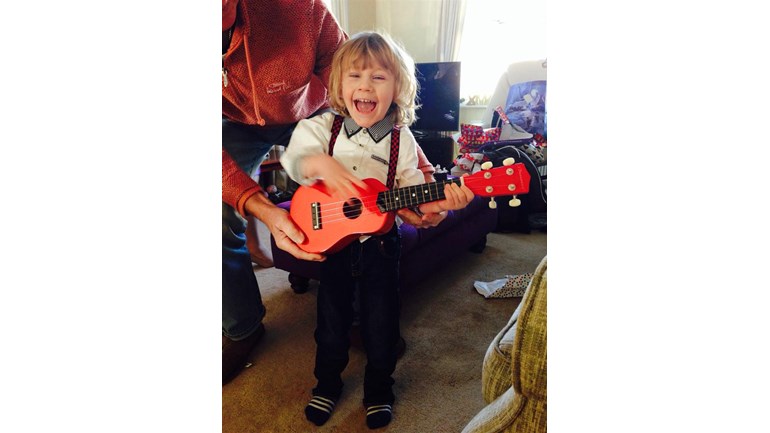 Hello my name is Georgie!
I am 3 years old and I have Global Development Delay.
When I was about 5 months old, my mummy and daddy noticed that I stopped meeting my milestones and took me to the doctors.  When I was 13 months old I was put to sleep and placed in a big machine that took photos of my brain.  Mummy and daddy were pleased that everything looked normal. 
I then went on to have lots more tests done, some of which were not very nice especially the ones with the needles.  I didn't like them!  When I was 2 I had an operation on my eyes to correct my squints, so now I can see straight.  I have on going appointments with doctors, consultants, physiotherapists, occupational therapists, speech therapists, portage, and every 6 months we go to a big meeting with everyone to see how i'm doing!
My mummy and daddy were told I had Global Development Delay when I was 1.  The doctor who told them was a Paediatric Neurologist Specialist and he told my mummy not to blame herself, and that I would be born this way whether I was born now, 10 years ago or in 20 years time and that she did or didn't do anything that could of caused it!  Im just me!!
I have trouble with my feet and legs, namely I have collapsed flat feet and they are causing my legs to develop wrongly.  I have very weak muscles especially in my core and legs which means I cant stand or walk, but I give it a really good go in my shiney green walker.  I am verbally dispraxic but I have really progressed with my speech.  In the last 3 months I have gone from saying only the first letter of each word, to now saying 3 syllable words and i can even do 3 words in a row when i really try!  I have said 'mummy' for the first time recently.  She really liked when i did that!
I also have hypersensitive hearing, so loud, sudden noises really scare me.  They sometimes physically hurt me.  But, small quiet noises (especially a tick tock clock) make me giggle, as they feel like they're tickling me.  I love hats, horses, buses and trains and Iove to sing nursery rhymes.  My favourite song is 'Happy' by Pharrell which I love to sing along to in the car when it comes on the radio.  If mummy has the cd on, I always ask for more using makaton sign language.  The song suits me perfectly because I am very happy and friendly, so please do say hello if you see me!
Global Development Delay isn't heard of much.  It is a disability that can be very mild or very severe with lots of other problems coming with it.  I hope to spread the word and make this disability more heard of and help people understand it.
Please follow my progress on Facebook 
https://m.facebook.com/GoGeorgieGo

Georgie x

 We are fundraising money to give Georgie the opportunity to have some very special therapy which would greatly improve the chance of him walking unaided one day.  The way Georgie gets around at the moment causes such an impact on his knees that he cant sleep at night due to the pain.  The therapy will pin point exactly where Georgie needs the most work and help him with his development.  This special therapy is only available in a handful of clinics across the UK and will be specially designed around Georgie to give him maximum potential.
 Should we exceed the target amount or if we do not raise enough funds, or if they cannot be used for any other reason, the funds raised will go to the general funds of Tree of Hope to assist other sick children.

 https://www.justgiving.com/GoGeorgieGo/
Thanks for taking the time to visit my JustGiving page.
Georgie's Mummy & Daddy x
Donating through JustGiving is simple, fast and totally secure. Your details are safe with JustGiving – they'll never sell them on or send unwanted emails. Once you donate, they'll send your money directly to the charity. So it's the most efficient way to donate – saving time and cutting costs for the charity.