Dominic in training!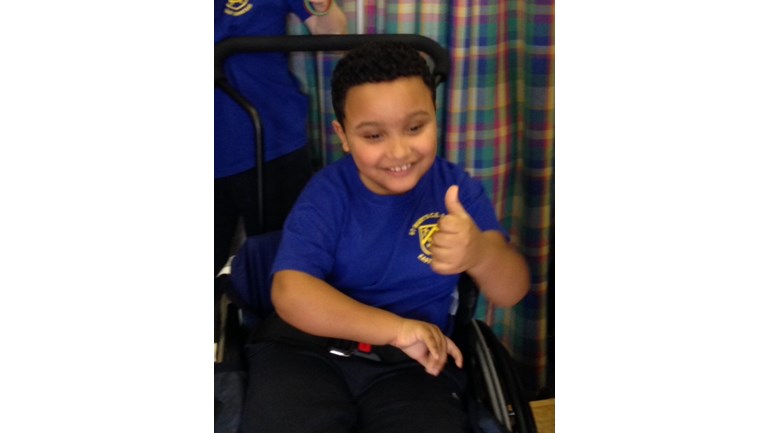 Thanks for taking the time to visit my JustGiving page.
Dominic is a funny, cheeky and most importantly inspirational 8 year old who just so happens to have Quadraplegic Cerebral Palsy with Cerebral Visual impairment.  He uses a Wheelchair all the time but can spend short periods in a walker and on a specially adapted trike.
After an amazing Fundraising campaign in 2010 and the support and generosity of some amazing people we were able to give a more positive and pain free childhood to Dominic.  He has been able to go to a mainstream school and make some lovely friends, be part of a drama group and perform on the stage. 
In 2013 however Dominic required surgery on both of his hips to prevent them from dislocating.  This unfortunately set him back strength wise 2 years and we have struggled to regain this back to the level it was.  In order to make up some ground with his strength and his all-round health we have to kick off some more intensive therapy to try and get him to where he needs to be.  The therapy consists mainly of Physiotherapy and hydrotherapy which prove to be the most effective.
In order to help achieve this we have no choice but to fundraise to help meet these costs.  Dominic is also growing extremely fast and going through wheelchairs and bikes far quicker than anticipated.  So over the next couple of years working with Tree of Hope we have a target of approx. £20,000 to help meet all Dominic's needs both with Therapy and equipment.   
Thank you for reading our story and if you require any further information on Dominic's story please do visit Dominic's website
Should we exceed the target amount (or if we do not raise enough funds, or if they cannot be used for any other reason) the funds raised will go to the general funds for Tree of Hope to assist other sick children.