Go Go Gwilym!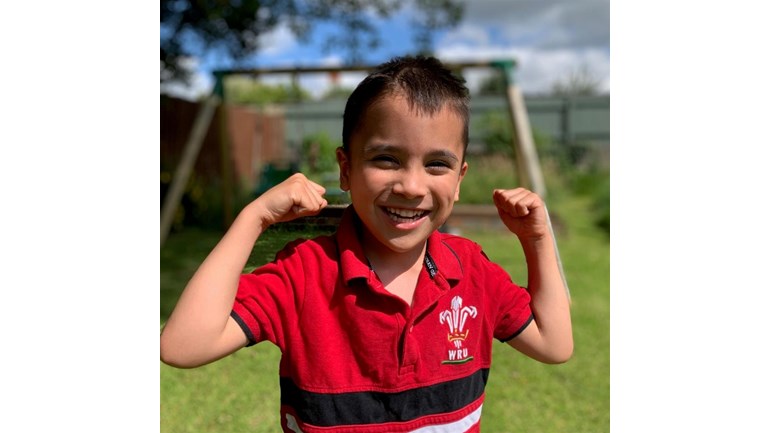 Gwilym is five years old and is daily practising his 'flat feet walking' to counteract the spasticity (tightness) in his legs. All our friends and family are used to hearing us give the odd quiet reminder to try a bit of 'flat feet walking' when we're out and about. So much so, Gwilym's one year old sister, Nia, immediately responds and does the best, exaggerated comical steps: the sight of the pair of them holding hands and squealing with each 'stomp' always causes a giggle but also immense pride in this mama's heart!
We found out Gwilym has mild bilateral Cerebral Palsy when he was just over one year old. As a premature baby, born at twenty-seven weeks, we weren't quite sure how to really adjust his age for those typical baby milestones and just assumed he was delayed in sitting and crawling. After his diagnosis, Gwilim's routine weekly physiotherapy sessions took on more importance and we quickly realised that we needed to be more proactive in helping Gwilym with the simplest actions. He moved around only by crawling and would need both his hands to be held and 'guided' to walk until he was three and a half.
We've since celebrated many 'firsts' with him during the initial lockdown: pushing himself into a standing position, standing on his own for a couple of seconds which he gradually extended by a second at a time. When he started school last September, he was able to coast and walk a few metres between the surfaces. Like thousands of others, lockdown brought an abrupt halt to Gwilym's medical treatment and when his NHS physiotherapy was completely stopped, we had to look elsewhere. We found a truly dedicated Strength and Conditioning Coach who worked wonders with Gwilym and is still helping him develop the mindset of a mini athlete; he knows that practice will make him stronger and better at anything. Gwilym works hard and loves alternating between the silliness of balloon games and dancing and the challenge of sit-ups and squats.
After a year of regular training an hour's drive away in Newport and of course at home, Gwilym has come a long way. He can walk on his tiptoes for short distances and stands in a crouched position to help him feel a bit more stable. He's desperate to run and is trying to do little 'bunny hops' which often end up with him using his hands to 'land' - his attempt at jumping. He loves being active and finds ways of participating in sports and games with his classmates – sometimes he manages to kick a football forwards and other times it's just simpler and quicker to get down on the ground and punch it away.
In the latest assessment by his Paediatric Neurologist, Gwilym was praised for his fantastic improvement across all the assessment criteria and was recognised as a good candidate to be put forward for further consideration for Selective Dorsal Rhizotomy (SDR). This is the operation that identifies the sensory nerve fibres within Gwilym's spinal cord that are sending the wrong signals to his legs and causing the spasticity. Once these specific nerves are cut, Gwilym can un-learn the coping strategies he now uses to stay upright and balanced and, essentially, his 'flat feet walking' can become the norm rather than use up so much of his concentration and effort.  
We know that the SDR operation is Gwilym's best chance of long-term improvement for his condition and will unlock so much more of his
potential. This is a very time-sensitive treatment and to avoid the likely physical malformations that continue apace as Gwilym grows bigger and heavier, he needs this operation to occur before he is nine years old. Gwilym is on the referral pathway and we hope he will be able to have the SDR operation in Bristol NHS Hospital once he has completed the next round of assessments and as soon as they can schedule the operation. 
Gwilym's indomitable Strength and Conditioning Coach reminds us that 'the stronger he goes in to the SDR operation, the more he will benefit' so we are fundraising to increase this specialist therapy and make sure he can have the best post-op rehab recovery possible. All money donated will be used to pay for specialist physiotherapy. (If we come across obstacles in the NHS route for SDR, then the funds raised will go towards paying for this procedure to be done privately. I will update this page as soon as we have a definite pathway).
Gwilym has done everything asked of him and, with this successful treatment, he can continue to improve and impress. Hopefully, one day he'll be able to run, jump and dance unencumbered by his spasticity.
We'll be organising lots of fundraising events over these next eight months so we hope to raise the majority of this total by Gwilym's 6th
birthday in March 2023. We're incredibly grateful for all donations – and thank you for simply getting this far and reading about our superboy!
The technical bit: 7.5% of all donations to 'Tree of Hope' in relation to this 'Go Go Gwilym!' appeal will be allocated to the general charitable purposes of 'Tree of Hope' to cover their core operating costs. If we raise insufficient funds, or surplus funds, then the funds will be used, if appropriate, to fund support for Gwilym's needs in accordance with 'Tree of Hope' charitable objects. If in those circumstances, we are unable to use all or part of the funds for Gwilym's benefit in accordance with 'Tree of Hope's charitable objectives, then any funds that cannot be used will be transferred to be used for the charitable purposes of 'Tree of Hope'. 
x Thank you, once again! x