Gergo Balla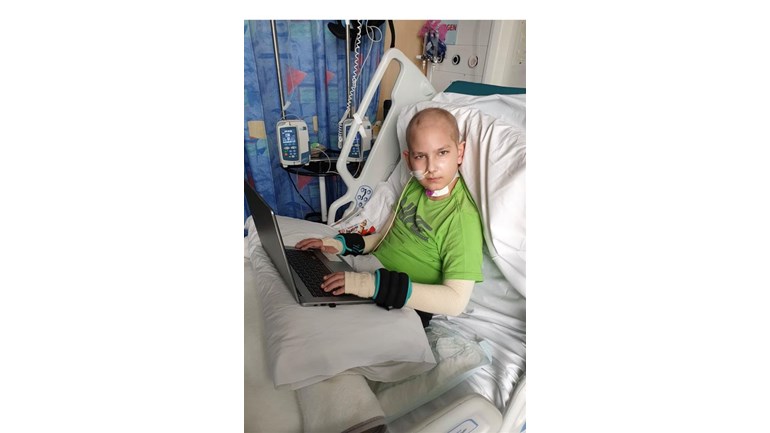 Thank you for taking the time to visit Gergo's JustGiving page.



On 2019 April, Gergo has been diagnosed with a malignant brain tumor. (Medulloblastoma) During transport from one hospital to the other, unfortunately while Gergo was being transported oxygen deficiency developed. On the same day Gergo had already gone through a life saving operation, where his brain water was too high and they had to drain it. Then next day they had removed a 7-cm large tumor from the back of the brain. He was then under a five day long under anesthesia. Gergo was in the intensive care unit for three weeks, during this time, unfortunately, Tracheostomy was needed because he could not breathe alone either. Unhappily from the oxygen deficiency, Gergo has suffered a brain damage and this caused his body to be paralyzed. He can hardly control his hands, he lost his balance, so it isn't possible for him to travel without any assistance, this disease is called Ataxia. After being in intensive care unit for three week, Gergo spent one month at the Department of Neurology, then they moved him to Department of Oncology. Gergo spent more than four month inside the Hospital. Then in May 2019, the Radiation treatment started, which consisted of 30 operators, and then started in September 2019. Chemo therapy, which was 8 cycles.
Unfortunately Gergo's Mother were also diagnosed with Brain Tumor in 2017, and then in 2018 the tumor was removed. Unhapilly, her condition has not improved since then, she has a strong migraine every day and also she feels dizziness throughout the day, she has weakness on the right side of her body and she feels numb nearly everywhere on that side of her body, she also has to use a wheelchair to go anywhere outside the house. She is recieving Physiotherapy and Ot therapy, and a psychologist helps her process everything what had been going on. For Gergo's sake, we were forced to seek help to improve Gergo's life and make his time at school easier for him. We would like to ask for help in this matter because we would like to buy a wheelchair which the physicists and OT suggested for us to get for Gergo. And which unfortunately is not supported by the Goverment, this is a special chair which will make Gergo's life way more easier and comfortable for him to get around, the current chair what Gergo uses is no longer suitable for Gergo's current condition, he cannot use the current wheelchair's full potential in school. Unfortunately, this chair is very expensive for us, so we want to seek the help of people who are benevolent and compassionate, and are motivated enough to help us to make Gergo's life better and easier. Since Gergo needs constant supervision and help with everyday life and his mother also needs help, this cause Gergo's Father unable to get back to working.
In order for Gergo to start School in the right way for him in September, we are asking all the good hearted people who can and will be willing to help, if only a little or just a share would mean everything for us, help us reach our goal.
Thank you so much