Autism assistance dog for George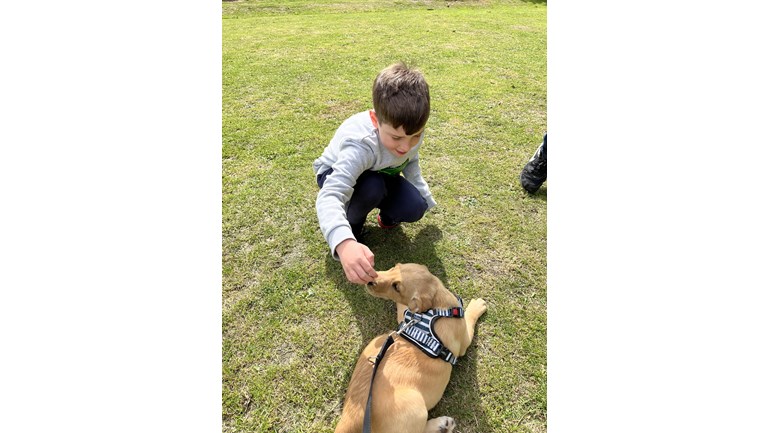 George is 9 years old, he has autism and adhd. George is a fountain of knowledge for facts about earth, space, sea life, Minecraft and Godzilla. He loves animals and his idol is David Attenborough. More than anything, George would like a dog and he voices this to us, a lot! Up until recently we always said that George could have a dog when he is a teenager and able to care for the dog himself, but then we came across the charity Supporting Paws, who train Labradors specifically for children with autism. We feel very lucky to have found this charity and even luckier that they have accepted George onto their programme and are going to train a dog for him. 
Having a dog specifically trained for George means that not only will he have a companion, but the dog will be able to sense when George is feeling anxious and help him through his anxiety, accompany George when he goes to public places, give him a deep pressure massage when he is overwhelmed; as well as adopting many other strategies to assist George's sensory needs. The dog will also be trained to stop George from running or wandering off when we're out. We are absolutely amazed by what these dogs can be trained to do!
George absolutely loves his iPad and given the choice, he would stay at home all day, every day playing it. Because of this, getting George out of the house for things such as a family walk is a real challenge. Having a dog will hugely encourage him to get out every day and not only will this be good for his whole wellbeing, it will be a regular way for George to have the opportunity to communicate and interact with others appropriately, which doesn't come easily to him. 

If you would like to donate to help us reach our target for George's autism assistance dog, then anything would be greatly received. 

7.5% of all donations to Tree of Hope in relation to this appeal will be allocated to the general charitable purposes of Tree of Hope to cover our core operating costs.

If we raise insufficient funds, or surplus funds, then the funds will be used, if appropriate, to fund support for our child's needs in accordance with Tree of Hope's charitable objects.  If in those circumstances we are unable to use all or part of the funds for the benefit of our child in accordance with Tree of Hope's charitable objectives, then any funds that cannot be used will be transferred to be used for the general charitable purposes of Tree of Hope.