Harrison's page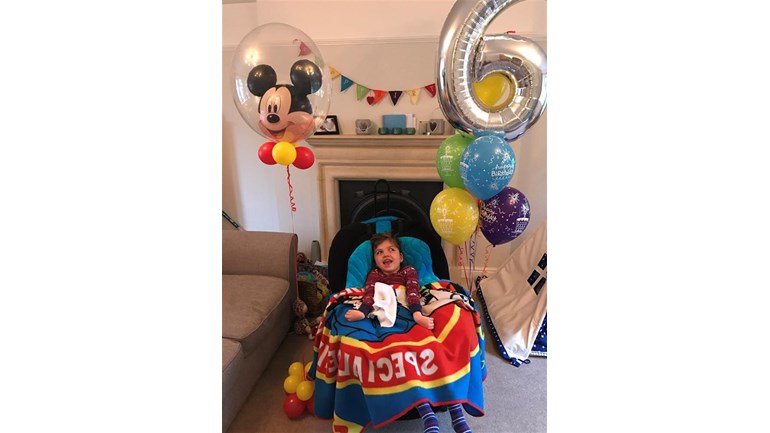 Thanks for taking the time to visit my JustGiving page.
My name is Harrison Galligan and at the beginning of my life I was so comfortable inside mummy I didn't want to come out, finally I decided to meet my mummy and daddy 6 days later. I was born on 09/03/2012

Unfortunately I suffered a significant brain injury during my difficult delivery into the world, as I got a bit tangled with my cord, and didn't get enough oxygen to my brain.  They sent me straight to Southmead Hospital to be cooled down to help lessen the damage to my brain.  During this time the doctors didn't think I was going to make it but I kept fighting and lots of people kept praying, and we proved those doctors wrong! 
When they first woke me up I had great difficulty with feeding and breathing, but after 3 weeks of hard work I got the hang of it and was able to go home which was a very happy day!
Unfortunately because of my start in life, I have severe Spastic Quadreplegia Cerebral Palsy, what this means is that I have limited to no use of my limbs.  I am unable to sit up, walk, talk and have little head control.  I have epilepsy, global developmental delay, I'm visually impaired and have to be fed through a tube that goes straight into my tummy, it's called a peg.  Despite all of this I am a very happy little boy, I can smile, giggle and I love to be cuddled all day. 
Every day I have to have physio as I am very stiff, this helps to loosen me a little bit, it also keeps my range of movement and eases aches and pains.  I have various other treatments as well and because of my condition I also need specialist equipment.  All money raised will go towards my therapies and any equipment that I need.
Any money you can give will help my mummy and daddy buy the things needed to help me do the exciting things kids like me want to do, and the more everyday things many take for granted.
Harrison is growing so much that we need to buy him a bed very soon. Harrisons cot no longer fits him and his sleep system.  Harrison has to have a special bed to cater all his needs so we are now raising money for this. The bed costs £4750.00 (gulp).  This bed will last him into his teens thank goodness. We shall be getting our running shoes back out, all donations greatly appreciated.
Thank you for taking the time to read my story
Update:  
Thank you for all of your support, Harrison has had his bed for almost 4 years now and it's been wonderful for him.  It keeps him safe during the night. Harrison has recently celebrated his 6th birthday, we cherish everyday we have with him. Harrison is absolutely a joy to be around and he now has a younger brother, Tobias, who loves to bring him toys and give him lots of kisses xx