Rocco's Innowalk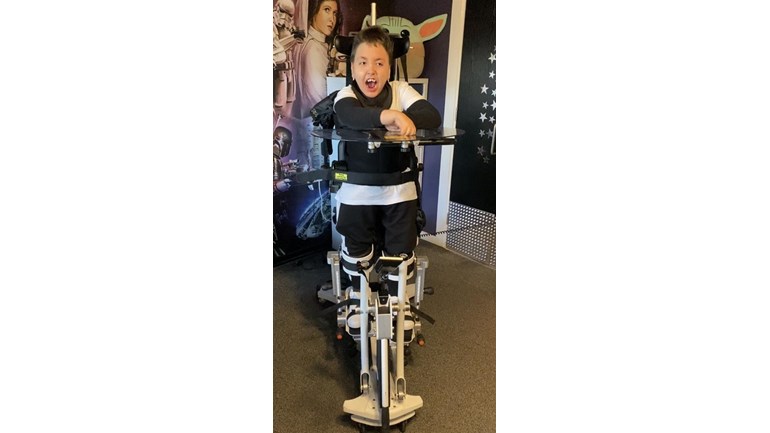 We are fundraising for 2 Innowalk's so Rocco can be given the opportunity to walk everyday - when at school and at home. 
Rocco's Story.......
Our son Rocco was born 3 months premature which resulted in him having Quadriplegic Cerebral Palsy due to complications at birth. Rocco is fully wheelchair dependant and needs 24/7 nursing care.
Despite all the odds against him, weighting only 985grams when he was born, Rocco is now a happy 12 years old boy enjoying life going to school with his friends at The Royal Blind School in Edinburgh.
Currently at school Rocco has access to many different therapies such as hydrotherapy, rebound, Ijoy balance , bench sitting, music, mindfulness and sensory lights room to support his disabilities and complex needs.
At times it has not been easy through the years for Rocco; he has needed a lot of operations at the Edinburgh Sick Kids Hospital for various health complications due to his condition which included double hip reconstruction in 2016, due to his bones not developing correctly. 
Throughout the years Rocco has needed lots of help and support due to his serve complex needs,  whether it has been through therapists such as OT's, Physio's and Community Nursing or whether it be vital equipment such as Eyegaze, Workchairs, Standing Frames, Trike, Hoists and Wheelchairs. This is only some to mention.
As Rocco is getting older sadly the equipment that is available to him becomes less frequent. But fortunately there is one piece of equipment that would change Rocco's outlook on life to help achieve long life goals as well as maintain good growth and development.
We recently had an assessment for an Innowalker.
What this vital piece of equipment does, is fully supports Rocco to be able to experience the walking and cycling position safely and securely. Something we never ever thought would be possible or ever be able to see our son do.
The Innowalker gives us hope for a better, brighter future for our boy. 
It would minimize the risk of Rocco having to go for another double hip reconstruction, it would minimize Rocco getting scoliosis and complications of the spine, it would help prevent against pressure sores and muscle weakness. 
But most of all it would minimize and prevent long term pain and suffering.  
The Innowalker would help Rocco achieve so much in his life, from supporting his bone development, coordination development and also support his mental health and well being by keeping activate and moving every day, which for Rocco is extremely difficult as he can't support his neck, body and legs unaided.
This piece of equipment will last Rocco right through adulthood and also benefit other children and young adults at The Royal Blind School too.
Rocco absolutely loved it when we did his assessment in the Innowalk, he was so happy and amazed with himself that he could actually stand and move his legs at the same time, to feel what it is like to walk.
As parents we felt extremely proud and was bursting with pride in the way that Rocco took to using this equipment so quickly, however we were also extremely sad and upset when he had to come out of it knowing that he would not have that same sensation again being able to walk or cycle unless we had an innowalk of our own that he could use everyday. We can't even begin to imagine how Rocco feels.
Thanks for taking the time to visit my JustGiving page.
Donating through JustGiving is simple, fast and totally secure. Your details are safe with JustGiving - they'll never sell them on or send unwanted emails. Once you donate, they'll send your money directly to the charity. So it's the most efficient way to donate - saving time and cutting costs for the charity.