Help BACK GIGI's scoliosis surgery for a flexible future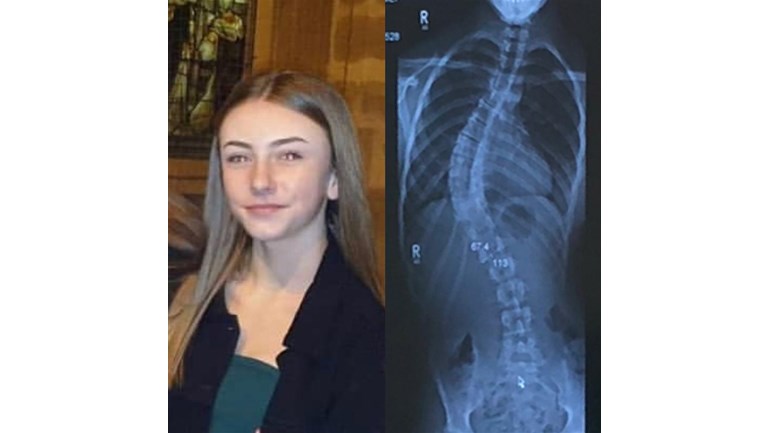 We are urgently trying to raise funds for life-changing,
 time-sensitive, non-fusion spinal surgery in order to give Gigi (Georgia Major) a flexible future.
Our beautiful daughter Gigi 15 from West Yorkshire has adolescent idiopathic scoliosis. This type of scoliosis has no known cause and affects around 4% of children between the ages of 10 to 16.
We noticed initially in January 2020 Gigi's hips were not even when doing a handstand, then saw her shoulders were also uneven. The diagnosis of scoliosis was confirmed in March 2020 following a referral for x-rays from our GP.
Gigi has always been athletic and sporty with a passion for gymnastics gaining many medals and trophies for her achievements, including competing in gymnastics to represent Yorkshire.
Gigi's scoliosis journey has been hindered undoubtedly by the pandemic so she has only seen a consultant twice; she had an MRI in August 2020 and a routine x-ray in May 2021. This x-ray left Gigi heartbroken as her options were now so limited with fusion of her spine as the only suggestion. 
After days of tears, unaware of alternative options we came across VBT online. VBT (Vertebral Body Tethering) is a non-fusion spinal surgery- this option was available on the NHS until 2017 yet is currently only available privately. Currently, we are looking at costs of £50,000 - £60,000 for surgery and contingency for aftercare in the next few months. Even with adding onto our mortgage and using savings, we could never hope to reach the costs especially in such a limited time. There are a few surgeons with experience and skill to offer VBT  in Germany, the USA, Turkey and the UK. The criteria for VBT surgery are: 

Flexibility

a curve less than 65 degrees

growth potential
For Gigi, this has become a race against time as she is already 15, her curve is 65 degrees and she has limited adolescent growth left. 
Scoliosis is a progressive condition that has caused the rapid curvature of Gigi's spine to over 60 degrees. Without surgery, Gigi's condition will continue to deteriorate resulting in increased pain and potentially life limiting restricted breathing.  
The only option offered on the NHS to correct the curve and prevent further deterioration is fusion. This involves inserting rods down the spine, fixing it in place. The rods vary in length depending on the size of the curve and can prove very effective when treating those with scoliosis. For Gigi however, the position and length of the curve will mean the fixation will restrict any flexibility in her back. One of Gigi's greatest fears, through the tears, was to have to roll out of bed for the rest of her life.
Non-fusion spinal surgery is Gigi's best hope for a flexible independent life
Thank you for reading Gigi's story.
Any donation  you can make to help Gigi's fund for a flexible future will be greatly appreciated.
Please share our fundraising page to give us a better chance to reach our target, and also raise awareness of this treatable condition when recognised early. 
Please use gift aid if you can, it will make a big difference to us.
 Thank you so much.
🤍🤍🤍🤍🤍🤍🤍:):):)🤍🤍🤍🤍🤍🤍🤍
7.5% of all donations to Tree of Hope in relation to this appeal will be allocated to the general charitable purposes of Tree of Hope to cover our core operating costs.
 
If we raise insufficient funds, or surplus funds, then the funds will be used, if appropriate, to fund support for our child's needs in accordance with Tree of Hope's charitable objects.  If in those circumstances we are unable to use all or part of the funds for the benefit of our child in accordance with Tree of Hope's charitable objectives, then any funds that cannot be used will be transferred to be used for the general charitable purposes of Tree of Hope.