Freiyas Fairies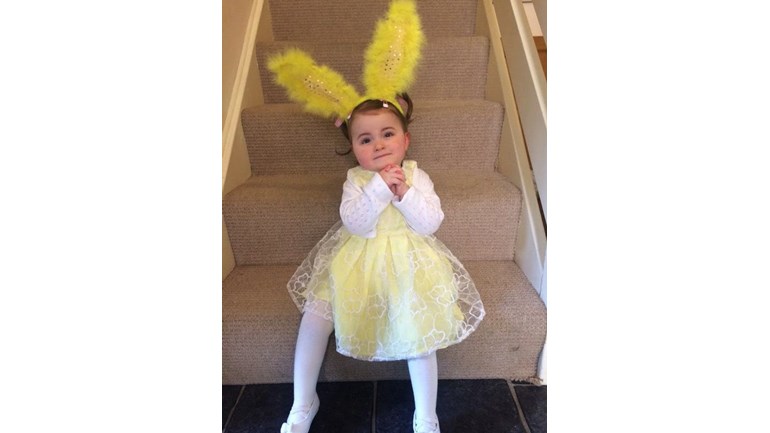 Thanks for taking the time to visit my JustGiving page.
Donating through JustGiving is simple, fast and totally secure. Your details are safe with JustGiving – they'll never sell them on or send unwanted emails. Once you donate, they'll send your money directly to the charity. So it's the most efficient way to donate – saving time and cutting costs for the charity.
Freiya was placed in her mums arms on 7th May 2012 in Milton Keynes.
A bundle of perfection.The first 9 months or so, Freiya hit every milestone, sitting up, clapping, blowing kisses, waving bye bye,babbling & there was no obvious indication that anything was wrong at all.
At around a year, her progress started to slow down and by 18 months it started to become more apparent that Freiya wasn't just a lazy baby, or a little behind, she started to lose some of the finer motor skills she had already developed, her hand/eye co-ordination, the ability to hold her bottle. She developed little tell tale signs that things were not right and so the fight began for a diagnosis!
After months of tests, therapist's, doctors, geneticist, frustrations, anger, tears, despair. Our beautiful Freiya was finally diagnosed with RETTS SYNDROME in June 2014. Just 25 months old.     
A rare neurological genetic disorder that only affects girls (1 in 10,000).
As yet there is NO cure. Occasionally it's passed from parents but in Freiya's case it was just one of those things! It could happen to anyone, for no reason & it had happened to Freiya.
 24 hour care is required as she is non verbal. In time we hope she will learn to support her own body weight to walk with or without assistance. As of now she is only able to support herself sitting-up.
There are many terrible, devastating symptoms which comes with Rett Syndrome, these are just to mention a few- seizures, the ability to feed or swallow so to be tube fed, low tone muscles, abnormal breathing, curvature of the spine, sleep disturbance...............                                    
The seizures have started (May 2015)
BUT! and it's a big but, there is nothing wrong with her brain, inside she's a toddler, a happy, cheerful and temper throwing toddler. She has the capability but unable to get her body to respond. Can you imagine how frustrating it must be to know you're hungry, thirsty, bored, tired, wet,sad - but unable to communicate that to anyone?
AND that is what this is all about, they say the eyes are the gateway to the soul. For Freiya they are also her life line. Rett girls are very good at controlling there eyes so have very good ability to use a communication system that works using the eyes (To help you understand what it is, it is similar to that seen used by Professor Stephen Hawking)  As time goes by she will also loose the use of her hands.
Our fund raising has been progressive due to the kindness of friends, family and even strangers.
We are very respectful & grateful for peoples generosity whether in actions in  raising funds or donations.
Very recently we were made aware of a 'Tobii' communications system, second-hand.             Expecting to pay a minimum of £6000, we were able to be careful with the funds and make a reduced purchase. A 'Tobii's communications system is an expensive piece of equipment that Freiya is not entitled to on the NHS.
Freiya is now using this and is responding very well. We are in the early stages of learning but the signs are very motivating.
Eventually using the 'Tobii 'she could communicate, letting mummy & daddy know if she's in pain, wants a drink, or eventually she could just demand the TV to be turned over!
In fund raising our first aim was to purchase the communications system. Now that is achieved the hard work continues. All these things are not available on the NHS so private funding is the only way to help give Freiya the best we can in her life.
So further expenses we would be very grateful to be assisted with are:-    attending a designated course to get full use of the communications system. Specially adapted  wheelchair. Physiotherapy course specifically for children with no mobility. Rocking/relaxing chair.   sensory equipment. When needed a more advanced communications system.
The funds being raised hopefully by car boot sales, charity runs & anything else that can be thought of by their loving & caring friends, so if you have helped we say. Thank you
None of us expect these issues to touch our lives but it has and as her parents we will do everything to help our beautiful princess get the help that she needs to assist her.