Frankie Duke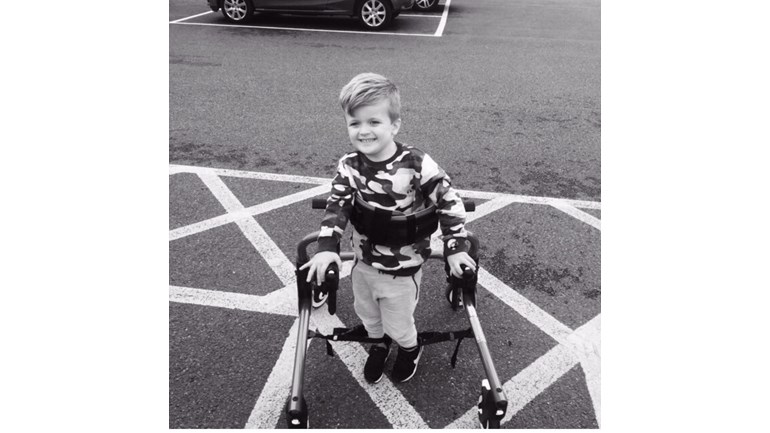 Thanks for taking the time to visit my JustGiving page.
Frankie is a 4 year old boy who in November 2014 fell off a child's Thomas the tank table. Frankie was fine at first but rapidly deteriorated and as the ambulance men were at our house he went stiff and suffered a seizure. After a CT scan at our local hospital it was discovered Frankie had sustained a bleed on his brain and he was rushed to Southampton general for an emergency crainiotomy. We were told Frankie only had a 10 % chance of survival. He did survive and it has been two years since his operation. Frankie had to learn to do every thing again. He has learnt to speak, eat, swallow, sit & crawl. However due to the brain damage he suffers from very high tone (spasticity) in his legs. This is preventing him from re-learning to walk. We have recently been told that Frankie would be a candidate for an operation called selective dorsal rhyzotomy. This is a spinal operation which cuts the nerves sending the wrong signals. This will releive the spasticity in his legs. After the operation Frankie will need to have two years of intensive physio which we are hoping will help him to re learn to walk. We met with frankies peadiatrician last week and she is happy to refer him to a UK hospital for him to be assessed for the operation. We will still have to fund this and it costs around £29,000. If he doesn't get accepted we will be traveling to America for Frankie to have the operation in St. Louis, Missouri. 
We have lots of fundraising coming up after Christmas & have already raised over 5k. 
If we cannot raise enough or for some reason Frankie is unable to go ahead with the operation we would like to still do the intensive physio with him which will cost over £1000 a month & we would like to get him all the physio equipment needed, any money over will go back into the tree of hope for other sick children 
Thanks for reading xxx
7.5% of all donations to Tree of Hope in relation to this appeal will be allocated to the general charitable purposes of Tree of Hope to cover our core operating costs.

If we raise insufficient funds, or surplus funds, then the funds will be used, if appropriate, to fund support for our child's needs in accordance with Tree of Hope's charitable objects. If in those circumstances we are unable to use all or part of the funds for the benefit of our child in accordance with Tree of Hope's charitable objects, then any funds that cannot be used will be transferred to be used for the general charitable purposes of Tree of Hope.