Finlay Montague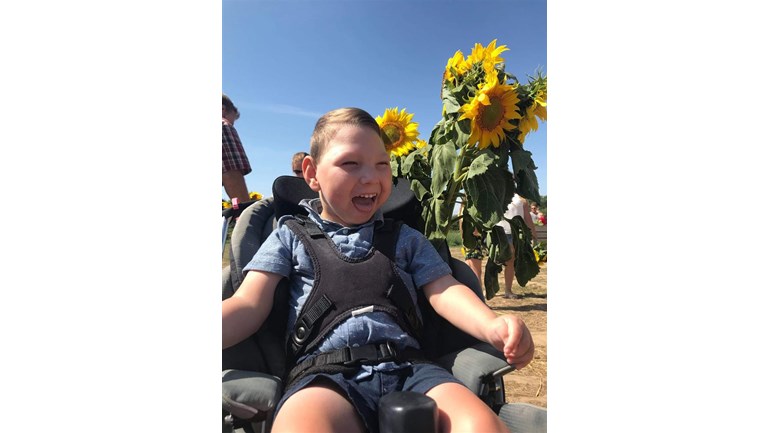 Finlay was born on 14th November 2014 at 34+1 gestation via emergency c-section as he stopped moving. Finlay had to be resuscitated for 12 minutes, suffering from hypoxic ischaemic encephalopathy (HIE) grade 3 and then spent 3 1/2 weeks in NICU at QA before being discharged with severe brain damage which had occurred prior to birth, before finally being diagnosed with quadriplegic cerebral palsy at about 1 years old. 
Finlay came home orally fed for the first three months of his life but his reflux became so severe he had to have an NG tube for feeding before having an operation for a gastrostomy to be fed via a tube direct into his stomach. 
He also has severe microcephaly, severe developmental delay, laryngomalacia, and has suffered from status dystonicus episodes. 
He's a tough cookie who has been through many hospital admissions and operations in his short life but even through all of this he continues to beam the brightest smile which lights up a room and everyone in it.  His infectious smile, cheeky personality and charming charisma brightens anyone's day.
We have done a couple of fundraisers now for specialist equipment not available on the NHS and as Finlay continues to grow we see this as an ongoing need which will be required throughout his life as he moves through his years. By setting up this page through Tree of Hope we will be able to continue to raise funds for future needs for Finlay for this specialist equipment and/or services not readily available through our NHS. 
Thank you for taking the time to read our story of our remarkable boy Finlay and for those that have already donated and continue to support us as a family to ensure Finlay's inclusiveness is not compromised. 
Tree of Hope will hold this money securely until Finlay's needs requires access to it. 
7.5% of all donations to tree of hope in relation to this appeal will be allocated to the general charitable purposes of Tree of Hope to cover our core operating costs. 
If we raise insufficient funds, or surplus funds, then the funds will be used, if appropriate, to fund support for our child's needs in accordance with Tree of Hopes charitable objects. If in those circumstances we are unable to use all or part of the funds for the benefit of our child in accordance with Tree of Hopes charitable objects, then any funds that cannot be used will be transferred to be used for the general charitable purposes of Tree of Hope. 
If you have any questions at all please do not hesitate to call the family support team on 01892 535525.
Donating through JustGiving is simple, fast and totally secure. Your details are safe with JustGiving - they'll never sell them on or send unwanted emails. Once you donate, they'll send your money directly to the charity. So it's the most efficient way to donate - saving time and cutting costs for the charity.