Faith's Journey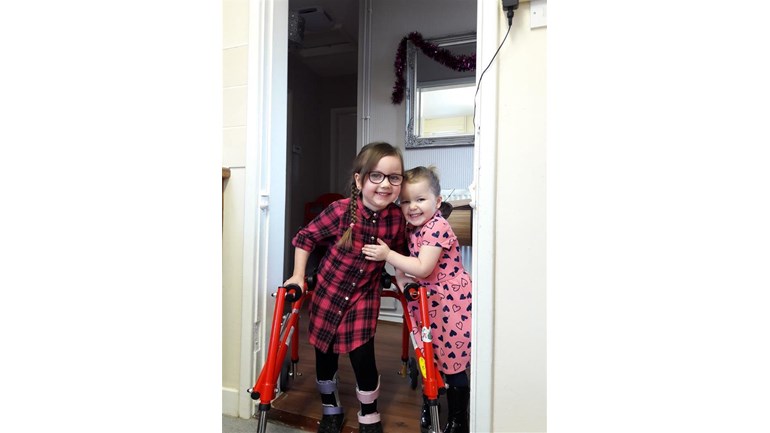 Our daughter Faith Mclennan is now 5 years old. She was born with Gastroschisis (bowels on the outside) which was diagnosed at our 12 week scan by the sonographer, we were informed this was treatable which involved an operation hours after birth, we thought that after the operation we would have a healthy little girl who would lead a normal life. Faith was due to be born at 37 weeks in Leicester Royal Infirmary as that was where the operation was to take place but at 36 weeks mum went into early labour. The operation was successful and she was home 3 and half weeks later. As the months went on we noticed that she was not progressing as she should of been in her physical development. At the 12 months health visitors check we mentioned Faith was still not meeting her milestones and was concerned there was something wrong. Faith was then referred and started regular physiotherapy in November 2012 which has been a daily activity since.

It was confirmed in May 2013 that faith has Spastic Quadriplegia Cerebral Palsy after her had her MRI in March 2013.

Our world fell apart and we didn't understand how or why this happened to our beautiful little girl.

Faith is a happy determined beautiful girl but she is very limited on what she can do. She isn't able to walk or stand by herself, although she is getting stronger and more confident with her walking frame for very limited time. Faith also has other equipment such as a self propelled wheelchair and specialist adapted seating with supports on. Faith wears AFO splints all day to help give extra support in her legs. She still needs support in everyday routines such as toileting, eating, dressing e.t.c.

As Faith grows her muscles will become tighter and might get to the point where she will be wheelchair bound full time.

We would love for Faith to undergo Selective Dorsal Rhizotomy an operation that would be life changing. It would give her a much easier life and will reduce her leg pains as the spasticity will be taken away. This will help her daily challenges be less of a struggle. SDR isn't currently funded on the NHS therefore we are seeking people's help and generosity to help fund the operation and the ongoing physio that is required after SDR.

We have been to visit Bristol Children's Hosptial to see if Faith would be a suitable candidate for SDR. They confirmed from what they see at the first appointment they were happy for Faith to go through to the next stage which is the full assessment where they will go through more details. Faith will be seen by consultant in paediatric neurodisability, a specialist paediatric and a paediatric neurosurgeon with SDR experience. Faith will have X-Ray's of the hips to confirm they are stable and they will take a look at her MRI.

The operation is a incision to the lower back, the nerve fibres running from the muscles back to the spinal cord is then divided to take away the stiffness.

Selective Dorsal Rhizotomy will change Faith's life and our's as a family. We hope we have given enough of an insight to Faith's needs.

We are pleading for help to reach our goal for our beautiful Faith to lead a better life. We really appreciate all donations and most of all your support.

Please share, like and follow our page for updates and events.

Follow us on Facebook @faithsbigjourney

Follow us on Twitter
@cazjayne12

Thank you for reading Faith's Journey

Caroline and Lee ( mummy & daddy )


Thanks for taking the time to visit my JustGiving page.


Donating through JustGiving is simple, fast and totally secure. Your details are safe with JustGiving - they'll never sell them on or send unwanted emails. Once you donate, they'll send your money directly to the charity. So it's the most efficient way to donate - saving time and cutting costs for the charity.