Evie's Everest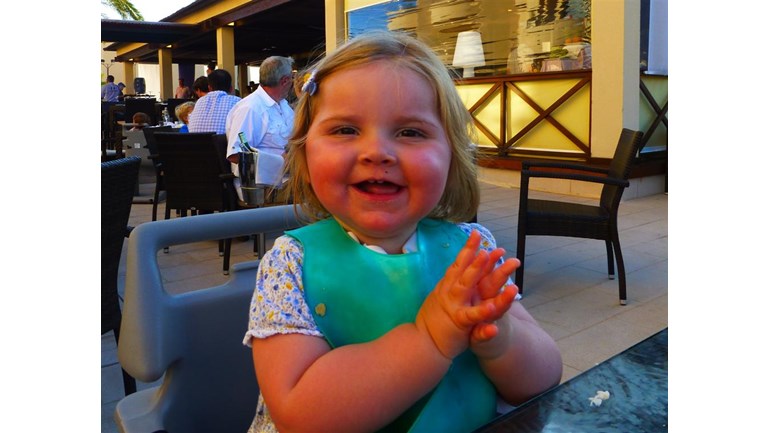 Evie is our beautiful daughter, we love dearly and will never give up on.

Every day for Evie is like climbing a mountain - the day to day activities that most people take for granted have not come easy for Evie. Walking, communicating, and keeping herself away from dangers she is not aware of, are all daily challenges that require our help and support. 

In January 2014, at the age of 1 our lives began to change. In the middle of the night, Evie had a seizure, stopped breathing at home and after attempting cpr whilst on the phone to the emergency services, the ambulance came and gave her oxygen which revived her. That night, Evie turned blue, went floppy in our arms and we thought we had lost her - we hadn't, but this acts as constant reminder of how precious Evie is to us.

Evie stopped hitting milestones from about 9 months, and had a prolonged period of diagnosis and assessments at hospital and in home by numerous professionals which is still ongoing. Evie has not had a specific diagnosis but her last MRI scan showed an abnormality, a white matter brain condition called hypo-myelination, meaning messages and processing of information are distorted. We hope to one day understand what has caused this but to date genetic and other tests have not yet found the cause, so we have no prognosis - but we have been told by the paediatrician this is a life long condition and there is no current treatment.

As a result, Evie has global development delay meaning she is significantly behind other two years olds. Evie has hypo mobility meaning her joints are bendy so she struggles to find any stability. Her cognitive development is delayed and her understanding of the world and ability to communicate are such that she often feels frustrated and upset, unable to express her feelings, wants and wishes. 

Despite all of this, every day, Evie shows a desire to move and have close contact with people - she blows kisses, smiles and cuddles and lightens up even the darkest of days.

We can't begin to understand how difficult that must be for her and we are committed to doing everything we can to help her develop and give her the best possible quality of life we can give - and that is why we are fundraising to contribute to therapies to help her. 

Family and friends often ask if there is anything they can do to help, and to date, this has been a difficult question to answer - so we are hoping this will provide a way people can actively get involved in supporting Evie, which in turn helps support us a family.


We are  raising funds to support Evie's on-going additional needs. Our current priority is to provide Evie with Intensive and on-going therapies at a cost of c. 5.5k per 3 week treatment or £70-90 per hour. So every £1 donated will make a real difference to Evie's life. 

You can read more about Evie's Appeal on this dedicated website:
https://evieseverest.org/about-2/
And if you would like to get involved please contact us on evieseverest@gmail.com. 
Thanks for your support

Adam and Rachel

Tree of Hope reserves to use these funds for any purpose stated in the parents charter, including but not limited to, medical treatment, surgery and therapies and related travel expenses, medical and exercise equipment, childcare, home adaptations and the cost of vehicles designed for the disabled.