Evie's CDKL5 Journey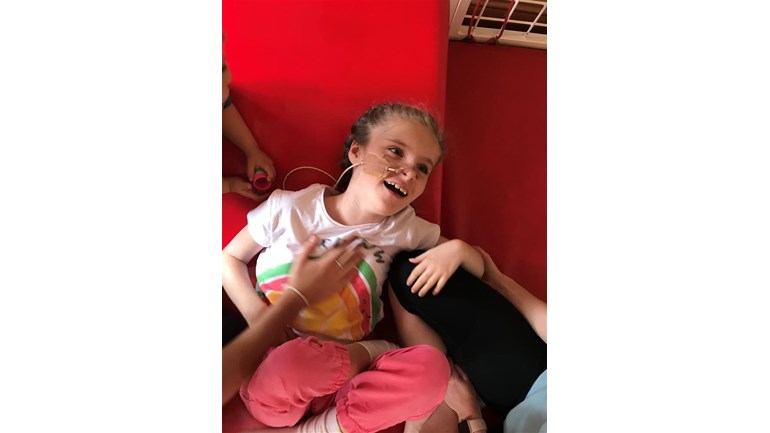 Thank you for taking the time to visit my just giving page.

In the past I have written about Evie and her life story but this time I thought it would be nice for you to hear about it from a different point of view. I have asked my cousin Anna to write about Evie, she plays a very big part our life's and she is always there for us no matter what.


Evie's physio story

Typically when growing up you are learning to hold your head, roll over, sit up, crawl, eat, stand and to walk. Rightly so we get excited when we see our own children and our friend's/family's children reach these milestones, it's awesome! However for some kids, like our Evie Puds, these every day functions don't come naturally so to help them achieve some of these normalities they have physiotherapy.
Have you ever had physio before? If you haven't, take it from me, physio is HARD work!! But it's hard work that gets RESULTS.
In Evie's case she isn't recovering from an injury, she is learning and teaching her muscles and the path from her brain to her muscles, how to hold her up in different positions – so the journey is a long one. Perhaps her results may appear small to the outside world but to Evie and those that pick her up, we have all noticed a HUGE improvement from a couple of years ago especially in her core strength. We are so proud of her! Sitting is something that Evie has made big advances in but she still needs the support of cushions and when she gets tired she flops forward into a yoga position that you'd all be jealous of!

How can you help? By donating to this page you will fund Evie's physio, which will giver her the opportunity and platform to show us what she can achieve. The target on this page is the cost for once weekly appointments for 3 years and a 2 week block in the summer holidays, at Kids Physio Works. They have a great team of physiotherapist who make the sessions fun and interactive whilst using different techniques to improve movement and function in children. The family & Evie take away lots of knowledge from these sessions & Sarah continues her physio at home…no rest for the wicked hey Puds!
As a thank you, Evie will continue to work her butt off every week with the physios!
During physio Evie's concentration face is a 'classic' as she grins and bears the effort and makes loud noises to ensure we know she's working hard! Like the rest of us, she tries her luck at cheating in the exercises sometimes but the physios are on to her…cheeky monkey! With Evie they use the Therasuit, Spider Therapy and Core Strengthening, below is a little on each.
The TheraSuit is made up of a vest, shorts, a pair of knee pads and shoes, they are connected together by some elastic bands. The suit makes Evie more aware of the position of her joints (from the top of her head to her fingers and toes) and ensures her muscles are switched on. She will then practice sitting and standing with the aid of the physio.

The Spider Therapy is a metal framework where there are eight elastic bungees attached to a special belt that Evie wears and in her case, it is combined with the Therasuit. Once attached it will take Evie's weight if she needs it to, meaning she can stand by herself. It teaches her to move her body in a better way and helps makes her more aware of what her body is doing.

Core Strengthening gets her trunk really active which helps to reduce the tightness that she gets in her arms and legs. She uses a ball to practice moving between positions in loads of different ways so she can improve the way she moves, increase her confidence and get stronger. She will also so sit up like exercises to build her core muscles and work on her head control.

We are all eternally grateful for any donations to this page which will give Evie the opportunity and platform to show us what she can achieve.
Anna x

Should we exceed the target amount (or if we do not raise enough funds, or if they cannot be used for any other reason) the funds will go to the general funds of Tree of Hope to assist other sick children. Thanks for taking the time to visit my JustGiving page.Donating through JustGiving is simple, fast and totally secure. Your details are safe with JustGiving – they'll never sell them on or send unwanted emails. Once you donate, they'll send your money directly to the charity. So it's the most efficient way to donate – saving time and cutting costs for the charity.