#EVESTRI in aid of Charlotte Wormald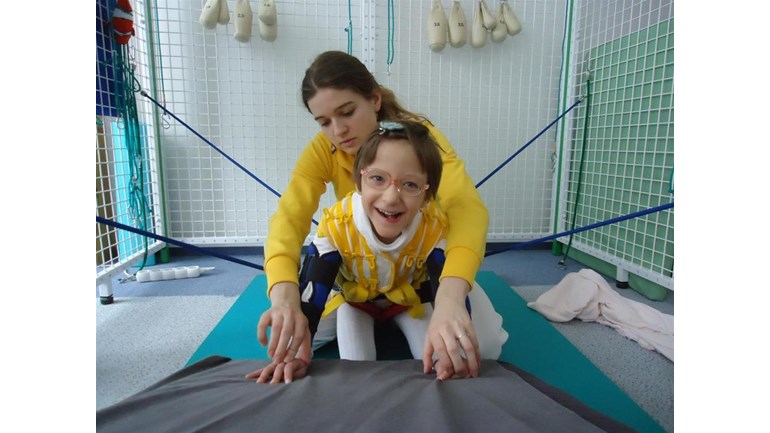 Hi.  Eve is training hard to complete a "Triathlon" on 27th September to raise money for her friend Charlotte who also lives in Menston and has Cerebral Palsy.  The Triathlon will consist of:
Walking with Tripods - 50 Metres
Swim - 100 Metres
Cycle - 2 Miles
At the start of her training programme Eve could manage around 20% of these distances, she's making fantastic progress by working hard at training every day so the event is really benefiting Eve too (but don't tell her that!).
Charlotte's Story
Charlotte Anne Wormald was born just after her twin sister (Emily Alice) on 2nd December 2006 at Airedale General Hospital near Keighley. They were born at just 26 weeks gestation and were tiny little things.  Charlotte weighed just 970 gms, less than a bag of sugar.
Complications shortly after her birth mean Charlotte suffers from Quadraplegic Cerebral Palsy, the most severe for of CP.  It impacts every aspect of her life and she needs full time care.  
From the age of 8 months she has traveled to the Czech Republic four times per year for the Vojta Therapy. Although she is still unable to sit or stand unsupported recent improvements have led to her being able to hold on to things with her hands, including spoons and forks. Her speech is also developing and she can say about 20 words including the important 'yes' and 'no'.
At home her family continue the treatment 3 or 4 times per day. She uses an exercise programme that is updated according to Charlotte's progress each time she returns to the clinic. This is very time and energy consuming for the family but it is undertaken with love and pride in Charlotte's progress.  Despite all her complex physical difficulties Charlotte is a bright and happy child with an infectious smile and a cheeky giggle.
Charlotte has profound physical disabilities and will continue to need support and treatment throughout her life. 
All money donated will go towards therapy needed to help Charlotte.
Thank you.