Friends of Evelyn Rose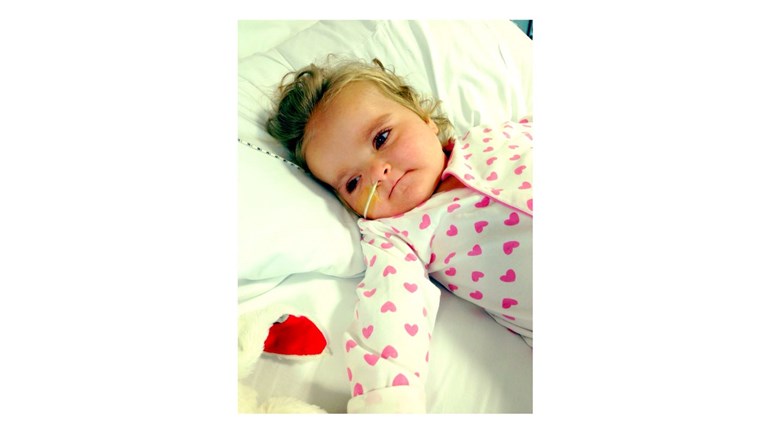 Thanks for taking the time to visit my JustGiving page.
Donating through JustGiving is simple, fast and totally secure. Your details are safe with JustGiving – they'll never sell them on or send unwanted emails. Once you donate, they'll send your money directly to the charity. So it's the most efficient way to donate – saving time and cutting costs for the charity.
On the 24th December 2011 the beautiful princess Evelyn Rose was born.  While she was on the small size and had a slight facial palsy, all looked well otherwise and we went home on Boxing Day. However, by the time Evelyn was 3 months on we knew that something was seriously wrong. It started as a "one off" when we would look at Evelyn and notice that she suddenly seemed very pale and had blue lips. 
Initially trying not to panic we brushed it off. Within a month, however, she was having these episodes regularly - at least 2 or three times a week, and each time she would convulse, make a strange barking sound and hold her breath resulting in her going very pale with blue lips. They were terrifying. 
In June of that year we had three of these episodes in one morning and we took her into Southampton General where we stayed for 2 weeks with no diagnosis as both the MRI and the EEG appeared normal. However, they had noticed that she was otherwise developmentally delayed and requested a genetics review. We left hospital with no diagnosis and had to "wait it out". 
In September of that year Evelyn was diagnosed as having an incredibly rare chromosomal disorder - for the geneticists amongst you - a chromosome 2 p22.2 duplication. Essentially she has too much chromosome 2 and the impact of these few thousand extra genes is very significant. Evelyn has broad Global development delay, acute reflux, holes in her heart and most significantly complex and severe epilepsy.  After the initial diagnosis Evelyn's epilepsy was initially well managed and she was fit free for nearly a year, but in a August 2013 Evelyn start to have complex focal seizures of the right side. These continued to increase in frequency and intensity until in September she started to have a fit one Sunday morning and didn't stop. Taking her into hospital she was then finally after 10 hours of constant fitting, put into a coma. After a week she woke up, but the fits continued.
While the fits have waxed and waned a bit since then, even getting to the point of a couple of weeks out of hospital, since January ofthis year Evelyn has been getting steadily worse as her fitting is much more generalized affecting all of her body, and resulting in impacts to her breathing and her heart rate. We have been in hospital throughout, and the latest mri scan for Evelyn has shown that she has significant brain damage across her all of her brain, including her brain stem - which controls corefunction such as breathing, keeping her heart beating. If they cannot get on top of the fits and the damage continues then this is likely to be very life limiting.
Evelyn had to spend 9 weeks back in Intensive care inMarch and April as her fitting once again was at peak levels, sometimes topping 3-400 fits a day, and so bad that she simply could not breath on her own and had to be intubated, effectively a chemically induced coma, although even that didn't stop the fitting. She is also having so many drugs in an attempt to control her fitting that she is now suffering from extreme side effects including having a large blood clot in her heart and several kidney stones. 
In spite of these immense challenges Evelyn has dug deeper than anyone, including all of the phenomenal medical staff, thought possible, and having come through her recent time in paediatric intensive care again she has found a level of manageable stability that on the 18th July 2014 enabled us to take her home.    
We do not know what the future holds for our baby girl. We take one day at a time and hope against hope for the best and that the fits will remain at least manageable.  It has been so incredibly hard on us all to watch our bright happy girl be eroded by this incurable disease. She has gone from chatting and standing, to being unable to lift her head and virtually no movement in her right side. Throughout it all she has been incredibly brave and we try and take our strength from her. She is amazing.
We want desperately to give her the very best quality of life both when she is in hospital and of course at home.  To do that one of us has already had to quit work in order to be a full time carer as it is impossible to balance being there for her, finding time for our other child, Fergus (aged 5) and two full time jobs. 
Now that she is home, things are no less complex as Evelyn requires constant monitoring and high care. We are astounded and delighted to have her home, but of course all of her care needs now need to be provided by us – as well as the energy and time that requires meaning it is impossible for us both to work in the foreseeable future.
There are also many ongoing costs such as child physiotherapy, specialist equipment and specialist occupational health development centres to try and help her progress and enjoy time that she has. Should we exceed the target amount or if we do not raise enough funds, or if they cannot be used for any other reason, the funds raised will go to the general funds of Tree of Hope to assist other sick children.
Every penny received will be dedicated to maximising the quality of life that Evelyn has, however long that is.
To keep abreast of "Evelyn news" please visit EvelynRose.org