Evalyn Swims - Now Lets Help Her Walk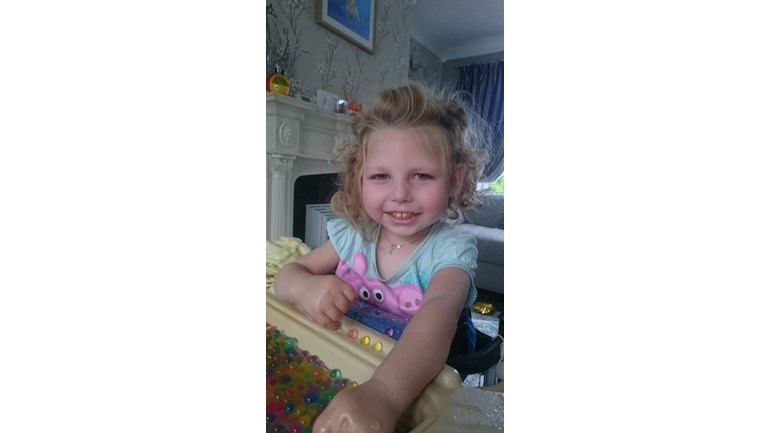 This is Evalyn, affectionally called 'Evie' by all her friends and family, She is nearly 3 years old (Dec) and she has the brightest, most beautiful soul .... all those who meet her fall in love with her and comment how her smile lights up a room. 
Don't be fooled by her angelic looks ... if she is displeased she sure will let you know :) you see, Evie is a very bright little button, she is determined, focused and stubborn ... errr ... ummm .... i mean wilful :) once she sets her mind on something ... almost nothing will stop her or get in her way.
Unfortunately there is one main thing that holds Evie back and that is Cerebral Palsy, Evie was born with Quadriplegic Spastic Cerebral Palsy and Epilepsy, for Evie this means she is unable to talk with out use of a communication device and is unable to sit or walk unaided, although she tries her very hardest in her walking frame she finds it very difficult to get her legs to do what she wants them to do this is because of the high tone (stiff muscles) and spasms in her legs, the reason for this is there are too many messages being sent down the nerve fibres from her brain to her legs and they get confused this is when the muscles spasm and stiffen.
Evie is already on several medicines to help control the high tone and spasms such as Baclofen and Diazepam, yes our 2 year old little girl has to take Diazepam, which has the same undesirable side effects that you and i get if we take it. She also has Physiotherapy and Hydrotherapy to help keep spasms and high tone under control but these are not very effective, but these are all temporary and we would like Evie to have a permanent solution and hopefully in time reduce and or stop the Baclofen and Diazepam.
The Permanent treatment is called SDR Surgery (Selective dorsal rhizotomy) The operation involves cutting and dividing some of the nerve fibres that run from the leg muscles to the spinal cord this can help relieve leg stiffness and spasms by reducing the amount of 'messages' being sent and give her more control over her legs. More information on cerebral palsy and SDR can be found here -
http://www.nhs.uk/Conditions/Cerebral-palsy/Pages/Treatment.aspx 
http://www.gosh.nhs.uk/medical-information-0/procedures-and-treatments/selective-dorsal-rhizotomy
SDR Surgery is not available on the NHS and is very expensive, especially if the children are required to go to the US for the surgery, where the costs can exceed £60,000 so parents like us are trying to fundraise.
We are hoping to start the SDR assessments next year before Evie's 4th Birthday, this will give us time to fundraise what we can towards the surgery and for Evie to gain more strength. It is crucial that the surgery is done at a young age (from 3 years old) this is to reduce the risk of developing shortening of muscles and tendons, joint contractures and bone deformities. Evie has already developed a subluxed right hip due to her high tone and this in time will only get worse if we cannot get the surgery. 
We have worked so hard to enable Evie to swim (Evalyn Swims) we would love with your help give her the opportunity to learn to walk, aided or unaided.
Thank you xx  
*7.5% of all donations to Tree of Hope in relation to this appeal will be allocated to the general charitable purposes of Tree of Hope to cover our core operating costs.

**If we raise insufficient funds, or surplus funds, then the funds will be used, if appropriate, to fund support for our child's needs in accordance with Tree of Hope's charitable objects. If in those circumstances we are unable to use all or part of the funds for the benefit of our child in accordance with Tree of Hope's charitable objects, then any funds that cannot be used will be transferred to be used for the general charitable purposes of Tree of Hope.