Help Ethan Explore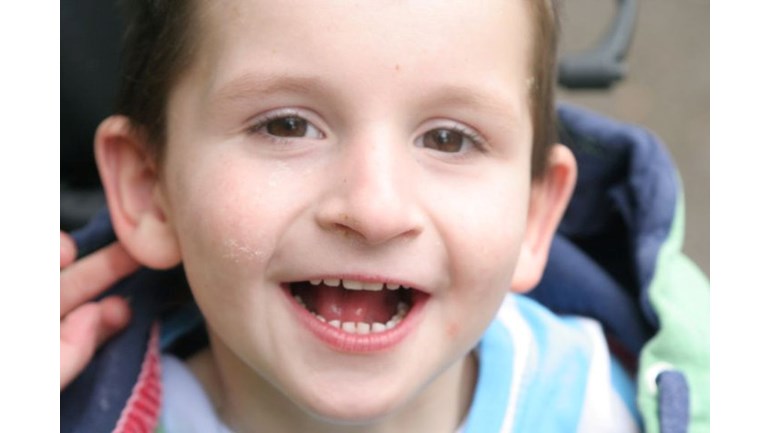 Thanks for taking the time to visit my JustGiving page.
We are fundraising for an all-terrain wheelchair for our son, Ethan.  Ethan was born with microcephaly - an abnormal smallness of the head and brain.  This led to Global Developmental Delay, which means he has severe learning disabilities and his physical development is also severely delayed.  Ethan cannot walk, talk or even crawl.  He cannot tell us when he's hot, cold, hungry, tired, upset or happy.  But we've learned to read him like a book.  We know he loves music with an upbeat tempo; we know he loves vibrations from random things like hairdryers, vacuum cleaners, washing machines, and from tapping things on tables and pressing his face against the table to feel it.  We know he loves to feel different textures; we know he loves the feel of sand in his fingers and we know he loves being outdoors so that he can see, smell and hear everything.
Ethan is wheelchair-bound and his wheelchair can cope well with flat, hard surfaces.  What it cannot cope with is grass, mud, bumpy surfaces, sand and snow.  This means we cannot take Ethan to the beach to play with his brother and sisters.  We cannot take him 'off-road' when we go for woodland walks.  We cannot take him out of the house/car when we have snow.  There are so many things he is restricted from doing - and all of these things would provide him with so many sensory experiences and it would allow him to get involved on an equal basis with his siblings. 
The chair we hope to get for Ethan is called a Hippocampe.  This chair is all-terrain and can be pushed into shallow water and through sand, snow, mud and grass.  It will allow Ethan to experience so many things.  Furthermore, it will last him for a very, very long time because it's a one-size kind of chair, with the only thing that needs adjusting being the leg length.  The chair can even be taken in to a kayak!
Ethan is 7 years old (8 in November) and he's an amazing little boy who has dealt with so much in his short life so far.  He's had double cataract surgery and had to have artifical lenses implanted in both eyes, he's had gastrostomy surgery to give him a feeding tube because he has gastric reflux and vomits a lot.  The tube means the valve at the top of his stomach is bypassed and minimises his sickness.  He can only eat blended food and this couldn't provide him with enough calories and so he is fed through his tummy by a machine for ten hours a night.  He's had a whole range of genetic tests, including skin biopsies, sweat tests, blood tests, hair tests, barium meals and heart scans.  But he will ALWAYS give you the biggest smiles afterwards - it's like he knows you're only doing it to help him.
He's a wonderful little hero who makes us appreciate all the small things in life.  Every small step for us is a huge mountain to climb for Ethan, but he does it with a smile and a cheeky giggle.  Please help us Help Ethan Explore.  Thank you so much for reading this.
Donating through JustGiving is simple, fast and totally secure. Your details are safe with JustGiving – they'll never sell them on or send unwanted emails. Once you donate, they'll send your money directly to the charity and make sure Gift Aid is reclaimed on every eligible donation by a UK taxpayer. So it's the most efficient way to donate - I raise more, whilst saving time and cutting costs for the charity.
So please dig deep and donate now.