Elliott Cogan's Cystic Fibrosis Airway Clearance Vest fund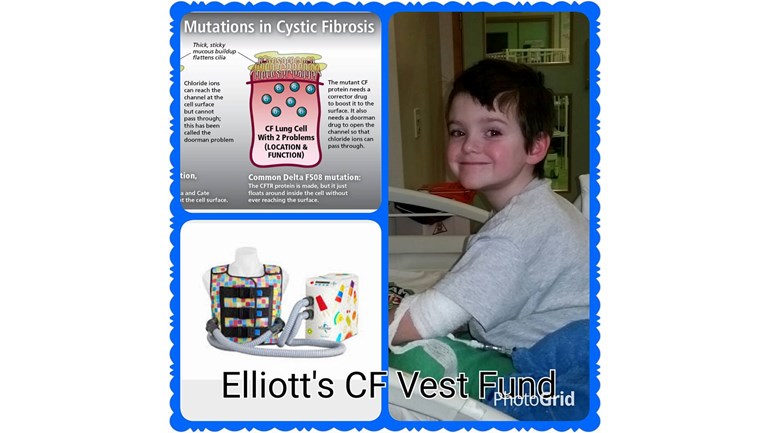 Thanks for taking the time to visit my JustGiving page.
My son Elliott was born in 2010, A happy bouncy baby.
On our 5 week check we where given the horrible news he has Cystic Fibrosis double 508 mutation.
It was a devastating blow to us and over time we have found that CF affects every daily activity and his future greatly.
In 2016 Elliott got very unwell with chest infections and was taken to hospital to have a broncos-copy. Here they found Elliott's lungs were filled with Jelly like secretions.
These are too thick to break up and clear, for Elliott its like holding your nose and only being able to breathe through a straw in your mouth..
His medications increased to help make these thinner but due to Elliott's other special needs he still struggles to force these from his lungs.
(Elliott also has A.D.H.D, Dyspraxia, Ehlers Danlos, Sensory processing disorder and suspected Asperger's)
This Airway Clearance vest will vibrate Elliott's upper body at a force that 'moves' the secretions helping him to clear them himself.
This will help keep hospital admissions to a minimum, the more secretions in his lungs the higher risk he is to infections.
This will be used with regular physio, in a day Elliott will spend 3/5 sessions on a trampoline, bubble play helping to expand his lungs and many more.
Elliott is a very unique young chap with the brain of a scientist and a great big heart to love.
He wants to be a scientist when he grows up, so he can cure CF and other horrible diseases.
He loves Stitch,  Skylanders, Science, Lego, Flash the TV Show, Moana, Wreck it Ralph, Batman, Guardians of the Galaxy and Angry birds.
Our hope is to raise the money needed to help Elliott live a fuller life and being able to help him to breathe.
Again Thank you for taking the time to read our page and for supporting Elliott. xxx
Donating through JustGiving is simple, fast and totally secure. Your details are safe with JustGiving - they'll never sell them on or send unwanted emails. Once you donate, they'll send your money directly to the charity. So it's the most efficient way to donate - saving time and cutting costs for the charity.