Ellie's Wish To Walk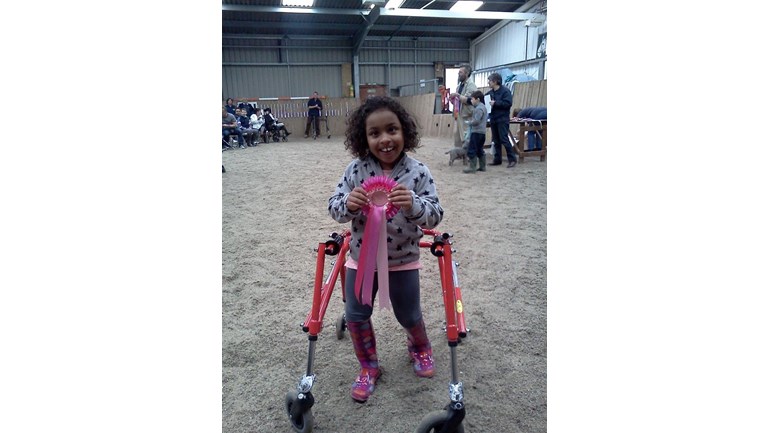 Hello

My names Ellie, I'm 10 years old & I'm a twin. We were born at 28 weeks gestation. This was a really scary time for my mummy & daddy. They were told to prepare for the worst. After 3 months of staying in the hospital, living in an incubator & high dependancy & having various tests done daily, we went home on Christmas eve! In 2007, at 18 months old, due to our premature birth, i was diagnosed with quadriplegic cerebral palsy. 
This causes stiffness in all four limbs, making it hard for me to complete daily tasks such as walking, dressing myself, personal care, climbing the stairs, sitting unaided & playing normal games with my friends.
In 2013 i was accepted for a life changing operation called SDR in Bristol. We were one of few families that were lucky enough to have it funded by the nhs. 
Since having the surgery i have improved in ways no-one was expecting! Sitting unaided has become easier & more stable. Feeding myself has become more accurate. My overall strength & flexibility has improved massively, making life so much easier in so many ways.
Each year since, I've worked my hardest to continue to improve. My parents take me to a physiotherapy centre in Oxford called Footsteps where i do 2 hours therapy a day for 3 weeks. I've attended another centre in Herefordshire called Megan Baker House doing 4 hours a day, a week at a time.
Im progressing nicely and now beginning to take independent steps!! BUT unfortunately This all comes with a huge price tag! Post sdr therapy costs on average £10k-£15k a year!!!

Without this ongoing therapy i could fall behind.  The therapy is essential to get the very best out of the operation.

Would you be willing to help me on my journey. I'm a happy, hard working, determined girl who just wants to lead a normal life like my twin brother Mason.

Any donation would make a huge difference! Please keep me in mind if you organise a cake sale, dress down day, party or anything similar! Or you'd like to set yourself a personal challenge like a run, walk or skydive, please consider being sponsored to do it for me! All money raised will go towards my post op tgrrapy, any equipment needed & any future surgery i might need!
Thank you, Ellie xxx
Thanks for taking the time to visit my JustGiving page.

Donating through JustGiving is simple, fast and totally secure. Your details are safe with JustGiving – they'll never sell them on or send unwanted emails. Once you donate, they'll send your money directly to the charity. So it's the most efficient way to donate – saving time and cutting costs for the charity.