Ella's dream to walk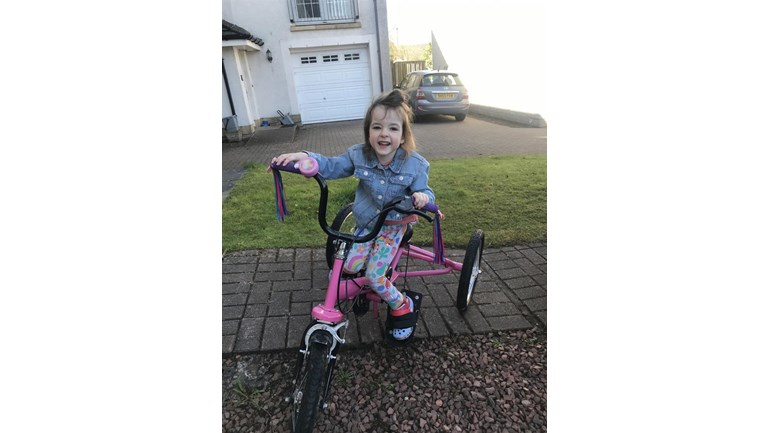 **Update Jun 22**
Hi -  some of you follow our story on Facebook and will know that we have had multiple repeated cancellations - some on the actual day - of this life changing operation. We've been featured in the press and are overwhelmed by all the love and support from everyone who shares our disappointment. Since we have not been offered a reschedule date and since the hospital is only in reality doing  emergencies we have booked to go privately to London.  We are sad that our hopes were raised that it would be done locally as we could have gone private last year - and Ella's mobility has suffered tremendously. 
As a result I've increased the total to raise as we are now using this money to pay for the operation privately. 
Thank you everyone. 
**Update Jan 22**
Hi everyone - we have just had a provisional operation reschedule date from Glasgow of 4 March. TBC in a couple of weeks when the theatre schedules are confirmed. Our original Jan date was cancelled due to covid which was absolutely heartbreaking. Fingers crossed the March date goes ahead xx
As ever Ella has been working hard with physio, hippotherapy and walk this way sessions in Perth. She goes everything we ask if her and I'm so proud of her. She's truly special.
***Update ***
I still cannot believe I am saying this but we have reached our target!!! A very generous friend that worked closely with Ella's dad contacted me privately to match all donations when we were around 50% of our target. So we - or rather YOU - have done it !

THANK YOU EVERYONE - we are in such a good position to provide Ella with all the support she needs before and after the surgery. We are blessed to have all your help xxxx
In July we will hear when the operation will be - cannot wait !
**Update****

Ella is 4 years old. She was born prematurely at 26 weeks along with her twin Aaron and was diagnosed with diplegic cerebral palsy at 2 years old caused by her early birth. This form of cerebral palsy means that she has spasticity in her legs which makes it difficult for her to balance and walk without support.
Unfortunately Ella's daddy died suddenly in 2020 and Ella's Mummy had to make the difficult decision to move home to Scotland to live near Ella's Gran and have a wider support network to help.

Despite these challenges Ella is chatty, sociable, funny and clever. She loves Paw Patrol and PJ Masks and is often found putting on shows for Mummy and Granny that features the characters in these shows. She is very determined to walk in her walker at every opportunity (although this is tiring for her) and is doing amazing with her physio. She also goes horse riding every week which helps stengthen her core.
Mummy hopes that Ella will have life-changing SDR surgery in the next year which will remove the spasticity in her legs and potentially allow Ella to walk independently. Rehabilitation after SDR is intensive and expensive but Ella is determined to walk unaided and all Mummy wants to do is give Ella that chance after everything she has been through.

We are therefore fundraising for the costs of the physio before and after the surgery and dreaming of the day when Ella might be able to take independent steps.

Thanks for taking the time to visit my JustGiving page.
Donating through JustGiving is simple, fast and totally secure. Your details are safe with JustGiving - they'll never sell them on or send unwanted emails. Once you donate, they'll send your money directly to the charity. So it's the most efficient way to donate - saving time and cutting costs for the charity.
7.5% of all donations to Tree of Hope in relation to this appeal will be
allocated to the general charitable purposes of Tree of Hope to cover
our core operating costs.
 
If we raise insufficient funds, or surplus funds, then the funds will be
used, if appropriate, to fund support for our child's needs in
accordance with Tree of Hope's charitable objects.  If in those
circumstances we are unable to use all or part of the funds for the
benefit of our child in accordance with Tree of Hope's charitable
objectives, then any funds that cannot be used will be transferred to be used for the general charitable purposes of Tree of Hope.