Dog4Ella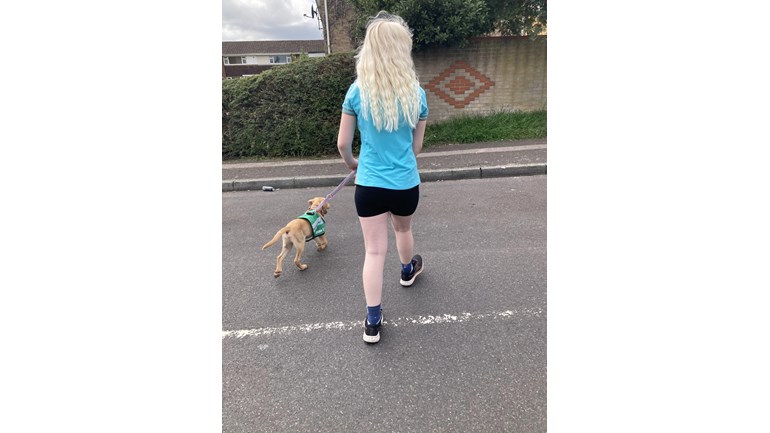 Thank you for taking the time to visit our JustGiving page. We are asking for your help to raise funds for an assist dog for our daughter, Ella.
Ella is 14 and is autistic. She struggles with sensory processing (sights, sounds, smells) and finds everyday life so overwhelming it triggers extreme anxiety. This means the things most people take for granted are too overwhelming for Ella. As a family it has become harder and harder to leave the house and take part in daily  tasks and activities.
Going to the shops, visiting friends, getting on the bus. Her senses become overloaded, and she struggles with people's  expectations of how she should behave. She has been home educated as she finds the environment of school such a challenge.
But Ella loves animals. We have seen how calm Ella is when  surrounded by animals. Recently, Ella was assessed for an assist dog through Supporting Paws (https://supportingpaws.co.uk)
The difference was amazing to see.
Shopping and crossing roads are extremely stressful events for Ella. Particularly somewhere she has not been before. However, as  soon as she was given the dog, Ella instantly started to calm. With the dog by her side, she was able to enter and leave the shop. And then walk across the road with the dog guiding her path.
Following the assessment, we have been fortunate enough to be selected for an assistant dog which we believe will help Ella grow in confidence and enable her to live a more independent life.
Supporting Paws is an assistance dog organisation based in South East England, primarily providing Autism and Neuro disability support dogs. They select a pedigree dog at 8 weeks of age and train it to meet Ella's specific needs. The training program is about 12  months long and will cover everything from obedience to providing Ella with sensory intervention when required. Take a look at their Christmas fundraising video for more information: 
https://www.facebook.com/watch/?v=3786226941412226
We strongly believe that an assist dog would give Ella the independence she desperately craves.
Ella's dream is to help at the local horse yard. Ella loves riding and is becoming a competent rider, as horses have the same effect for her as dogs. But sometimes just getting ready is too much of a challenge. 
But the assist dog would not only help calm her as she prepares to ride, but also give her the confidence to help around the yard too.

Please help in any way you can to enable us to achieve this dream for Ella. 7.5% of all donations to Tree of Hope in relation to this appeal will be allocated to the general charitable purposes of Tree of Hope to cover its core operating costs.

Should we exceed the target amount (or if we do not raise enough funds, or if they cannot be used for any other reason) the funds raised will go to the general funds of Tree of Hope to assist other sick children.
Donating through JustGiving is simple, fast and totally secure. Your details are safe with JustGiving - they'll never sell them on or send unwanted emails. Once you donate, they'll send your money directly to the charity. So, it's the most efficient way to donate - saving time and cutting costs for the charity. If you are a tax payer, please use gift aid so we get a further 25% from the government.