Help send Lizzy to Barcelona for life-changing Spinal Fusion Surgery - now booked for 2nd March 2020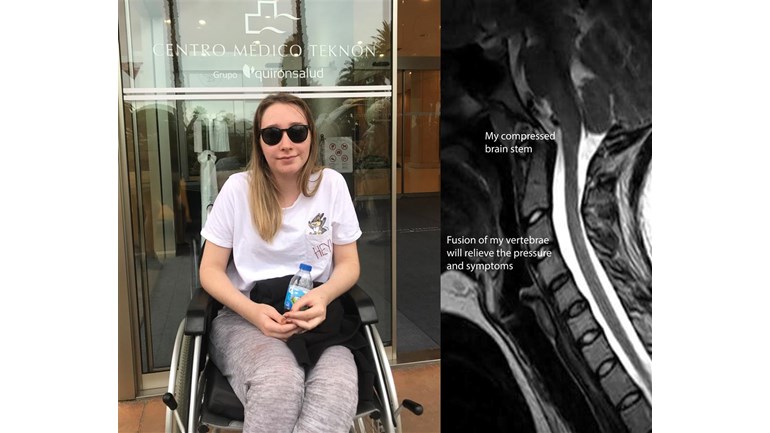 Thank you for taking the time to visit our 'Hope for Lizzy' page
To give, please use the 'Donate to this child' link to ensure the funds go to Lizzy.   Or to use bank transfer to 40-47-60  22438992 or IBAN GB92HBUK40476022438992.  Reference 'HopeforLizzy'     
Lizzy is booked in for surgery on 2nd March and so we are entering our final few weeks of fundraising.   
We also have a Facebook page where you can follow progress, ask questions and understand more about Lizzy's condition.  You can ask funding questions using the live chat on this page.
https://www.facebook.com/hopeforlizzy/ 
thanks Mark and Kathy Jones (Lizzy's parents)

Can you remember when you were a teenager with hopes and ambitions, together with all the normal challenges of growing up and school?  Now imagine a sudden change from that to a life of debilitating malaise, pain, 'brain fog' and weakness. This has been our daughter's experience day in, day out since she was 13, when she was diagnosed with CFS/ME (Chronic Fatigue Syndrome/Myalgic Encephalomyelitis) and Joint Hypermobility. This is what she has to say.
Hello,
My name's Lizzy and I'm 17. Living with my illness, means I spend 23 hours per day in bed, lying down with limited light and sound due to sensory overload.  I have been limited to 1 hour's activity per day, which makes attending school very difficult and means I've had a lonely and rather unconventional teenage life – mostly spent in bed.  My symptoms get worse after activity, even after just doing my school work on my laptop – this is called 'post-exertional malaise'.  I have the same dreams I've always had of being a paramedic but they remain just dreams due to my illness.  There is now hope, though, for me to return to something of a more normal life.
But, I need your help...

Recently it has shown that some hypermobile CFS/ME patients have a structural disease called CCI (Cranial Cervical Instability) which means their neck ligaments are not able to support the head properly – as my uncle says, 'it's as if my head is not screwed on properly'.   This leads a compression of the brain stem and explains many of the symptoms I've experienced.  To date, a small number of patients with this condition have had their symptoms relieved by surgery - a fusion of the upper vertebrae to support the head and protect the brain stem.  Their lives have been transformed.   Unfortunately, this is such a new treatment it is not available in the UK, with only a few centres in the world willing and able to offer the surgery.   As you can see from my photo we recently visited Dr Gilete (Centro Médico Teknon, Barcelona) a world expert in this surgery.
I know that no surgery is without risks, particularly in such a new area, and that I will not suddenly be completely cured as rehabilitation will be required.  However, my life is not a life currently.  The chance of a more normal life and putting these awful symptoms behind me is worth the risk.  I long to be able to be a normal young woman, to study and 'do life' as other people do.
The surgery is not funded by the NHS and will cost £63,000 including the tests, travel and 1-month convalescence during which I will be unable to travel.  In faith, we have booked my surgery for 2nd March 2020 so there is a real sense of urgency. My family is unable to fund this themselves, which is the reason for my call to action.
Please give whatever you can to make this dream of a normal life a reality. My promise to you, in return, is to keep you updated with my progress on a regular basis. With your help, I hope to be able to post about recovery and rehabilitation!
Thanks, and love, Lizzy
Link to Dr Gilete with more about the surgery and CCI:  http://drgilete.com and click on the tab for CCI and EDS.
Frequently Asked Questions
Why can't you fund this yourself?
Both of us work part-time to enable us to care for Lizzy and as we have recently moved house to give Lizzy downstairs living we simply don't have the resources to fund this surgery. Through fundraising with a registered charity, the funds raised are held safely and securely, only able to be used to benefit Elizabeth's health, therefore offering a transparent and honest solution to meet needs that would otherwise be out of reach.
What is ME?
Myalgic Encephalomyelitis (ME), commonly known as Chronic Fatigue Syndrome (CFS) or ME/CFS, is a devastating multi-system disease that causes dysfunction of the neurological, immune, endocrine and energy metabolism systems. It often follows an infection and leaves 75% of those affected unable to work and 25% are homebound and bedridden. An estimated 15-30 million people worldwide have ME as characterized by post-exertional malaise (a severe worsening of symptoms after even minimal exertion). The typical ME patient scores more poorly on quality of life surveys than those with multiple sclerosis, stroke, diabetes, renal failure, lung disease, heart failure, and various cancers. Onset can be either sudden or gradual, and the intensity or frequency of specific symptoms can wax and wane. While symptoms can fluctuate significantly from day-to-day, shifts in overall wellness should be measured in years, not weeks or months ( text curtesy of the #MEAction). The cause of ME is unknown however many think there could be multiple causes. The key symptoms are fatigue, post exertion malaise, pain, headaches, nausea, dizziness, sound and light sensitivity, air hunger, tremors, problems sleeping, irregular heart beat and brain fog.
What is CCI and how does this cause brain stem compression?
Craniocervical instability (CCI) is a pathological condition causing increased mobility at the craniocervical junction, the area where the skull meets the spine. In CCI the ligament connections of the craniocervical junction can be stretched, weakened or ruptured. This can lead to compression of the brainstem, upper spinal cord, or cerebellum and result in myelopathy, neck pain and a range of other symptoms.   CCI usually develops as a result of physical trauma such as a car accident, an inflammatory disease such as rheumatoid arthritis or a congenital disorder such as Down's syndrome. More recently, physicians have reported an increased prevalence of CCI in patients with hereditary disorders of connective tissue disorders (joint hypermobility/ EDS).  Compression of the brain stem can lead to multiple physical symptoms including headache, neck pain, dizziness, vertigo, sound and light sensitivity, air hunger, tremors, problems sleeping, irregular heart beat and severe fatigue. Lizzy experiences all these symptoms.
Three metrics are used in the identification of CCI:
1.The clivo-axial angle (CXA) which has a normal range of 145° to 160°, but an angle of less than 135° is pathological. Lizzy's measures 132°
in neutral, 124° in flexion and 133° in extension, all are pathological measurements.
2. Harris measurement looks at the movement between the basion and odontoid reflects- there should be no movement. CCI is indicated if there is movement of more than 1mm. Lizzy measures 3mm of movement.
3. The Grabb, Mapstone, Oakes measurement predicts the risk of ventral brainstem compression, average measurement is 3-6mm. A measurement of >9 mm suggests high risk of brainstem compression. Lizzy measured 8.45mm.  [Batzdorfet al., 2015].

What is the link between ME and CCI?
For some time, it has been a mystery as to why a subset of ME patients have hypermobility, or even the more severe form which is know as Ehlers-Danlos Syndrome (EDS). It seems odd that having extra flexibility in one's joints might somehow pose an increased risk of ME – a seemingly metabolic and neurological condition affecting many bodily functions and systems. Surgeons such as Dr Gilete have been working with EDS patients for whom fusion of joints, including the spine, can give relief from pain. He and other EDS consultants noticed the link with ME symptoms and spinal instability and this is now garnering further interest from other researchers who have demonstrated affects upon the normal operation of the brain stem in a subset of ME patients. Presumably due to compression. There are now many cases of ME patients having the CCI fusion surgery and seeing significant or even complete improvement in all their ME symptoms. 
Why can't this be done in the UK through the NHS?
The link between spinal instability and effects on the brainstem in ME is very new. As it stands only 2-3 centres in the world are equipped and qualified to carry out this fusion surgery on hypermobile patients. One of them being Dr Gilete in Barcelona. Though the surgery cannot take place in the UK we are looking for post-operative support and care in the UK, should complications occur. Again, these might not be NHS but we will try.

In the UK, spinal fusion surgery is carried out for people who have been involved in traumatic incidents to the neck, it is not routinely carried out for people who have CCI due to connective tissue disorders. This is due to a lack of medical expertise in this area as surgery for people with connective tissue disorders has increased complications with healing, heart issues and mast cell issues. There is sadly a lack of interest in this area of medicine in the UK, though we hope this will change.
Figures from the NHS below:
 
Year and number of patients having spinal fusion surgery     
No. of patients with connective tissue disorders who had spinal fusion surgery
2014/15     6210     5
2015/16     5946     8
2016/17     6647     7
2017/18     6751     8
2018/19     5189     6 
Number of patients with hypermobility/ME and spinal fusion surgery is zero.

Describe your medical journey so far
I became ill at age 13, prior to this I had been healthy and very busy, taking an active role in youth club, ice skating, drama activities as well as school. It took some time for me to have a full diagnosis of CFS/ME and joint hypermobility. To do this my parents had to pay and take me to see Dr Bansal in London, he is a national expert in ME. (The NHS would not fund a referral to a paediatric ME clinic out of area and there were none locally). Since age 13 I have remained very ill, spending 23 hours per day in bed resting and what energy I use I 'pay for' later. We thought I may improve when I was 16, as my brother did (see below) but I did not. The evidence of a link between hypermobility, ME symptoms and craniocervical instability started to emerge earlier in 2019 with some people in USA and Europe having remarkable recovery stories following surgery. Again, my parents funded a specialist upright MRI in London that identified my structural disease. My scans completely discredited the lies that ME is somehow just 'all in the head'  In fact, for me it is 'all in the neck' and a very physical condition.
Why did Ben get better?
Ben, (Lizzy's brother) had CFS/ME from age 13 to age 17. His symptoms - though not identical- still meant he was bed-bound for 23 hours/day. He too is extremely hypermobile. It is likely that Ben had a similar cause to his symptoms and so the question as to why he got better is a very relevant one. Ben's recovery began at 16 when he began to bulk up his muscles through puberty. Though he was mostly bed-bound puberty still meant his body changed through those teenage years. He now is a strong, well built young man. Dr Gilete's assistant described how only 1 in 10 of his patients are boys. It appears likely that Ben simply built up muscle mass which stabilized his craniocervical instability. The difference between Lizzy and Ben might simply be testosterone as testosterone is associated with increased collagen whereas oestrogen is associated with decreased collagen. This explains why so many more women have hypermobility issues compared to men.
Can you break down the costs?
We currently have an estimate cost for surgery, and the charges for hospital after care, further tests before surgery, medication will be added to this. We also need to fund travel and accommodation in Barcelona for 1 month. We are raising funds through Tree of Hope to provide reassurance that funds raised will only be used for Lizzy's surgery, medical treatment, therapy and travel/ costs in Barcelona. Tree of Hope will hold all funds raised and will pay the relevant organisations directly, so you can be confident that all donations are used appropriately.
For more information see:
https://onlinelibrary.wiley.com/doi/epdf/10.1002/ajmg.c.31549
https://www.me-pedia.org/wiki/Welcome_to_MEpedia
https://www.me-pedia.org/wiki/Craniocervical_instability