Help Elijah sit and lay down in comfort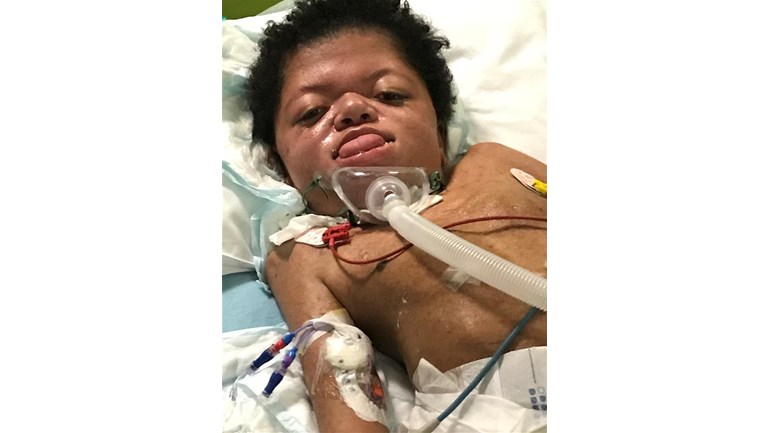 Help Elijah sit and lay down in comfort
Elijah is 13 years old. He was born with a rare genetic disorder called Apert Syndrome, something he shares with his mum, Kaddy. 
Apert Syndrome is characterised by the premature fusion of certain skull bones, which prevents the skull from growing normally and affects the shape of the head and face.
In 2007, at the age of 18 months, Elijah suffered a catastrophic brain injury from a streptococcal infection following skull surgery. This injury left him with a catalogue of health issues such as epilepsy, cerebral palsy, hydrocephalus, neuromuscular scoliosis, osteoporosis, hip dysplasia, high muscle tone, spastic quadriplegia, body shape distortion, recurring clostridium difficile and pseudomonas infections, obstructive sleep apnoea, ocular hypertension, and many more.
Elijah has spent most of his childhood in and out of hospital for periods of up to a year at a time and needs support from his specialist care team 24 hours a day. In 2015, he had to have a tracheostomy due to ongoing breathing difficulties.
As you can imagine, Elijah's health problems can make his life very challenging at times and yet he has always kept his grit and good humour.
Elijah requires round the clock clinical healthcare and social support 24/7 2-1 due his to complex health and phyiscal disabilities. No two days are the same.

Why Elijah's body shape is so important
Many of Elijah's health problems affect the shape and strength of his body, resulting in what is known as 'body shape distortion'. This can affect his skeleton and muscles, his internal organs and even his ability to breathe.
One of the most powerful ways of addressing body shape distortion is 24-hour postural care, i.e. positioning his body using the right equipment and positioning techniques.
24-hour postural care
With the correct postural care, Elijah is able to sit and lay down comfortably in a way that keeps his body as aligned as possible. However, this support is needed 24 hours a day to be truly effective.
At the moment what the NHS is able to offer is limited. Kaddy is liaising with leading lights in the postural care world to help improve services and make them more widely available. 
Help Elijah sit and sleep in comfort
Kaddy is currently raising funds to cover the costs of Elijah's sleep support system. This is a specially designed series of foam blocks, wedges and bedding that keep Elijah's body in the right position when he's laying down. They're designed to combat the impact of gravity on his body as he's unable to turn independently in his sleep.
As Elijah wets and soils his bedding, his sleep system needs changing several times a night and is cleaned during the day. Each sleep system costs in the region of £1,000.
The target amount needed will also enable us to Delivery of Three Day Level 2 Course in Postural Management, Co-producing a safety plan for therapeutic night time positioning and Two Day Special Seating A Masterclass for Elijah's Team, which our local CCG have refused to fund. 

Support for protecting and restoring Elijah's Body Shape
Kaddy has been warned that Elijah may need spinal surgery because of his scoliosis. Given the extent of his health problems, she wants to avoid this at all costs and is exploring non-surgical approaches to scoliosis.
In addition, Kaddy hopes to raise the funds needed for Elijah's care team to complete their Level 2 training in Postural Care. This will ensure that someone is always able to position Elijah correctly, even when he's in hospital.
Postural care can prevent invasive surgeries and health complications. It should be an essential part of the care given to anyone with limited mobility and risk of body shape distortion.
Any help you are able to give would mean the world to Elijah and Kaddy. Thank you.