Supporting Edens Therapy Journey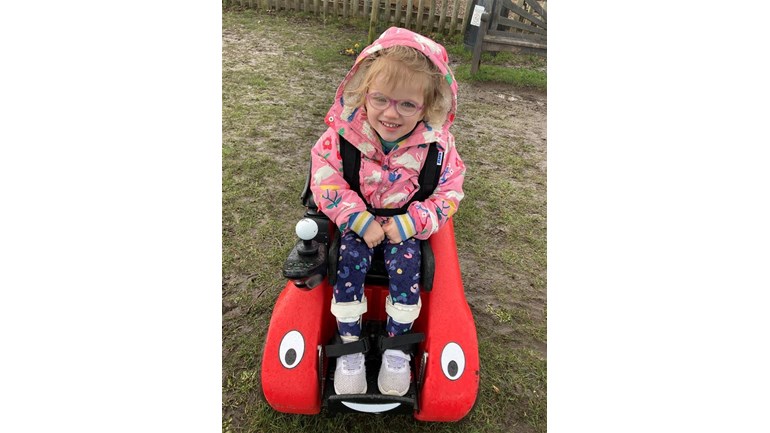 Thanks for taking the time to visit my JustGiving page. 
I have approached the Tree of Hope as they support families with children with additional needs to reach their targets and understand the costs of equipment and therapy needs. Through using gift aid we can increase any funds donated which will also be hugely beneficial. 

7.5% of all donations to Tree of Hope in relation to this appeal will be allocated to the general charitable purposes of Tree of Hope to cover our core operating costs.

Eden is my three year old daughter. She has a wonderful sense of humour and kind nature. She enjoys playing imaginary games, being read stories and spending time with family. She has an incredible amount of emotional strength and often tells me how she 'hates cereal palsy' and tries her hardest every single day to do things most people take for granted. Whatever is asked of her, she gives 110%. 

I am reaching out through this charity as her therapy needs have become harder to self fund. Unfortunately, these needs will always be present to allow her to remain comfortable and are particularly important at this point of her development. She shows so much potential for independent skills to be developed and supported. These skills will allow more opportunities to be available to her as she grows up, but most importantly will prevent irreversible changes to her body. 
Eden has been diagnosed with: Periventricular Leukomalacia (PVL) and Cerebral Palsy with Dystonia, a result of damage to areas of her brain. 
The PVL affects information being shared between the two lobes of her brain; she benefits from extra support to allow coordination of the left and right sides of her body. Therapy play ideas have hugely helped support this need.
Cerebral Palsy affects an area of her brain which supports movement and posture, this directly impacts her balance and ability to move independently. 
The dystonia causes her muscle tone to fluctuate and needs support to protect her posture, spine and hip development. 
Eden is at high risk of developing spinal and hip changes, but this can be minimised through postural support and changing positions throughout the day and night. Through use of specialist equipment, orthopaedic aids to manage her tone and support her posture from specialists. Their guidance for strengthening her muscles and movement provides reassurance and reduces the risks. 
From a young age, Eden has expressed wanting to keep up with her brothers and cousins. She enjoys hydrotherapy,  horse riding and private physiotherapy sessions. Her orthopaedic splints have been kindly funded by family members, having a huge impact on her ability in learning to move with specialist shoes and splints. 
Unfortunately, her equipment and therapy needs are incredibly expensive. I thrive to allow Eden to be able to access the same opportunities as her brothers and friends. Eden is funny, kind and has an independent nature and deserves to maximise her full potential. 
The therapies and specialists all support her to gain better balance and take steps with a walker with guidance. It has been incredible to watch her develop, despite small steps, I continue to see positive progress. As her mum, I want for her to gain strength, experience weight bearing opportunities and manage her posture as I know this will all help to reduce risks associated with cerebral palsy and dystonia, which can result in spinal scoliosis and hip dislocation. Already, Eden has experienced changes in her hips and therapy is recognised as being a positive preventative influence.
Eden is also learning to move using self propelling techniques in her wheelchair. Her funded wheelchair is very heavy and she has required an expensive chair funded by myself to gain more independence to go places without support from an adult. 
In order to continue to support Eden's wish to move and gain increased independence in her play and forthcoming education I'm asking for any support you can offer to access her on-going therapy needs.
Donating through JustGiving is simple, fast and totally secure. Your details are safe with JustGiving - they'll never sell them on or send unwanted emails. Once you donate, they'll send your money directly to the charity. So it's the most efficient way to donate - saving time and cutting costs.
Thank you for taking the time to read, I am eternally grateful at any interaction with this page if you are able to donate or just share via social media. This will really help Eden in the essential stages of her development to ensure she will have the best chance at the independence she deserves.