Eddie's Every Step Counts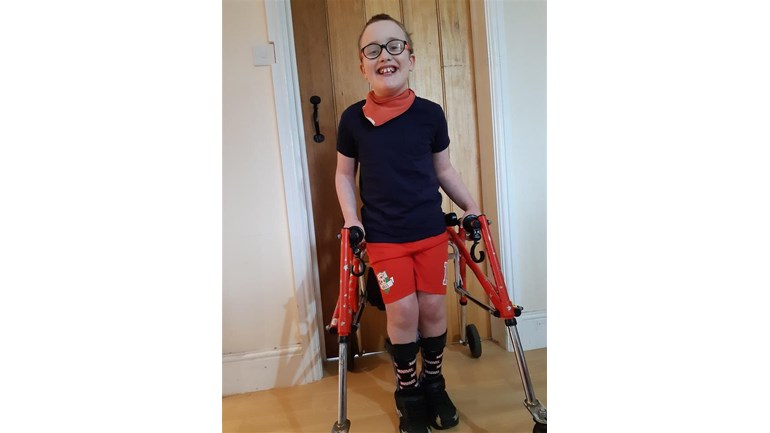 We're fundraising for life changing selective dorsal rhizotomy surgery, SDR, intensive physiotherapy and equipment for our son, Eddie Weston, who has cerebral palsy. We're doing this to ensure that he won't lose his ability to walk with his walking frame and tripod sticks due to muscles tightening with age and so that he may realise his dream of "walking with his feet" and "Be free".
Nine year old Eddie loves Cubs, Frame Football, Lego, baking and Nintendo Switch gaming. He also loves all things farming and is keen to follow Dad and be a Farmer. Apart from his smiley face and distinctive laugh, the first thing you will notice about Eddie is that he has difficulty walking.  He moves around indoors with his walking frame, tripod sticks or by crawling and uses a wheelchair for distances. Because of his disability, Eddie needs help to wash, dress, use the toilet and take part at school and with his hobbies. 

Born 10 weeks early at a tiny 3lb 8 oz, Eddie suffered respiratory distress and had to have a ventilator breathe for him as his lungs were not able to. He needed to be in an incubator and was admitted to the Intensive Care Unit. Whilst in the Neonatal Unìt, Eddie had ups and downs,  and was treated with a variety of medicines to keep him going and make him stronger. He also developed a bleed on his brain shortly after birth. Eddie stayed in the Neonatal Unit for the first 10 weeks of his life, until he was stable enough to come home.
When baby milestones were not met, doctors suspected cerebral palsy. A later MRI scan of his brain confirmed this and he was diagnosed with spastic diplegia cerebral palsy, affecting mostly his lower body, legs and feet. Eddie experiences muscle stiffness and difficulty in moving his legs and moving around. He has weak muscles also, requiring a specialist chair to support him in sitting.
After 7+ years of physiotherapy,  Eddie took his very first independent step just before he was 8 years old. His personal best is four independent steps, though he finds it very, very difficult and can't rely on this to move around.
Eddie's hard work over the years to get where he is now plus his determination to keep improving his physical ability means he is is a good candidate for a life changing operation called Selective Dorsal Rhizitomy (SDR). Brain damage causes abnormal signals from the brain to travel to the muscles to cause them to be stiff. The SDR operation involves cutting nerves in the spine to stop these abnormal signals from the brain. As such the operation permanently reduces muscle stiffness, enabling children to walk or move around more easily and be more independent.  This operation will help Eddie to take part with cubs, at school and on the farm with less help. Without this operation,  Eddie's muscles will  continue to tighten as an older child, into his teenage years and adulthood and he will need to use a wheelchair more and more and will lose the ability to walk with his walking frame and tripod sticks.
There is a clinical need for timely SDR as Eddie's hips are being pulled out of socket by his tight leg muscles. Eddie's hips have been stable over the years as monitored by hip x-rays but the hips are now coming further out of joint and this is concerning. In addition to this, the NHS will only routinely fund the SDR operation on children aged 3-9 years old. Children 10 years and older are not eligible. Eddie is 9 in December 2020  and the NHS waiting list is long. The hospital can't set a date for surgery other than sometime in 2021, up until December 2021, just before Eddie turns 10.  We are worried with Eddie's age and also that Eddie's physical ability will decline while we wait for NHS SDR as children with moderate cerebral palsy, like Eddie, usually are able to learn new physical skills until around age 6 or 7 years old and then they plateau. What they haven't learnt to do by then, they probably will not be able to do. After this, at around age 9, they begin to decline and lose ability, for example, losing the ability to walk with a walking frame. As such, we are raising funds to pay for SDR privately.
Eddie will also need to work hard on an intensive physiotherapy programme for at least 2 years after the operation to build muscle strength and learn to walk and move in a totally different way. He will also need equipment to help his rehabilitation.
We need your support so that Eddie can have this life changing SDR surgery, intensive physiotherapy and rehabilitation equipment so that Eddie can take more steps and live up to his dream to "walk with his feet" and "Be free".
Thanks for taking the time to visit my JustGiving page.
Donating through JustGiving is simple, fast and totally secure. Your details are safe with JustGiving - they'll never sell them on or send unwanted emails. Once you donate, they'll send your money directly to the charity. So it's the most efficient way to donate - saving time and cutting costs for the charity.
7.5% of all donations to Tree of Hope in relation to this appeal will be allocated to the general charitable purposes of Tree of Hope to cover our core operating costs.
 

If we raise insufficient funds, or surplus funds, then the funds will be used, if appropriate, to fund support for our child's needs in accordance with Tree of Hope's charitable objects.  If in those circumstances we are unable to use all or part of the funds for the benefit of our child in accordance with Tree of Hope's charitable objectives, then any funds that cannot be used will be transferred to be used for the general charitable purposes of Tree of Hope.