Edward Braun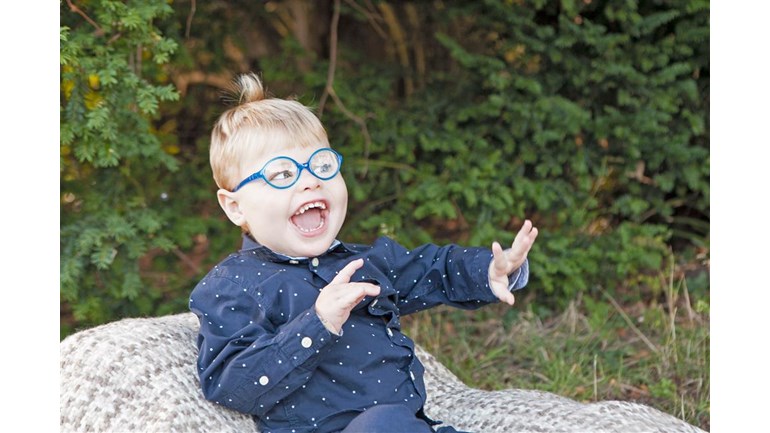 Thank you for taking the time to visit our JustGiving page.
Our son, Eddie, has a rare genetic condition which caused a (or some) bleeds on his brain in utero, leaving him with a severe brain injury. Consequently Eddie has various neurological conditions, including cortical vision impairment (he is registered as functionally blind), Grade 4 Cerebral Palsy affecting all four limbs, intractable epilepsy (West syndrome) and global developmental delay. West syndrome, also known as infantile spasms, is a rare and severe epilepsy syndrome and it has had a truly devastating impact on his development.
Since the day we discovered that Eddie's brain had been injured (at 35 weeks gestation) the various medical professionals that we have seen have all talked about the wonders of neuroplasticity, especially in babies. But the very real lack of NHS funding means we don't get enough practical professional input to truly help with Eddie's neurological and physical development. But the biggest hurdle Eddie has faced, without doubt, are the ongoing, and catastrophic, seizures he experiences daily.  Eddie is currently receiving a new treatment for his epilepsy called Epidioloex, this is being provided on a compassionate basis by the pharmaceutical company, but once licensed it will need to be paid for. As it will cost in the region of £850 a month it is highly likely that our local health board will refuse to fund it, meaning we would have to. However as it is not working we have been campaigning to get Eddie access to medical cannabis, but despite the recent rescheduling of medicinal cannabis it is simply NOT being provided by the NHS. We are therefore raising funds to try get him this medication privately.
We decided to join the Tree of Hope to try raise funds to help us manage the ongoing costs associated with Eddie's needs. It was not an easy decision to make to go down this path, and we appreciate you visiting this page to find out more about it.
Over the years we have worked with specialists in neurological rehabilitation, we have done a course of 'targeted training', and have also used funds raised to pay for a private physiotherapist, a private occupational therapist and to take Eddie to a weekly equine therapy sessions and swimming therapy. In addition, over the last few years we have had recommendations from both our NHS physiotherapist and OT about various pieces of vital equipment that they suggest Eddie would benefit from, but which they could not provide so we had to fund them through other means.
We are determined to try to give Eddie the chance to live a life with fewer seizures, to keep him safe. And we desperately want to keep helping Eddie to develop, below is a short list of the medications/therapies we are hoping to fund moving forwards;
1) A private prescription for medicinal cannabis                                 
2) Appropriate equipment at home to keep him safe and well, e.g. a bath with disabled access etc                                                                                
3) A meercat standing frame                                                                 
4) Regular Equine therapy sessions at Freedom Equine Centre                  
5) Regular physiotherapy/hydrotherapy sessions with Bright Stars                                                                                                   
Having a child with complex needs is both a challenge and a joy. The ridiculous costs associated with anything 'special needs' however is truly eye watering. We couldn't do it without help, and we are so grateful for the help we have received.

Thank you for taking the time to read about our beautiful, determined little boy. The support he receives is truly invaluable to us as a family.                                                                                                                           
7.5% of all donations to Tree of Hope in relation to this appeal will be allocated to the general charitable purposes of Tree of Hope to cover our core operating costs.

If we raise insufficient funds, or surplus funds, then the funds will be used, if appropriate, to fund support for our child's needs in accordance with Tree of Hope's charitable objects. If in those circumstances we are unable to use all or part of the funds for the benefit of our child in accordance with Tree of Hope's charitable objects, then any funds that cannot be used will be transferred to be used for the general charitable purposes of Tree of Hope.

Donating through JustGiving is simple, fast and totally secure. Your details are safe with JustGiving - they'll never sell them on or send unwanted emails. Once you donate, they'll send your money directly to the charity. So it's the most efficient way to donate - saving time and cutting costs for the charity.