Edward Braun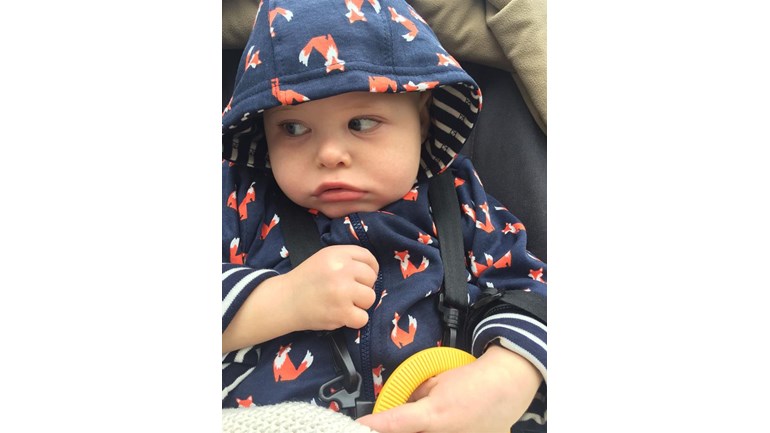 Thank you for taking the time to visit our JustGiving page.
Our younger son, Eddie, has a rare genetic condition which caused a (or some) bleeds on his brain in utero, leaving him with a severe brain injury. Consequently Eddie has various neurological conditions, including cortical vision impairment, right hemiplegia (Cerebral Palsy)  West syndrome and global developmental delay. West syndrome, also known as infantile spasms, is a rare and severe epilepsy syndrome and it has had a truly devastating impact on his development.
Since the day we discovered that Eddie's brain had been injured (at 35 weeks gestation) the various medical professionals that we have seen have all talked about the wonders of neuroplasticity, especially in babies. But the very real lack of NHS funding means we don't get enough practical professional input to truly help with Eddie's neurological and physical development.
We decided to join the Tree of Hope to try raise funds to help us manage the ongoing costs associated with Eddie's needs. It was not an easy decision to make to go down this path, and we appreciate you visiting this page to find out more about it.
We have been working with the Family Hope Center (FHC) who developed an individualised, comprehensive programme of activities for us to do at home with Eddie. We have also been working with both a private physiotherapist, a private occupational therapist and taking Eddie to a weekly equine therapy session. In addition, over the last few months we have had recommendations from both our NHS physiotherapist and OT about various pieces of equipment that they suggest Eddie would benefit from, but which they cannot provide. We have also experienced some NHS services being withdrawn due to staffing shortages, for example Eddie was able to attend a weekly hydrotherapy session with the local physiotherapy team, but we now need to find a private alternative as they have cancelled the classes. 
Eddie is two and a half now and reaching some really positive developmental milestones which we strongly feel is due to all his hard work. He core strength is really good, and he can sit unsupported for up to 30 seconds. He can stand up with support for a few seconds, and is working hard on his kneeling too. He has learnt to operate a basic switch to turn his Bugzi chair in a circle. And to use his hand to 'tap tap' to indicate when he wants Merrylegs (the pony) to 'go', or for us to do 'more' if we are singing, playing etc. He is also working really hard on both his vision and fine motor skills, and, using a light box, he can now see and pick up bigger pieces of lego. 
We are determined to keep helping Eddie to develop, below is a short list of the therapies we are hoping to fund moving forwards;
*Continued work with the Family Hope Centre training                                                             *Regular Equine therapy sessions at Freedom Equine Centre                  *Regular physiotherapy sessions with Bright Stars and regular occupational therapy sessions with The OT Practice                                 *Hydrotherapy                                                                                                   
We would also like to fund a Walker for Eddie, this will combine the work he is already doing using his standing frame whilst giving him the opportunity to try to walk - and one of the things that Eddie loves most in the world is to move!
Thank you for taking the time to read about our beautiful, determined little boy. The support he receives is truly invaluable to us as a family.                                                                                                                           
7.5% of all donations to Tree of Hope in relation to this appeal will be allocated to the general charitable purposes of Tree of Hope to cover our core operating costs.

If we raise insufficient funds, or surplus funds, then the funds will be used, if appropriate, to fund support for our child's needs in accordance with Tree of Hope's charitable objects. If in those circumstances we are unable to use all or part of the funds for the benefit of our child in accordance with Tree of Hope's charitable objects, then any funds that cannot be used will be transferred to be used for the general charitable purposes of Tree of Hope.

Donating through JustGiving is simple, fast and totally secure. Your details are safe with JustGiving - they'll never sell them on or send unwanted emails. Once you donate, they'll send your money directly to the charity. So it's the most efficient way to donate - saving time and cutting costs for the charity.