Dylan's Dream to Run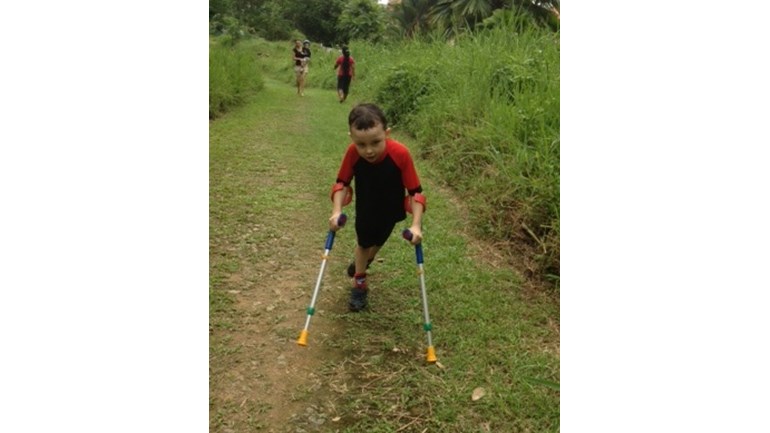 Thanks for taking the time to visit my JustGiving page.
"Hi, I'm Dylan.  Thanks for taking the time to visit my JustGiving page; I'm glad as I could use your help.I really want to ride a scooter, pounce like a tiger and do running races with my friends, but I was born with a bruise on my brain which means my legs don't do as they are told.No matter how hard I try and tell them to behave, they just won't do what I ask them."
Dylan is nearly 5 years old.  He is fervently Welsh and currently lives in Singapore. He tells everybody with great gusto that he is from 'Wales and Great Britain'. The bruise on his brain is a form of cerebral palsy and Dylan's condition is known as spastic diplegia.  It is caused by damage to the cerebrum, the part of the brain that controls his muscles.  As a result, his legs are very stiff and his walking and general mobility is severely restricted.He can use crutches, but he often loses his balance and still has to rely on a pushchair to go any distance. Most of the everyday tasks that we take for granted are incredibly difficult and extremely tiring for Dylan. His doctor says it can take 50% to 80% more energy for him than other kids his age to do simple things. Despite all of these problems, Dylan is amazing. He is very bright, loves books and reading, and attends a fantastic mainstream school where he has some wonderful friends. There are lots of things he wants to do but often misses out because he simply can't join in.
He has seen more doctors, neurologists, physiotherapists, than any little boy of his age should.He rarely complains (ok he does sometimes but wouldn't you!) and has a determination and outlook that many able bodied people would find hard to match.
Although spastic diplegia is incurable, Dylan has been accepted to undergo a potentially life changing operation know as Selective Dorsal Rhizotomy (SDR).The best place to get this treatment is in the United States with Dr Park at the St Louis Children's Hospital. As you can imagine, this procedure is expensive - the operation and 4 week hospital stay in the US is followed by up to 2 years of physiotherapy in Singapore and the UK.However, it could provide Dylan with a chance to vastly improve his mobility and independence and greatly reduce the need for orthopaedic surgery later in life. The cost for all this: around £60,000 -please help us realise Dylan's Dream to Run.
Donating through JustGiving is simple, fast and totally secure.  Once you donate they'll send your money directly to the charity and make sure gift aid is reclaimed on every eligible donation by a UK taxpayer.
So please dig deep and donate now.