Support for little Davina's therapies to continue her path to independence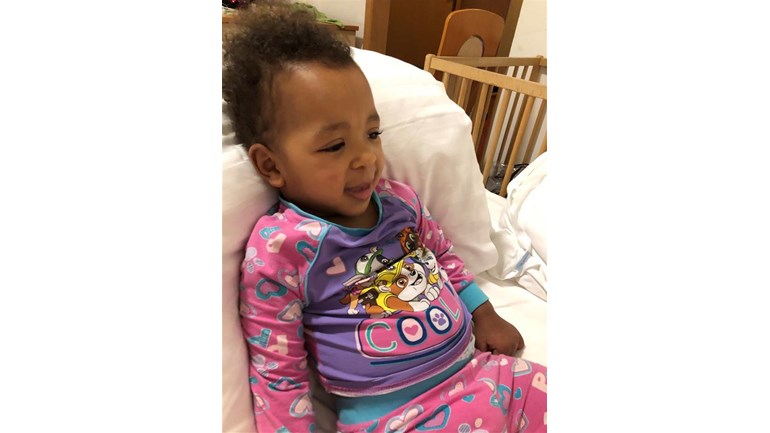 Please scroll down for German translation (Bitte scrollen Sie nach unten für die deutsche Übersetzung).
Davina was born in February 2018 and loves to be independent and explore. At 9 months, journeys back and forth to the hospital began. After being wrongly diagnosed with Myasthenia Gravis and suffering from side effects of the medication, the hospital called us in to tell us Davina's genetics tests result: Phelan McDermid Syndrome. We have been told that this is the name for a chromosome deletion. One part of this deletion is called Shank 3 which is responsible for creating proteins in our brain which we need to create synapses.
The doctor said the consequences are that she may not walk, talk, feed
herself, read, write ... Also, once she learns something, there is no guarantee that she will not unlearn it due to various triggers such as moving home or a common cold. It was a big shock.
Davina is a real fighter and has already proven doctors wrong.  She's really put us to shame. With the help of therapies and neurorehabilitation at the Adeli Center in Slovakia, she worked so hard that she is walking (still a bit wobbly but she is doing it) and she can feed herself (not yet with the pincer grip but she is doing it). She loves to explore, and she has a lot to say which she does by, for instance, going to the table to say she is hungry or shouting if she needs something. 
However, in order to walk steadily and to speak, Davina needs to build and strengthen all her muscles. The biggest success she had was at the Adeli Center in Slovakia where we learned that, to continue her success story, neurorehabilitation should be done for two weeks, three times a year. Also, she is supposed to go to music therapy which the NHS does not cover, and we found an insulin nasal spray, developed in the Netherlands, that is very promising in terms of mitigating synaptic problems.
Given all the costs involved in helping Davina on her path to
independence, we reach out for help. Help us to give her the chance to attend neuro-rehabilitation for a year, to use the insulin nasal spray for half a year and to finance music therapy for 1 year. Please open your heart for a little, nearly 2-year-old girl who is a role model when it comes to tenacity.
There are no words to express our gratitude and we are aware that saying thank you for your help really is nothing compared to the change it will bring to Davina's life. Still all we can do is say: THANK YOU!
Please note: 7.5% of all donations to Tree of Hope in relation to this appeal will be allocated to the general charitable purposes of Tree of Hope to cover our core operating costs.

Davina wurde im Februar 2018 geboren und liebt es,
unabhängig zu sein und zu ihre Umgebung zu erkunden. Nach 9 Monaten begannen
die Hin- und Herfahrten zum Krankenhaus. Nachdem sie falsch mit Myasthenia
gravis diagnostiziert wurde und sie alle möglichen Nebenwirkungen des
Medikaments hatte, rief uns das Krankenhaus an, um uns Davinas Ergebnis der
Gentests mitzuteilen: Phelan-McDermid-Syndrom. Uns wurde gesagt, dass dies der
Name für das Fehlen eines Chromosomenteils ist. Ein Teil dieses fehlenden
Chromosoms heißt Shank 3 und ist für die Erzeugung von Proteinen in unserem
Gehirn verantwortlich, die wir zur Erzeugung von Synapsen benötigen.
Der Arzt sagte, die Konsequenzen sind, dass sie sehr
wahrscheinlich nicht gehen, reden, essen, sich selbst anziehen, lesen,
schreiben ... wird. Auch wenn sie etwas erst einmal gelernt hat, gibt es keine
Garantie, dass sie es nicht wieder verlernen wird. Verlernen könnte ausgelöst
werden zB durch einen Umzug oder eine Erkältung. Der Schock war groß.
Davina ist eine echte Kämpferin und hat Ärzten bereits
bewiesen, dass sie mehr kann als vorhergesagt.Davina ist ein echtes Vorbild für
uns. Mit Hilfe von Therapien und Neurorehabilitation im Adeli-Zentrum in der
Slowakei hat sie so hart gearbeitet, dass sie läuft (immer noch ein bisschen
wackelig, aber sie tut es) und sich kann selbst Essen (nicht mit dem
Pinzettengriff, aber sie tut es) . Sie liebt es Dinge zu erkunden und sie hat
eine Menge zu sagen, was sie tut, indem sie zum Beispiel an den Tisch geht, um
zu sagen, dass sie Hunger hat oder schreit, wenn sie etwas braucht.
Um jedoch stabil gehen und sprechen zu können, muss Davina
all ihre Muskeln aufbauen und stärken. Den größten Erfolg hatte sie im
Adeli-Zentrum in der Slowakei, wo wir erfuhren, dass die Neurorehabilitation
für die Fortsetzung ihrer Erfolgsgeschichte zwei Wochen lang und dreimal im
Jahr durchgeführt werden sollte. Außerdem soll sie Musiktherapie machen, die
von drr Krankenkasse nicht abgedeckt wird, und wir haben einen in den
Niederlanden entwickelten Insulin-Nasenspray gefunden, der hinsichtlich der
Linderung synaptischer Probleme vielversprechend ist.
Angesichts all der Kosten, die mit der Unterstützung Davinas
auf ihrem Weg zur
Unabhängigkeit verbunden sind, bitten wir um Hilfe. Helft
uns, ihr die Möglichkeit zu geben, ein Jahr lang an der Neurorehabilitation
teilzunehmen, ein halbes Jahr lang den Insulin-Nasenspray zu verwenden und ein
Jahr lang die Musiktherapie zu finanzieren. Bitte öffne dein Herz für ein
kleines, fast 2-jähriges Mäderl, das ein Vorbild ist, wenn es um
Durchhaltevermögen geht.
Es gibt keine Worte, die unsere Dankbarkeit zum Ausdruck
bringen, und wir sind uns bewusst, dass das Danken für Eure Hilfe wirklich
nichts im Vergleich zu der Veränderung ist, die es für Davina bedeuten wird.
Trotzdem können wir nur eines sagen: DANKE!
Bitte beachte: 7,5% aller Spenden im Zusammenhang mit diesem
Aufruf werden für gemeinnützige Zwecke von Tree of Hope verwendet, um deren
Kernbetriebskosten zu decken.