Courtney\'s wish to walk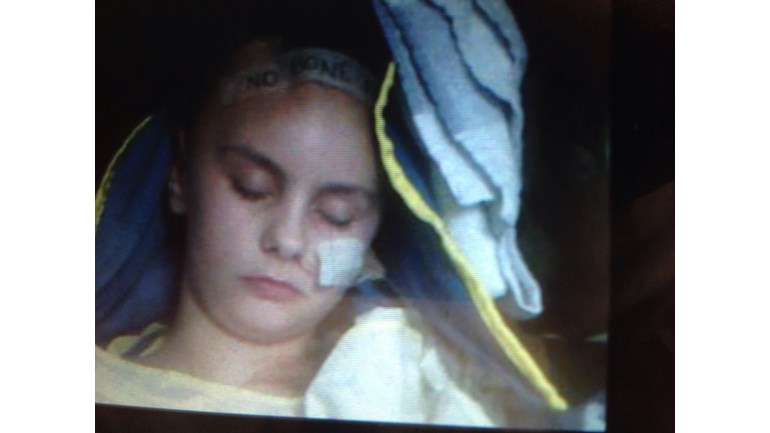 Courtney's Story – Courtney's wish to walk
The day my life and my family changed was the 31st January 2012. Hubby went work, two girls went to school and I did the house work. Then, about four the phone rings, so I say hello and all I got was,  "Mum, it's Courtney, she has been hit by a bus."
By that time it felt like my heart had stopped but I said to my daughter Gemma, "calm down, I am on my way." Me and my other daughter went to my auntie's and we went down to where it happened. There were a lot of people there. I phoned my husband who was at work. He went back to the yard, got his car and met us down there.
I was trying to calm Gemma down and look what they were doing to Courtney. She was just laying there with no movement, the doctors cutting her clothes off. They were doing all this stuff to her but she not moving. They said we need to go, so I said, "I'm coming with you."
With my husband beside us we had to go to Addenbrooks hospital. When we got there they took her away. It was a long time. We could see her little body just laying there. They said she has a right side fracture, bilateral small pneumothorax and right lung contusions. They also said they had to wait to see if the swelling in her brain would go down. If not they would have to do something.
All the drips she had in her little body!
They waited eight days, then said they will have to do a bilateral frontal craniectomy for raised intracranial pressure. It was the longest four hours of my life. Me and my husband sat by her bed side just praying she would come back to us. The doctors said she might not make it. "She will not be the same little girl if she makes it," but we did not care, we just want her back with us.
It was so bad as when it happened we was not allowed to hold her hand. Then, on the 17thFebruary. she was extubated. As she was doing well they moved her to the general ward where on arrival she showed minimal movement on the left side with a marked right sided weakness although she was not fully awake.
We took a lesson on how to feed her with the tube in her nose. After a few weeks she was transferred to Peterborough hospital which was good as a lot of my family could come and see her.
At Peterborough hospital they were great with Courtney's making a lot of friends. That's when they come and said they would like to talk to us about a place called the Children's Trust in Tadworth. It's a residential neuron-rehabilitation centre.
So, on the 22nd May me and Courtney were taken there where we remained for six months. It was hard as I had not been away from my husband and girls for that long but we did get to see them some weekends. On the 31st August we were back at hospital to have her two plates put in. She had school swimming physio to do everyday but she found a good friend called Megan who had a brain injury herself.
On 23rd October we were allowed home. We had a bed sorted for Courtney. It was hard work but we pulled together. We still have along way to go but we will get there.
She needs help with her wheelchair and help at school but we are so proud of her and her sisters for being so strong. We will get her to walk again if it's the last thing we do!
She needs help as she wants to walk on her own without the splint as it hurts her leg after an hour of walking on it. She wants to walk her new puppy and play with him without the aid off a wheelchair and to use her right hand and arm again as before the accident she was right handed and really active. All she wants to do is to be able to do things a teenage child should be able to do.
This is the reason why we need all the help we can get to make Courtney's dream come true and to make her the happy little girl she use to be before it all changed. Physiotherapy is expensive but Courtney needs it desperately.
 All she wants to do is walk again and to train her puppy who she loves. It's so hard looking at her with them sad eyes when she sees her old friends outside having fun.she justs wants  friends again and to enjoy live again .so please if you can help every little helps .
Should we exceed the target amount then all the extra money will go to the general funds of Tree of Hope to assist other sick children.