Conrad\'s \Wish To Walk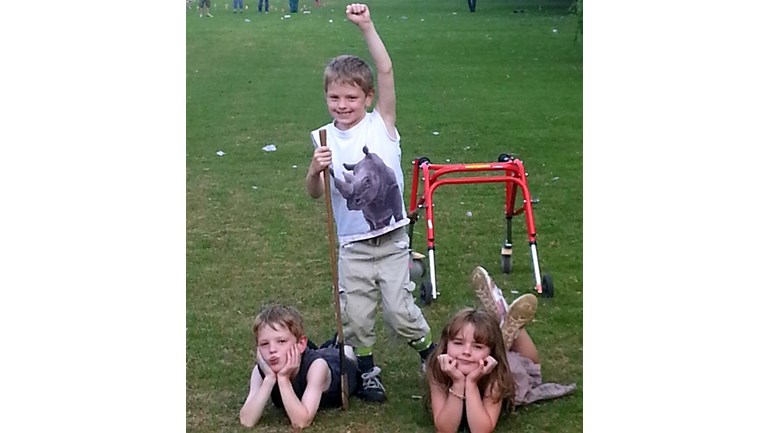 Conrad was born at 28 weeks premature, along with his twin brother.  The boys suffered  a 'Twin to Twin Transfusion' while in the womb, because they were 'identical' and were delivered by emergency c-section.  The prognosis was poor, the boys were going into heart failure & had a 70% chance of survival!! Both boys were critical & in SCBU Intensive care and on ventilators.  However, Conrad was far more poorly and a CT Scan revealed he had undergone a bleed in an specific area of his brain, resulting in 'Cerebral Palsy'.  They were in SCBU for Three Months.
Conrad & his brother are survivors, even when they were babies & as small Children. Conrad has always had a fighting spirit within him, that somehow spurs him on everyday.   Also, his delightful and confident nature, has enabled him to complete every developmental and academic milestone, expected of him, just like his brother.  All be it days, weeks, sometime months or years later! Learning/practicing to do a forward roll for example. 
For Conrad, having 'Cerebral Palsy' is about his not being able to walk properly or get around, as well, as, most other kids.  Yet, with the love, help, motivation & support of his family, friends, School and medical staff, equipment and aids. Conrad still tries his hardest and achieves amazing things, every day and continues to set himself challenges and goals, despite the pains, aches and Physiotherapy treatment, he has to experience/endure daily.  This is essential in order to counteract the constant tightness (spacicity) and pulling that Conrad's muscles, tendons and skeletal frame and joints, undergo everyday. Despite this all, Conrad continues to be an inspiration to us all.
Conrad had been awaiting an date for the vital, life changing  'SDR (Selective Dorsal Rhiziotomy) Surgery' he needs. Which is the most effective Treatment available to Children with Cerebral Palsy to relieve the constant tightness permanently.  Thus, allowing the heels of Conrad's feet to touch the floor and therefore enable Conrad, with lots of hard work from him and physiotherapy from us, to walk and not suffer further pain and deformation of his bones and joints, as an older child/teenager and adult.
 Sadly, we were heartbroken to be told that NHS England have decreed that SDR, should no longer be 'Routine funded' by the NHS and Queens Medical Centre, Nottingham (NUH NHSTrust) despite the effectiveness refused to fund any further SDR surgeries,  Afterwards, they were pressured to fund a further nineteen children, whom had already been given dates for their surgery. Unfortunately, Conrad was Twentieth on the waiting list and missed out.  
His Surgeon then put forward an 'Exceptional Clinical Circumstances' application because; Conrad is Eight years old and children should have the surgery before they are Nine years old to be most effective; he already has a Baclofen Pump, his degree of tightness and because he has quadriplegia. However the NHS England advised the hospital to refuse all further applications and leaving Conrad with no hope.
Therefore, we find ourselves in this terrible situation, that we will now have to fund the SDR surgery that Conrad needs, ourselves.  Since receiving this shocking and traumatic news, we have tried desperately to raise monies, and quickly, as Conrad needs the operation asap.  We have now arranged  a provisional 'private date' for the17th June 2014, provided we can raise the rest of the amount needed. it has been a very difficult time for us all.  Conrad remains confident and hopeful, that we can do this.  Please help us to help Conrad to walk and to achieve his full potential. Thankyou   : - )
Should we exceed the target amount (or if we don't raise enough funds, or if they cannot be used for any other reasons) the funds raised will go to the general funds of Tree of Hope to assist other children
Donating through JustGiving is simple, fast and totally secure. Your details are safe with JustGiving – they'll never sell them on or send unwanted emails. Once you donate, they'll send your money directly to the charity. So it's the most efficient way to donate – saving time and cutting costs for the charity.