Chloe's Wish 2 Walk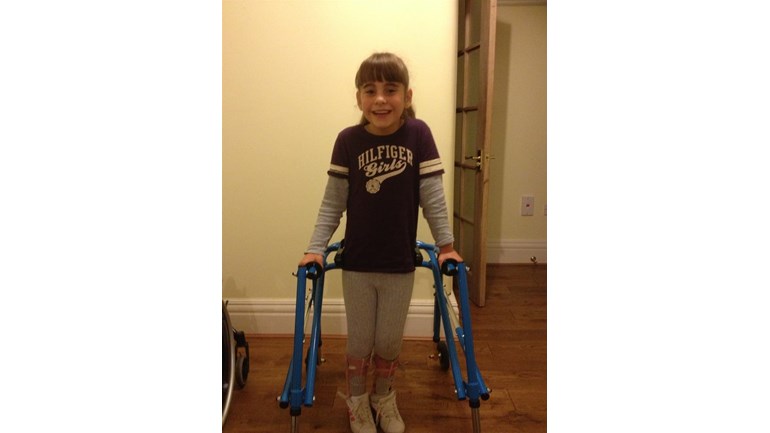 My daughter Chloe New has cerebral Palsy and needs an operation that will totally change her life. It will give her the chance to be more independant and do the thing that most children take for granted - walk! The operation itself Selective Dorsal Rhizotimy (SDR) is a surgical procedure which has an almost 100% success rate and we have been advised that Chloe is as near to a perfect candidate for this as you can get.
We originally tried to get this operation funded through the NHS. Chloe went to a hospital in Oswestry and completed the relevant tests , passed them all with flying colours and was accepted as a candidate for the operation. Unfortunately when we applied for funding through our local Primary Care Trust we were turned down. I enlisted the help of our Local MP, supplied supporting letters from Chloes specialist and physio therapist and appealed against the decision. To our disappointment the appeal fell on deaf ears and the PCT took the decision to uphold the original decision to decline funding even though another patient in Blackburn has received the funding.
Due to this turn of events we now need to fund raise to get the money together to enable us to get this life changing operation for Chloe. The operation will take place at St Louis Childrens hospital in Missouri and will cost approximately 45k
The operation itself involves the surgeon making an incision into Chloes back at the bottom of her spine and testing the nerve endings to see which ones are the most responsive. These are the ones that are causing Chloes legs to be extremely stiff and making it difficult for her to walk. They will then cut the most responsive ones which will in turn reduce the stiffness in her legs. Chloe will then need intensive physio therapy afterwards to ensure she gets the best effects of the operation. The end result being that Chloe will be able to walk unaided and be far more independent. This means more to Chloe than anything in the entire world and as a parent I cannot let this opportunity of a better life pass us by just because the NHS isn't willing to help. If you are a parent or Aunty or Uncle, ask yourself how you would feel if a family member who was completely dependant on other people had the chance to become independent and have a much better quality of life, wouldn't you do everything you could to make this happen. That is why we are now asking you to help us make a difference for our beautiful little girl.
Many thanks, Angela, Terry, Chloe and Ben New.xxx
Thanks for taking the time to visit my JustGiving page.
Donating through JustGiving is simple, fast and totally secure. Your details are safe with JustGiving – they'll never sell them on or send unwanted emails. Once you donate, they'll send your money directly to the charity and make sure Gift Aid is reclaimed on every eligible donation by a UK taxpayer. So it's the most efficient way to donate - I raise more, whilst saving time and cutting costs for the charity.
So please dig deep and donate now.