Aidan Rosser's Journey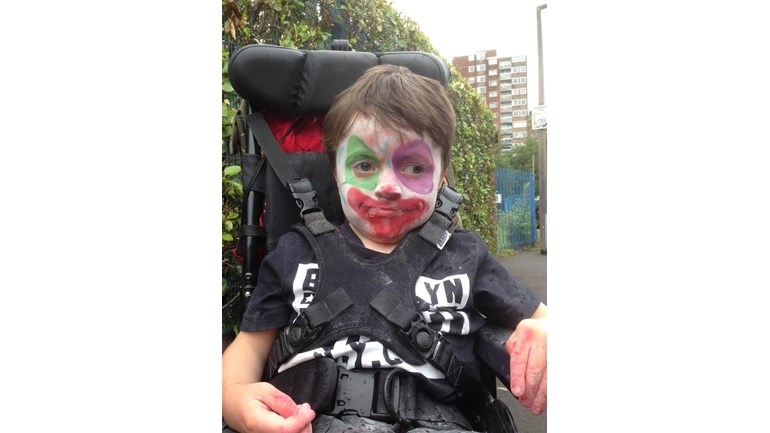 Can you imagine not being able to talk? How it would feel not being able to walk? Could you imagine how you feel as a parent not being able to help your children if their sick?
Well this is my sons Story: 
I am a dad of a very unique and special little boy: Aidan Rosser.
I am raising awareness of sons undiagnosed condition, hoping that if we raise the awareness of my sons condition, we may be able to find answers. 
There are so many charity and fund raising ideas out there, Aidan is a brother and son to a wonderful family, brothers Finnley age 9 and Jacob age 10 are very keen footy fans and support Swansea City FC and they also play Rugby and love the Ospreys too and play for a local rugby team.
Aidan has a sister Hollie who ls active and currently does street dance, she is age 13, he also has a little brother named Sonny who is aged 3. as you can appreciate Aidan's condition effects my brother's and sister too.. 
We are very concerned parents, as there are no answers of why Aidan is the way he is. Aidan cant have an operation to make him better, he is known as a SWAN(Syndrome Without A Name).  He has had a number of tests, MRI scan, blood tests, as a new born baby Aidan was 2 weeks overdue and had to be induced, but we as a family are still in living in limbo as we need answers!
Aidan currently has physio once a week in school, although he needs more physio and hydrotherapy, this is all that is available. Aidan cant do the things that his brothers do!
Aidan cant go to the same school as his brothers and sister who are in Sketty and Olchfa, Aidan has a fabulous school, Penllergaer Swansea teachers are great and he has met new friends, although the smallest in the class at times Aidan is the the loudest.
We are looking for kind donations/fundraising ideas to build funds for Aidan's future care, When Aidan is big enough he will need to be carried and joisted to bed and even the toilet, its amazing what we all take for granted when you cant do the basic things in life like walk. so far we have purchased a bed, a pram and car seat through fundraising and help from the community. we are still looking for donations that will help with extra therapy, private appointments, specialist equipment, 

There are many things that Aidan will need as he grows to help with posture, learning and adaptability that will help Aidan walk let alone talk.  We may even have to try and get answers abroad for Aidan.
We might even go private and see if Great Ormand Street Hospital can help Aidan, there has to be an answer out there!without a diagnosis it cant be treated or developed.
For the past five years we have not been able to get a diagnosis for Aidan. We have met some great people along the way, but with no answers, we can only live in hope. Aidan is a lovely little boy, as a dad I feelthat more can be done there has to be more answers out there, with all the technology in this world anything can be possible, but we cannot do this on our own and everything comes at a cost or you can wait for years. We are currently on a waiting list to have further tests for Aidan's Diagnosis and part of the DDA study .
My dad keeps hearing from my brothers, " dad why cant Aidan walk" will he be able to play football with us soon? As parents we cant answer those questions!but hope that someone will be able to one day, we hear so many things like the hospital specialists abroad, london will be able to help, but with this we need a lot of support for this,
Hoping you can help, we can only make this happen from people of all walks of life 
Why not think of a fund raising idea yourself and challenge yourself to raise some cash with a group or individual for Aidan. 
During Aidan's Journey we have experienced a select few of people, Gremlins i call them saying inappropriate things about Aidan and his journey we choose to ignore this and continue his awareness with his journey. 
You can Text your donation to : 70070 AROS99 £10
(whichever the amount) Actions Speak louder than words