Christian2Walk Appeal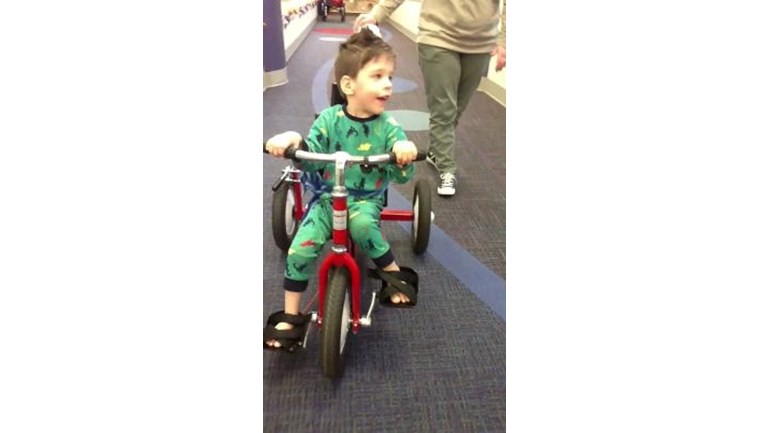 My sisters don't play with me as much
My name is Christian Wells and I am determined to walk ....I am nearly two years old and live in West Kingsdown in Kent. Recently my sisters don't play with me as much as they used to because they have started to run everywhere... This doesn't matter too much at the moment because I manage to get to where I am going by crawling. However as I grow up I may not be able to play in the same places as them as I currently can't sit up or walk on my own and this may mean that I may need to go to a special school for reduced mobility. The problem is that I was born with moderately/severe cerebral palsy and this means that I have very stiff legs which prevents me from walking. The doctors think that the reason that I am like this is that I was born 12 weeks early and this broke some of the nerves that connect my legs to my brain. Whilst Mum and Dad (+ family) help as much as possible by taking me for special massages and pure oxygen it's not going that well, but I keep on trying.
THERE IS HOPE .... We're the parents of Christian and we dream for our son to walk on his own.....We've found a hospital in Missouri that regularly fixes problems similar to our son's condition almost every day of the year. The surgeons there administer a complex operation called a 'Selective Dorsal Rhizotomy' that destroys the 'bad' nerves leaving the good ones. This operation results in correct messages being sent to the legs and this helps to loosen the tight muscles to allow him to walk. The cutting of the nerves in the spinal cord is a complex job requiring the most skilled surgeons and we only have one chance to get it right. For this reason this 'specialist' hospital in the USA is the most likely place in the world to make a life changing difference to our son's life.
HOW CAN YOU HELP?
This operation costs approximately £60,000 and involves sending Christian to the children's hospital in Missouri for a period of about 5 weeks. We are planning for this to occur in October 2012. We have teamed up with a Charity called the 'Tree of Hope Children's Charity' and they offer 'hope' to the families of Sick UK Children like us who need Specialist Medical Surgery, Treatment and Therapy in order to free them from suffering.
We are running a series of charity events to raise money for his operation with the help of the kind people of Sidcup Cycles to help make Christian's life more comfortable.
Latest Info - www.facebook.com/Christian2Walk
Christian2Walk Video http://youtu.be/xCrUjf7_5zc
Christian2Walk Quiz Night - 06/07/12 @ 19:00 - https://www.facebook.com/#!/events/389767134403006/
Canary Wharf to Deal night Ride -14/07/12 ~23:00 https://www.facebook.com/#!/events/460735243952109/
Register for ride :- http://www.riderhq.com/events/canarywharftodealnightride-ride4christian
The Wharf Newspaper article - June 2012 http://www.wharf.co.uk/2012/06/my-ambition-to-see-my-brave-so.html