Christian Waldron-Knights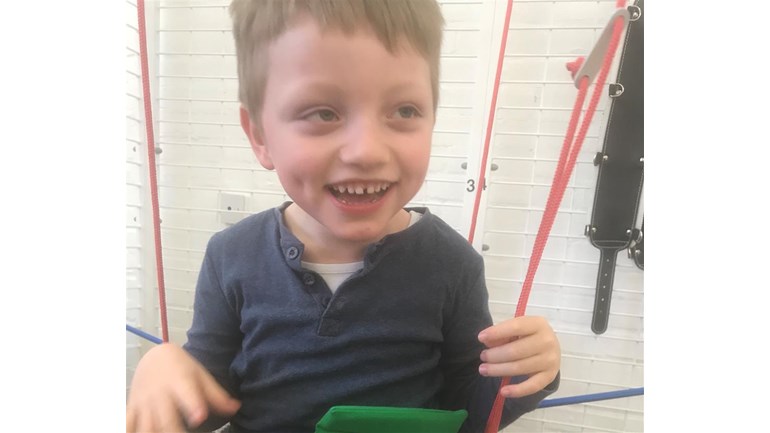 Hi I'm Christian,
I was born early when on holiday in Spain my Mummy got an infection in the womb which spread to me, causing parts of my brain to shut down, this caused Quadriplegic Cerebal Palsy.
Which for me means I have  difficulty using my arms and legs it also makes my speech hard to get right as well, but my Dad says I know everything that's going on constantly asking "where" "when" "how" "why" too often! I have the most amazing help at my school called Treloars, who help me and my classmates so much every day.
I have level 4 Cerebal Palsy and because of this level I am unable to have an SDR (Selective dorsal rhizotomy) operation with the NHS. The NHS have so many children where the operation will enable them to walk, I don't qualify, as even after the operation it's not something that's expected. But I'm hoping that the operation will help me in many other ways.
My big hope is that it will eliminate the pain in my legs due to the tendons being tight and reduce the amount of medicine that I have to take 4 times a day, this will give me more movement that will help me transition/move from my wheelchair to my bed, or to the toilet hopefully by myself. The other big thing is there have been lots of other children who have had SDR and the reduction in tension in their bodies has helped their speech improve, making it not such a struggle to speak. And lastly, they have said that there will be a big possibility that the number of operations I have to have as I grow and my tendons don't stretch with me, will be reduced.
I will be in hospital for 2 weeks, having intensive physiotherapy at the hospital for a further 3 weeks and then will need physiotherapy for the next 2 years, as I will have to learn to use my muscles again, it will be like starting from new.  I' m planning to be in Hopital for the operation on the 24th July this year as it was cancelled last year due to covid.
I hope we can raise around £85,000 for the operation, physiotherapy and a specialist wheelchair to chase my sister in when I am feeling better.
Thank you for taking the time to visit my JustGiving page.
Love to you all Christian X 
Donating through JustGiving is simple, fast and totally secure. Your details are safe with JustGiving - they'll never sell them on or send unwanted emails. Once you donate, they'll send your money directly to the charity. So it's the most efficient way to donate - saving time and cutting costs for the charity.