Charlotte's Fund, Please Help Me To Walk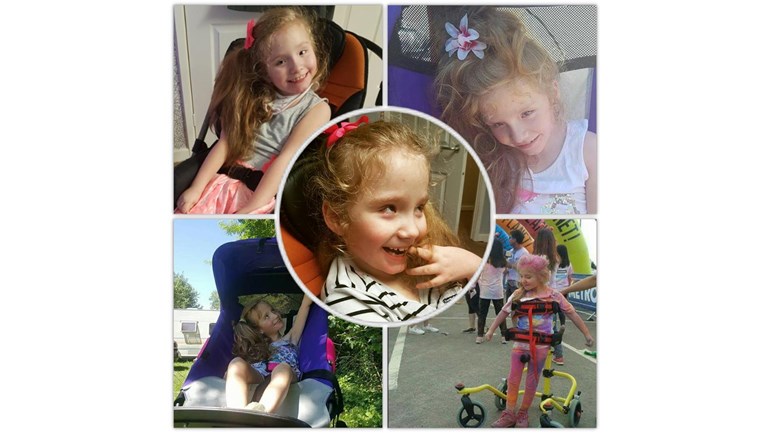 Thank you for taking the time to visit my JustGiving page.

Charlotte's fund is hoping to raise a £80,000 target, so far on Charlotte's gofundme fundraising page, we have already raised over £23,000 with the remaining of just less than £57,000 to go WOW!!! Thank you once again to all the very kind people who has helped us reach that amount so far. We also have quite a substantial amount of funds to be put into Charlotte's new JustGiving page raised over the last couple of months by various fundraising events.


Charlotte's gofundme has been changed to JustGiving. We now have the valued support from the Charity Tree of Hope, and we now have a registered charity number. Charlotte's old gofundme account is still active so any donations to gofundme will still be accounted for.


Charlotte's fund also has a short video on YouTube : https://youtu.be/G5pcPwQVx5o (highlight the link copy and paste into youtube)

You can also find information, previous fundraising & upcoming events on Charlotte's Facebook page, Search on Facebook... charlottesfundhelpmewalk or visit her instagram... Charlottesfund





Why we need to raise money

To give Charlotte the best possible chance she has to walk, we need to raise enough funds for her to travel from the UK to t he USA, to have 2 procedures; Selective Dorsal Rhizotomy (SDR) & tendon lengthening operations, by Dr Park at St Louis Children's' Hospital, Missouri. she will subsequently need physiotherapy every day, along with medical equipment such as bespoke splints. The whole procedure, recovery & therapy will last around 4 weeks. When Charlotte returns home, she will need continued daily physiotherapy. The operations will not only give Charlotte a better quality of life, they will eliminate the spasticity in her legs & the daily pain the tight muscles cause. We have also been told that this miracle operation also helps children to relax their upper body, improves head control, vocal skills & it can also help with continence issues. Unfortunately, SDR treatment of this kind is not available in the UK for children like Charlotte with severe complex Cerebral Palsy.

Charlotte's Condition


Charlotte has severe Spastic Quadriplegic Cerebral Palsy, mixed type, affecting all her body & limbs. Charlotte has a severe Vision Impairment & Epilepsy, along with Hydrocephalus (dangerous high pressure caused by fluid build up on her brain), she now has a Shunt to reduce the build up. she suffers from severe reflux disease, & has been through a very dangerous complex operation on her stomach called a 'Total Gastric Disassociation'. a procedure similar to a Gastric Bypass, now oral food is bypassed the stomach to prevent sickness and reflux. Charlotte is also fitted with a stomach feeding tube & this provides her with a main daily liquid based nourishment.

Charlotte today

Charlotte is unable to sit or walk unaided due to tight muscles, but Charlotte can stand with assistance, take steps & walk for some distance with a little help from a walking frame. She has great potential to walk as she can glide around in her school walker & loves to have races with her friends at her school 'Roamer club'. Charlotte also loves playing out and having races with her brothers on her new adapted trike, & she is becoming a quite competent rider. Charlotte has built up good strength in her back & legs over the years, but because of the tight muscles in her legs, is prevented from making further progress with her walking and sitting.

About Charlotte

Charlotte has so much determination & against all odds & brick walls that are put in front of her, she has the most beautiful smile that melts the hearts of everyone she meets! She has a silly sense of humor & although she has around twenty spoken words, she understands like any child of her age & interacts & responds in her own special way. She strives so hard daily to achieve better than her best & not a day goes by without a smile or a kiss blown from her.

In the beginning


Charlotte was born at 31 weeks gestation via emergency section, after her fetal waters & placenta became infected, during her last few hours in the womb, her tiny body absorbed the infection, which attacked her brain with devastating consequences. Charlotte developed irreparable brain damage, extensive cysts & a major bleed on her brain. Charlotte spent the first 3 months of her life on a Neonatal Ward & during these early stages, fought for life, battling & defying the odds over & over again. She has battled septicemia (including meningococcal) many times. She battled severe lung infections, most of the time she was gravely poorly & the doctors could not often ascertain why. Charlotte spent almost the first three years of her life in & out of hospital. As she has grown stronger, hospital admissions have lessened, though she continues with various therapy & hospital appointments during her ongoing life care.

She's such an inspiration!!

Despite going through so much in her sort life, she is always smiling & giggling & enjoying life to her fullest potential. Even after having a second brain shunt fitted, (the valve broke on the first), she was back at school fighting fit in a week post - surgery!

Charlotte loves walking in her walker & embraces every opportunity to be independent. she loves music & hums along to the songs she loves, especially 'Let it go' from Frozen'. she loves to dance in her walker & enjoys discos. in fact, it's difficult to think of anything she does not enjoy, because she has such a zest for life!! She has also starred in the Cbeebies show 'Something Special' episode' Trains' & loved every second of it!!

Everyone around Charlotte is so proud & amazed at what great things she has achieved so far.

Charlotte has 3 boisterous brothers who she adores & in return, they love her dearly too. Sometimes she gets a little frustrated, because all she wants to do is join in like everyone else & have fun, but her disabilities often prevent her from doing so. You can see her sometimes watching other children almost in awe. Last summer, Charlotte was playing outside the house on her adapted trike. It is difficult to explain about how much fun she was having & so hard to explain what it felt like for me as her mother, for her to be included & talked to, by other children. it brought so much warmth & happiness to us both. i think i cried every time she went out just seeing her little face beaming, laughing & giggling with excitement! However, when told it was time to come in as it was bedtime, she was not amused, to say the least!

Thank you for taking the time to read about Charlotte, i hope you join our effort to help Charlotte reach her goal for a better pain free future.

XXX Big smiles & a big kiss & love sent to you all, from Charlotte & her family XXX

Our target £80,000 is a substantial amount of money to ask for support in raising, so we have enclose a estimate breakdown of all the current costs of procedures, therapies & equipment needed. (costs dependent on the currency rate at the time.)

SDR surgery £54,000-£56,000

Tendon lengthening surgery £12,000

Splints, casts, hire of therapy equipment £6,000

intensive Physiotherapy sessions 3-4 weeks in the USA at £250 per session. Plus intensive therapy in the UK once she returns.

The return flights for Charlotte.

The high rate travel insurance due to Charlotte's medical needs.

Charlotte's out-patients accommodation whilst having therapy.