Charlotte Loves To Dance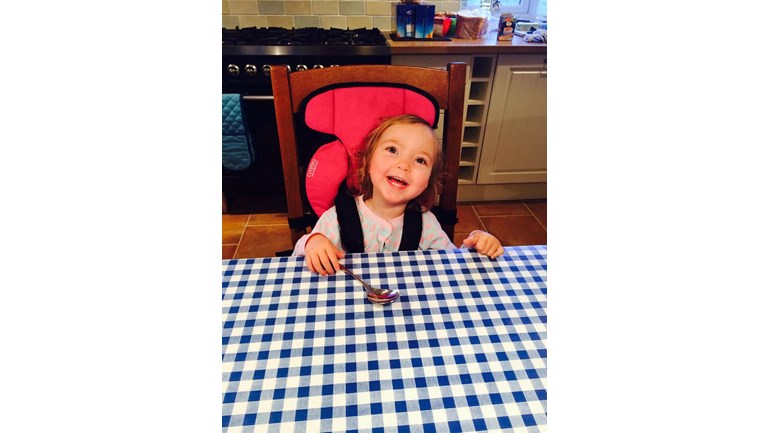 Hi everyone

My name is Charlotte and I am 4 years old and have a twin brother called Daniel.  We were born 8 weeks prematurely and unfortunately, although Daniel has no problems, it was discovered that I had a bleed on the brain which has resulted in me having quadriplegic cerebral palsy.
The first few months of my life were really bad for myself and my parents and I was moved from hospital to hospital trying to determine why I was such an irritable baby and having great difficulty in feeding and drinking. The hospital thought I had reflux and I was put on a variety of medicines.  As this did not help me to improve and I was losing so much weight I was eventually fitted with a gastrostomy to enable me to eat and drink through a tube in my stomach.  
I am now a bright, bubbly little girl who would dearly love to play and dance with my twin brother Daniel.  He is now getting up to all sorts of mischief and I am very frustrated that I am unable to play and join in with him.
Due to my condition my arms and legs are very stiff making it difficult for me to control my movements and I am unable to sit up, crawl or walk by myself. My mum and dad are putting so much time and hard work into all the exercises I have to do each day.  Because of their efforts I have started talking and feeding well and I am starting mainstream school in September.
My mum and dad are brilliant and help me every way they can including lots of physiotherapy together with a targeted training programme to help me improve my sitting balance.  They have lots of appointments to attend with me so there is very little time to do anything else.  It is exhausting work for them but they realise it is essential for my progress. My mum says it is heartbreaking watching me struggle to achieve simple everyday activities that everybody takes for granted, and to see how desperate I am to join in with other children my own age.
I have been accepted for an operation in the U.S. which could completely change my life called selective dorsal rhizotomy (SDR).This operation is available at the St Louis Childrens Hospital where Dr Park has specialised in this field for over 25 years and has been able to help thousands of children like myself to walk.
Mum and dad are desperately trying to raise funds to take me to meet Dr Park so that I might be given the opportunity of having this operation so that, hopefully, I can achieve my dearest wish of being able to play and interact with my brother.  Just taking my first steps would be truly amazing and my life would be so different.
I also need specialised equipment and treatment/therapy to help me with every day life and ensure I can be included in many of the things my twin brother is able to do.
Should we exceed the target amount or they cannot be used for any other reason the funds will go to the general funds of the tree of hope to assist other children. 
PLEASE GIVE ME YOUR LOVE AND SUPPORT BY HELPING ME TO DANCE WITH DANIEL.
Thank you.
A very grateful
CHARLOTTE XXXX. (and family xx)