Ffions heart matters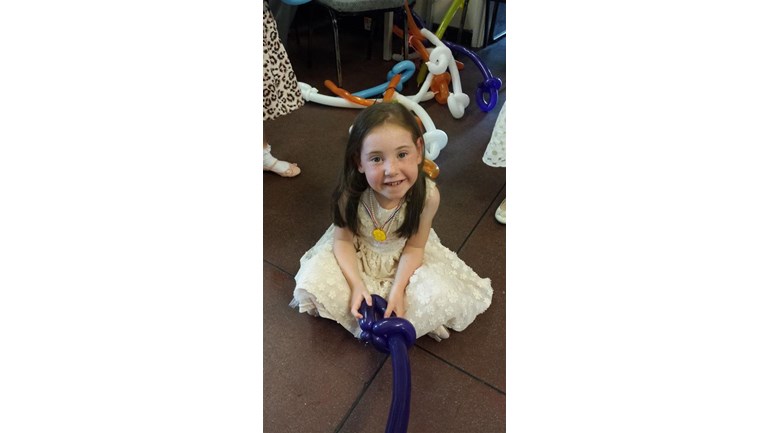 Ffion is 6 years old.  Sadly ffion was born with a rare heart condition, ffion had cardiac surgery at just 9 days old.  She then had to get to a certain size to undergo open heart surgery to help repair the other things that ffion had wrong.  At just a tiny 3 months old ffion went to Bristol children's hospital to have her first open heart surgery.  Ffion had a very difficult time in theatre, and was on alot of breathing support for 14 days after her surgery.  But went on to fully recover.  As ffion grew I noticed things wasn't right,  ffion was unable to sit up unaided,  crawl and I also noticed she was not using her right arm when offered a drink in a cup or hold cutlery.  Ffion was 8 months old and referred to occupational therapy and physiotherapy.  She was diagnosed with diaplesgia on the right side of her body.  This was uncertain to what caused this weakness in could have been something at birth or something during ffions cardiac surgery,  but no doctor was certain.  Ffion went on to have physiotherapy,  she was later referred to speach and language and every month and extra doctor was added to the list to visit with fi.  As ffion grew bigger and bigger she never shuffled around on her bottom or attempted to cruise along the furniture,  all that she could do was bunny hop around the floor.  Then in March 2012 when ffion was just 2 years old her heart deteriorated and we were seen by her cardiologist at our local hospital who told us ffion would have to have cardiac intervention.  Ffion was put on the cardiac catheter list at Bristol children's hospital and we just had to sit back and wait for a letter to come in the post.  March 26th ffion underwent a cardiac catheter to help inflate a narrowing that had occured within ffions heart.  Unfortunetly this operation was unsuccessful and we were told ffion would have to have open heart surgery a second time round.  Within 2 weeks we were sent back up to Bristol children's for ffions surgery.  Within 24 hours of ffions surgery,  she was transfered onto a ward and left to recover.  As ffion started to come around off of all her medication myself and my mum noticed ffion was not moving her left arm.  It hung beside her no movement at all.  When I asked ffion to lift her arm up she tried her very best but explained to myself and my mum she couldn't move it.  I called for doctors on the ward to come and examine ffion,  I explained to them about her previous right sided weakness.  Doctors from Frenche hospital attended ffions bedside neurologists also came. They didn't no exactly what had happened,  and referred ffion to physio ready for when we got back home day 5 post surgery.  September 2012 ffion had a brain mri scan which showed that ffion had sustained 2 strokes.  Her neurologist indicated one side had been there a while whilst the other side looked alot recent. She went on to say that ffion had sustained these strokes during her open heart surgery at 3 months old and the other earlier that year when she had her second surgery.  We were left devastated as a family ffion would never walk independently,  aswell as struggle with her heart problem that she will always have.  
Ffion is now under the care of great ormand street hospital and September 2015 at ffions general cardiac appointment we were told that ffions heart was deteriorating for the 3rd time and would need cardiac intervention.  This would be done at London and in November 2015, great Ormand street requested ffion to have a brain and cardiac MRI scan in preparation for her surgery.  We traveled there by train and the same travelling home 2 days after ffion having her scans.  January 2016 ffion was given a date from London to go up to have a cardiac Catheter this again was unsuccessfull and we now await a date for ffion to go back up to great ormand street for what will be her 3rd open heart surgery in 6 years.  Only this time doctors wanted to avoid this surgery as ffion has neurological issues and her chances of stroking again are so high.  But this is the only option to correct ffions heart.  
As ffions mum I am heartbroken and worry each day for my daughter.  Travelling to London is very expensive and my fundraising is to help with travel expenses.  Not just that I am looking to buy ffion a maclaren buggy for after her surgery so that she is comfortable and it helps with getting in and out of the car alot easier for both myself and ffion. And ffion is also a member of pedal power which is cycling for disabled children and adults.  We would love to get a bike adapted like this for ffion to play with her friends in the street.  Physiotherapy has said this tricycle would also be great for therapy on ffions legs to help build strength. 
Thank you for reading our story xxxx