Charlie's SDR Wish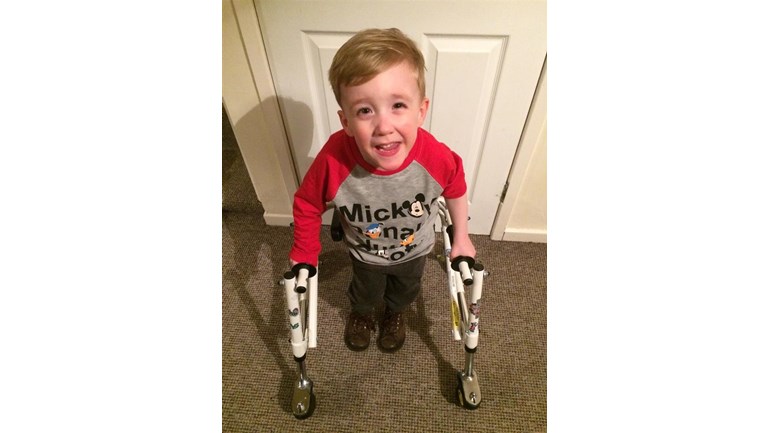 ***     UPDATE 1st OCTOBER 2017   ***
Massive thanks to everyone who has donated or fundraised in aid of Charlie.
Due to your generosity and support, Charlie is booked in for his operation on 20th October. We couldn't have done this without you. 
We never expected to raise so much in such a short space of time.
All funds raised over the £21,000 cost of the surgery will be used towards Charlie's post operative rehabilitation, in keeping with Tree of Hope's charitable objects.
Once again, we are overwhelmed by the amazing support you have given us.
Lots of love Jen, Phil and Charlie xxx
We are raising funds through Tree of Hope for our amazing little boy Charlie, who has Cerebral Palsy, to have Selective Dorsal Rhizotomy (SDR) surgery. This life changing operation is not currently available on the NHS. The surgery costs £21,000 but we also need to raise post-surgery funds for aftercare and exercise equipment, as only some basic aftercare is provided by the NHS.
Please give what you can to help Charlie have this operation, which could give him the chance to walk and a more independent future.

Charlie's story
Hi, my name is Charlie. I am 3 and a half (the half is important!) and I live with my Mummy and Daddy in Liverpool.

I was born ten weeks early, weighing just over 3 pounds. After six weeks of special care at the hospital, I was lucky enough to go home.
However, when I was about nine months old, my Mummy and Daddy became worried because I still couldn't sit up by myself and I could only crawl, commando style. When I turned one, they were told that I have something called spastic diplegia, a form of cerebral palsy (CP). This means that my legs are stiff, which stops me from being able to stand or walk.

Sometimes I use my Kaye Walker to help me get around indoors but I fall over a lot and hurt myself. I also wear splints sometimes to stop me from standing on my tippy toes.

I am just like any other 3 year old in lots of ways. I am funny, cheeky and clever. I love dinosaurs, pirates and superheroes. I have lots of friends and would like to be able to play with them without an adult hanging over me (no offence!) to make sure I don't fall over. Sometimes I get sad when my friends are running around or playing football.
The Doctors at Alder Hey Hospital have told my Mummy and Daddy about an operation called SDR that can remove the stiffness from my legs and could give me the chance to walk all by myself. Without the surgery, I am unlikely to ever walk unaided.

Mum and Dad note; Selective Dorsal Rhizotomy (SDR) is a potentially life changing 4-6 hour neurosurgical operation which involves cutting specifically damaged nerves attached at the base of the spine, hopefully relieving most of Charlie's spasticity if not all of it. Spasticity can cause pain and deformities so it is important for Charlie to have the surgery as soon as possible as the longer the spasticity is there, the more damage it will do. We have been told that Charlie is the perfect candidate for this operation.

Sadly, this operation is not funded on the NHS at the moment even though it's perfect for me. This means my Mummy and Daddy have to raise the funds themselves so that I can have the operation and be one step closer to my dream of becoming Spider-man when I grow up!

I know that this operation is just the start of a long journey but I am a fighter. Please give what you can to help me on my way to having an operation that could make my wish come true. Whatever you can give, will be very gratefully received. Thanks for your help!

Love Charlie x
P.S you can also donate to Charlie's page via text. Just text the code CSDR98 plus the amount e.g £5 to 70070. For further information on donating by text please visit the help pages on the Just Giving website under "How do I donate by text".  

7.5% of all donations to Tree of Hope in relation to this appeal will be allocated to the general charitable purposes of Tree of Hope to cover our core operating costs.

If we raise insufficient funds, or surplus funds, then the funds will be used, if appropriate, to fund support for our child's needs in accordance with Tree of Hope's charitable objects. If in those circumstances we are unable to use all or part of the funds for the benefit of our child in accordance with Tree of Hope's charitable objects, then any funds that cannot be used will be transferred to be used for the general charitable purposes of Tree of Hope.

If you have any questions at all please do not hesitate to call the family support team on 01892 535525.

Thanks for taking the time to visit my JustGiving page.
Donating through JustGiving is simple, fast and totally secure. Your details are safe with JustGiving - they'll never sell them on or send unwanted emails. Once you donate, they'll send your money directly to the charity. So it's the most efficient way to donate - saving time and cutting costs for the charity.