Brogans Battle Fund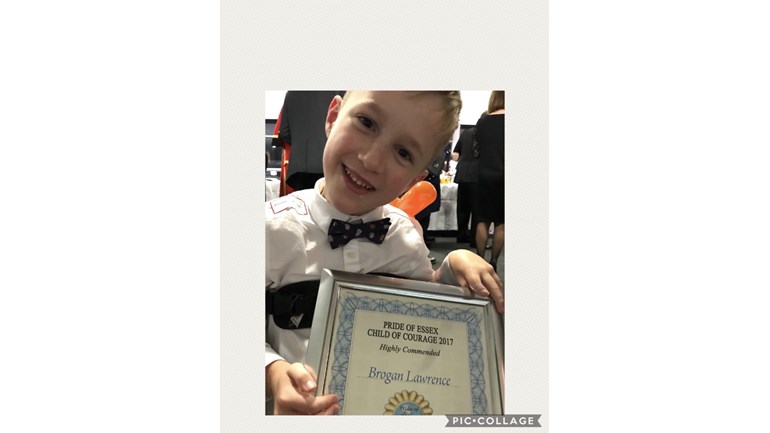 Brogan is a very happy, cheeky, smiley little boy who faces life with determination and strength.
Brogan was born 9 weeks premature due to this he suffered inter cranial heammorage, which led to periventricular leuklomalacia and quadriplegia cerebral palsy. He has defied doctors at every step, they expected him to be blind, not drink from a bottle or be able to achieve most of the things he has already achieved. He faces every challenge with a smile, determination and strength even I envy. He truly is a remarkable little boy.
He has a wicked sense of humour and loves to laugh and smile. 
The doctors don't know how best to move forward to help him achieve the best to his ability, so after some research we came across spider therapy. It's a holistic approach to treatment for individuals affected by neuro-disability and brain injuries. The major goal is to improve and change proprioception, reduce pathological reflexes, restore physiological muscle synergies and load the body with weight. All of this normalises vestibulo-proprioceptive input. 
For Brogan Spider Therapy is centred around a "progressive strengthening program" that focuses on improving core strength, stability and help Brogan to move more efficiently. We focus on improving his lower limbs, core strength and stability. Improving his awareness and functional use of his upper limbs, mainly his left hand. Regulating his muscle tone and spasticity. The "spider" is a basically a suspension system that allows Brogan to move more independently in a safe environment whilst controlling his movements with ease and more precision. The "spider" allows you to isolate and strengthen specific parts of Brogans lower limbs which are particularly affected by his condition. Alongside the "spider" there's also the "therasuit" which is the odd costume he wears in some of the pictures. This is a soft dynamic proprioceptive orthotic which helps strengthen Brogans muscles, lowers his muscle tone and helps teach him how to use his muscles efficiently. Brogan also has functional electrical stimulation this creates muscle contractions by using electrical impulses. This helps restore his muscle strength so it's possible to retrain his muscle how to function. 
We have already seen some great improvements by using the therasuit and spider therapy. This isn't a government funded therapy and a 2 hour weekly sessions costs £140. This therapy really is proving to be a huge lifeline for Brogan and we are confident that it's going to help us achieve our dream of him walking and maybe even one day running alongside his siblings and friends. We will always be eternally grateful for the support we have received and hope that you all take huge pride in knowing you have helped our courageous little boy achieve something truly amazing, we couldn't get this far without your support! 
Feel free to follow my story on FB by searching Brogans Battle, you can keep up to date with my progress and see how your donations are helping me succeed. 
 We are going to be doing lots of fundraising events in the future to raise vital funds towards this treatment, thank you all for your continued support. Much love and appreciation xx 
Thanks for taking the time to visit my JustGiving page.
Donating through JustGiving is simple, fast and totally secure. Your details are safe with JustGiving – they'll never sell them on or send unwanted emails. Once you donate, they'll send your money directly to the charity. So it's the most efficient way to donate – saving time and cutting costs for the charity.