Henriette & Gavin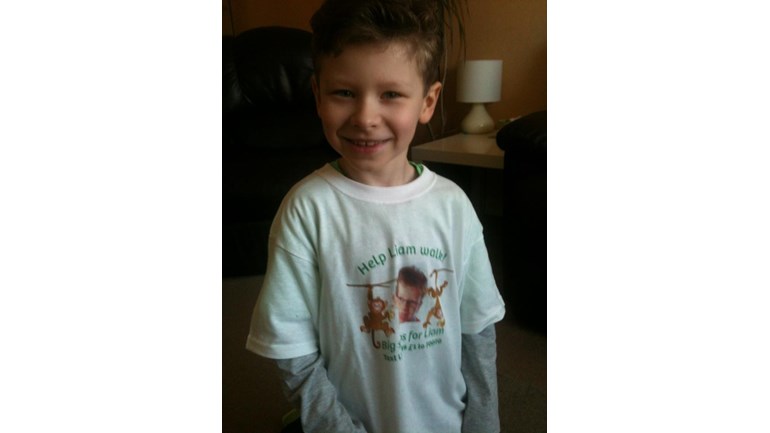 Ok
My story
My name is Liam, I was born on 8th Sept 2005 weighing 5lb 5ounces.
My mummy noticed that I wasn't moving in her tummy anymore. So she went to the hospital and they noticed i wasn't breathing properly. They rushed my mummy into theatre for an Emergency C-section at 38weeks. For the first 3 weeks of my life I was in NICU(neonatal intensive care unit) at Southmead Bristol.

Just before my 1st Birthday I was diagnosed with Cerebral Palsy due to my delayed progression of my mobility.
Due to this i have always struggled with basic skills such as sitting, crawling and especially standing and walking. I am 7 now and i still struggle. My main way to get around is to crawl but mostly i bunny hop if  my mummy isn't watching because this is a faster way for me.
When I was 4, I was given a Kaye walker which has helped me have some independence however I tire easily and I am not expected to ever walk without it.
I am hoping that Mummy and Daddy will be able to raise enough money for me to have the life changing operation SDR(selective dorsal rhyzitomy) so that I can play like all the other children.
Liam is such a happy boy and always brings a smile to peoples faces. Anyone who has met him knows how much of a personality he has. He has inspired us so much with his positive attitude and how much hard work he puts into his daily routine of exercise and stretching. We would love to make it possible with this operation that he could take his first unaided steps.
We are hoping to raise enough money to cover the costs of the operation and the intensive physiotherapy and special equipments that will be needed afterwards. If you would like to know more about SDR please go to this web page http://www.scope.org.uk/help-and-information/z-therapies/selective-dorsal-rhizotomy
Any donations no matter how small will be massively appreciated to make my dream come true.