Bens First Steps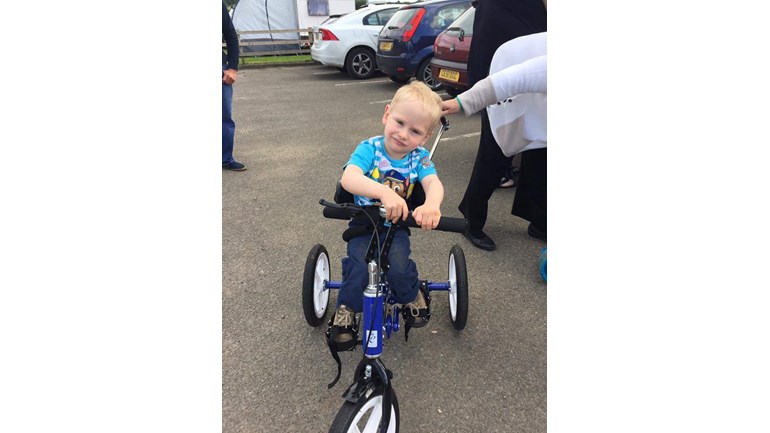 Hi I'm Ben and im 5 I've been diagnosed with Cerebral palsy.  It effects my hips and legs which means I can't walk unaided...YET!

At the moment my future will be filled with physio, operations to help lengthen my leg muscles and pain like cramp as my short stiff muscles hold me back. However determined I am!  This will always be there unless you can help me.
There is an operation I can have called a Selective Dorsal Rhizotomy.  This will sever the damaged nerves stopping my stiffness. Then the specialist physio teams can help teach me how to walk. I know it's going to be a hard job but I am determined to do this. I know it won't take away my CP and my learning difficulties but I want to walk in the park with my family and play with my little brother Ollie.  
Mummy says: 
Bristol Children' Hospital can perform this operation but the NHS won't fund it, or the post op recovery therapy needed. The guidelines post op say Ben will need at least 2 years intense physiotherapy. Within the first six months he will need around 4 sessions a week with a Physiotherapist, who can guide me to do physio every day with Ben. This will slowly decrease over the 2 years, but will always be part of his life. Currently we pay a private physiotherapist for an hours session fortnightly at a cost of £138.40. As you can imagine, we need help covering all these costs includimg operation costs. He may also need hydrotherapy and other forms of therapy. The operation is only a small part of the picture, without specialist post op care and input, the operation is pointless.
Bens Facebook page is where you can find out the latest news on Ben, how physio is going and follow his journey. 
Facebook.com/bensfirststeps
I want to thank you for visiting Bens page. I also want to thank in advance any donors.  Seeing my son take his first steps and play with his younger brother is something every parent looks forward to. Thanks for helping try and make this possible. I can never thank you enough.