Bens First Steps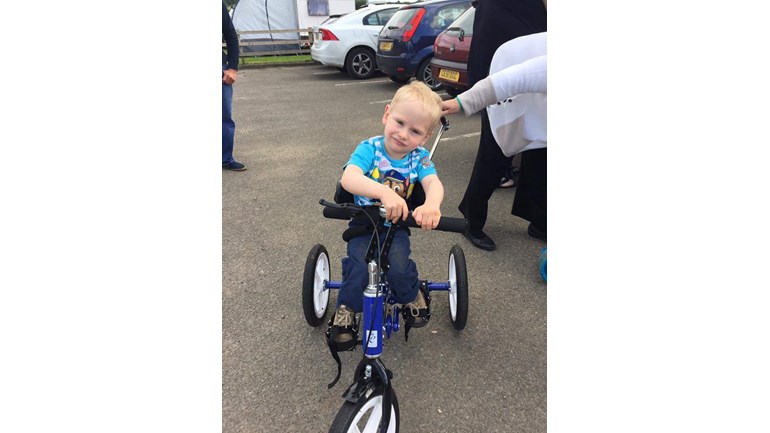 Hi I'm Ben and im 5 I've been diagnosed with Cerebral palsy.  It effects my hips and legs which means I can't walk unaided.. YET! 
There's an operation I can have called a Selective Dorsal Rhizotomy. This is where they go into the spinal cord and sever around 60/70% of the nerves from my hips down. This will stop the stiffness and allow physiotherapists a chance to help me use and strengthen my muscles and teach me a new way to walk, just like you. The operation is the first part of my journey and the aftercare with physiotherapy etc is the second part. 
Mum says:
Thank you. Part one, the operation was done in Bristol Children's Hospital on 18th May 2018.

It was a success and we have returned from an intensive rehab as an in patient with a lot of work to do but also a lot of surprises. Ben can now stand unaided for a minute. Something he has never done before. He can also use stairs with adult supervision. 
We do have an issue with tight short muscles across his hips. This may need intervention but we have 6 months to work on this alongside his rehab program. I am hopeful we can correct this but instead of a physiotherapist seeing Ben 4 times a week I may increase this or add other therapies/ equipment into his program if I feel we need further help. 
This means the funds we have already may not last 6 months to a year as it originally hoped.( I knew we'd not make it stretch the full 2+year) I'm stretching it out but we still need your help to hit target. Im so very grateful for all your support in getting us this far and the operation has already made a huge difference to Ben. 
Bens Facebook page is where you can find out the latest news on Ben, how physio is going and follow his journey. I've shared his hospital stay and physiotherapy achievements on there and will continue to share his progress and aim for those first unaided steps.
Facebook.com/bensfirststeps
Thank you x