We're #DoingItForBen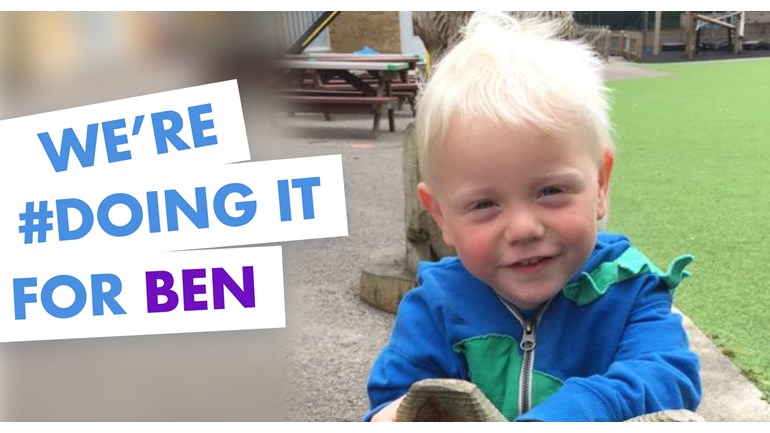 Ben was born at 28 weeks. At four days old, he underwent a life-saving operation. Whilst in hospital, the neonatal department discovered four cysts on his brain, placing him at high risk of cerebral palsy. By his first birthday, Ben wasn't reaching some milestones; despite making huge steps in other ways, his gross motor skills simply weren't what they should be. He was diagnosed with spastic diplegic cerebral palsy.
Ben is a fighter, overcoming odds of survival that the professionals treating him told us he may never beat. Being told to kiss Ben and say goodbye is something we won't be able to forget. But he pulled through, and we've been able to proudly watch him reach other milestones. At his most recent developmental check, Ben's fine motor skills were as developed as any child of a similar age, and his language and communication are as far as 1–2 years ahead for children his age. Ben is a smart, happy, bright and cheeky little fella; however he is at the stage now where he is aware that his inability to walk sets him apart from other children around him. He just wants to be able to run around and play with his friends and family.
Ben needs a Mollii Suit, a pioneering treatment for people like Ben with cerebral palsy and other motor impairments to reduce pain and improve mobility – an upfront cost of over £4000, plus £1000 upgrades to the suit as Ben grows. In addition to this, when Ben turns three we will take him to the Peto Institute in Hungary, for conductive education – an intensive program of physio treatment he needs in order to lead a more independent life. This treatment, and the additional travel and living expenses during visits, is likely to cost thousands of pounds.
The NHS simply does not provide the level and type of treatment that will enable Ben to walk. Currently we pay for private weekly physiotherapy – treatment that will continue for the rest of his life – but what is required at this crucial stage of his development will cost many thousands more. But the ever-increasing costs limit the frequency, and therefore the impact, that such treatment can make to Ben's life. We have put everything we have into this. But time really is of the essence – cerebral palsy is a condition where early intervention can be the difference between avoidable and painful operations, reliance on walkers, chairs and carers; and Ben living a happy, healthy and independent life.
When Ben walks, we know he'll give hope and inspiration to others. We are going to do everything we can to make it happen. We're #DoingItForBen. 
Please help us to make our little boy walk.