We're #DoingItForBen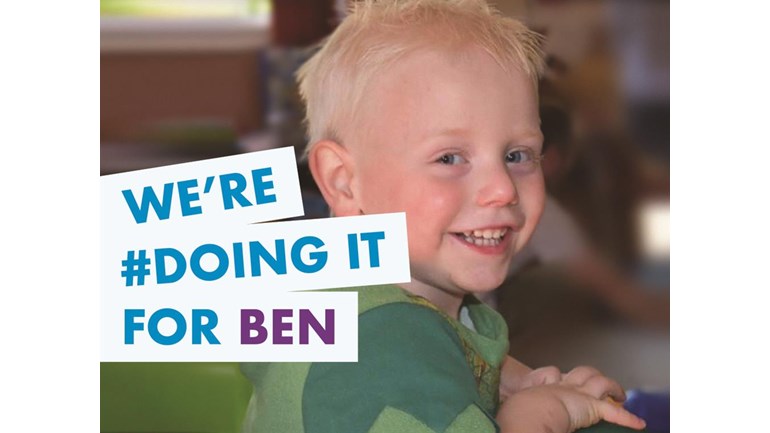 Being told to kiss our four-day-old baby goodbye is something that we will never be able to forget. Ben was born at 28 weeks, and immediately needed life-saving surgery that the doctors told us he was unlikely to survive. However, Ben is a fighter and overcame all the odds against his survival.

It was whilst recovering in hospital that the neonatal department discovered four cysts in Ben's brain, placing him at high risk of cerebral palsy. Despite this news, Ben continued to beat the odds, and throughout the first three years of his life we have proudly watched Ben become a smart, happy and cheeky little fella. However, despite this progress, his gross motor skills have never been what they should be. Shortly before his first birthday, Ben was diagnosed with spastic diplegic cerebral palsy.

Aside from his diagnosis Ben is now like any other three-year-old child. In a way this makes it harder for Ben, as he is increasingly aware that his inability to walk sets him apart from other children. He just wants to run around and play with his friends and family.

Following a visit to Great Ormond Street (GOSH) on 5th July 2018, Ben has been confirmed as an ideal candidate for a life changing operation called the Selective Dorsal Rhizotomy (SDR). This operation is used to improve spasticity (muscle stiffness) in cerebral palsy. Muscle stiffness can shorten muscles and tendons, contract joints and cause bone deformities, which often need further surgery to resolve. The SDR is not a cure for cerebral palsy, but we hope that it will mean that Ben avoids a lifetime of pain and unnecessary surgery, living more independently and happily. Following the operation, intensive physiotherapy will help Ben learn to use his body in different ways; but it can be as long as two years before the full benefits of the SDR become clear.

Unfortunately, this pioneering procedure is not yet available on the NHS. The cost of the SDR operation and three weeks of aftercare at GOSH will be £27,000, with the cost of two years of intensive physiotherapy likely to cost up to £20,000. This total doesn't include the additional activities recommended by medical professionals, including horse riding, swimming and specialist equipment to improve Ben's core and other muscles.

Currently we pay for private weekly physiotherapy, treatment that will continue for the rest of Ben's life; what is required at this crucial stage of his development will cost many thousands more. But the ever-increasing costs limit the frequency, and therefore the impact, that such treatment can make to Ben's life. We have put everything we have into this, but time is of the essence – cerebral palsy is a condition where early intervention can be the difference between avoidable and painful operations, reliance on walkers, chairs and carers and Ben living a happy, healthy and independent life.

When Ben walks, we know he'll give hope and inspiration to others. We are going to do everything we can to make it happen. We're #DoingItForBen.

Please help us to help our little boy walk.